June 10, 2016
A Note from Susan
Dear Parents and Guardians,
I am so happy to announce that we have a wonderful new 1st grade teacher to follow in Mrs. Langhus' footsteps. She has a special endorsement from Mrs. Stephens, who worked with her for many years. I asked her to fill in a few details about herself and so without further ado…….
My name is Sara Dillon, and I am very excited to be joining the Madeleine School community. I have been a teacher at St. Agatha Catholic School for 12 years where I have "worn many hats," most recently teaching 4th grade. Working with children is such a joy; I am passionate about finding ways to engage young learners! My husband, Patrick, and I have two children: Jack, age 8 and Evelyn, age 5. We are parishioners at St. Joseph the Worker Catholic Church where I am a lector for the 5:00 Mass as well as a volunteer for the preschool Sunday school class. My family and I love going to Cannon Beach, working (and playing) in our garden at home, and hiking in the Gorge. We are thrilled to be traveling to Disneyland next month! I am looking forward to seeing everyone in September!
Sara has graciously agreed to come to school on Wednesday of next week to be a part of our "Move Up" day. The kinders will get a chance to meet Mrs. Dillon for 20 minutes or so and ask her any questions that are on their minds. Please join me in welcoming Sara.
Finally, I believe that all people with outstanding balances for tuition, scrip, volunteer hours, and missing library books have been contacted. Diplomas, report cards, etc. will not be given to students until all bills have been paid.
Have a great weekend.
Susan
---
Five for Friday
The news you need really, really fast!
---
End of Year Responsibilities
Library books should have all been returned by now. Check with Mrs. Anderson or Mrs. Krebs if you cannot locate a book.
Scrip balances went out a few weeks ago. Please be sure you have taken care of your scrip commitment or have paid your opt-out fee.
Bills for unworked volunteer hours must be paid in full immediately.
Finally, tuition balances must also be paid in full immediately.
Remember, your child will not receive his/her report card if there are any outstanding bills (tuition, library, volunteer hours, scrip.)
---
2015-16 School Year Room Parents
A BIG thank you to the following Rock Star Room Parents who have kept you all on track this year!
Kinder: Kristin DuVal, Kelly Goodman, Jennifer Johnson & Kris Thompson
1st Grade: Libby North & Meg Scharle
2nd Grade: Sally Damewood & Maria Fitzgerald
3rd Grade: Katie Harpster & Heather Harvey
4th Grade: Kami Beaulieu, Brian Hendrickson, & Kasey Miller
5th Grade: Karoline Ashley & Julie O'Connor
6th Grade: Michelle Rodarte
7th Grade: Holly McArthur & Katherine Wilson
8th Grade: Carole Hermanson, Mary Hoglund, Lisa Manthey, Janice Slonecker
2016 - 17 School Year Room Parents
High fives to everyone on this list!
Kindergarten: Heather Harvey ~ Kelly Hunnicutt ~ Trisha Mumm
1st Grade: Jennifer Johnson ~ Stephanie Savage ~ Lyndsay Presthofer ~ Chamber Dorheim
2nd Grade: Catherine Glavan ~ Deborah Naugler ~ Susanna Estrada
3rd Grade: Cathy Armstrong ~ Julie Perko ~ Elizabeth Whalen
4th Grade: Amanda Power ~ Diane Slaughter
5th Grade: Kami Beaulieu ~ Kasey Miller ~ Brian Hendrickson
6th Grade: Jen Yamin ~ Anna Kimmel
7th Grade: Julie Doherty ~ Aimee Samuelson-Rangel
8th Grade: Lisa Delaney ~ Susan O'Leary
---

St. Stephens Lunches: What a Year!
7,910 Lunches!!
The 2015-16 school year was a very successful year indeed! The second grade finished out the year strong by bringing in 204 lunches! This wraps up an amazing year with a total of 7,910 lunches sent to St. Stephens, which is 942 more lunches than last year!
A big shout out to all of the families who participated. Whether you brought in one extra lunch or one hundred extra lunches, you all confirmed Madeleine's philosophy statement that "we build community based on love, understanding, and respect for the dignity of all people as modeled by Jesus Christ." Thank you.
It has been an honor to be your liaisons this year.
Sincerely, Tiffany and Reid Cooper
Editor's Note: Many thanks to Tiffany and Reid for counting and transporting the record-breaking number of lunches this year! Our community could not have asked for better representatives.
---

Top Runners from Each Class
K girl (3 way tie) – Elouise J, Ann L and Amelia M ~ K boy – Samuel U
1st girl – Tamsin M ~ 1st boy – Landon B
2nd girl – Mimi T ~ 2nd boy – Samuel R
3rd girl – Katie B ~ 3rd boy (2 way tie) Finn B and Graham C
4th girl – Simone T ~ 4th boy – Max M
5th girl - Violet A ~ 5th boy – Charlie B
6th girl – Ellie M ~ 6th boy – Sebastian R
7th girl – Charlotta S ~ 7th boy – Alex F
8th girl – (2 way tie) Molly W and Ada S ~ 8th boy – Spencer H
Prizes for top fundraisers will be distributed at the June 13 assembly. The deadline for collecting pledges has been extended to Friday, June 10. A reminder that in order to be eligible for prizes students must raise $150 minimum.
---
A Note from Your Athletic Director
CYO Sports Uniforms
The year has ended, and you have piles of giveaways. Please don't forget to set aside your old uniforms to turn in at the uniform closet, located across from the trophy case.
CYO Fall Sports
Volleyball Registration opens Monday, June 13th. CYO Volleyball is open to girls in 3rd - 8th grade. Earlybird practice can begin as early as August 15th (at Coach's discretion) with regular practices starting after Labor Day.
CYO Scholarships Available
Go to the CYO/Camp Howard Scholarship Page to fill out and submit. Scholarships need to be in hand before registering. You will be given a unique code to enter on the registration page.

Go Bulldogs!
Aimee Holzschuh, Madeleine Athletic Director
cyo@themadeleine.edu
---
Final Youth Group of the Year
Sunday, June 12th @ 7pm
Last Youth group of the school year is this Sunday, June 12th, 7-8:15pm on The Field of Dreams. Be there to wish our 8th graders good luck as they graduate and move onto high school.
---
Save the Date: 3rd Annual Golf Tournament
September 17th
The Madeleine School is hosting a 4 Player Scramble golf tournament at Heron Lakes on September 17th. 
Get a foursome together, don your flashiest golf apparel and come enjoy a wonderful day on the course to support The Madeleine School. Stay tuned over the summer for details and registration information.
Any questions, please don't hesitate to contact Brian Grant at bgrant@themadeleine.edu.
---
Join the Bridge Program!
Help Welcome New Families to Madeleine School
The Bridge Program creates a welcoming community by connecting new families with current families at the school. The goal of the program is to be a resource for new families and to help them navigate their first year at the Madeleine so they don't feel left out, lost or overwhelmed.
Each volunteer is expected to check in with their Bridge family at least once over the summer, during the first week of school, and during the first trimester. In addition, there are three opportunities during the school year to get volunteer hours:
New Parents Potluck in September (approx. two hours)
Open House in February (approx. two hours)
School Tours in February (approx. two hours)
If you are interested in being a "bridge" for a new family, please contact Julie Baldwin at Julie.JulieBaldwin@gmail.com.  
---
Pickle Ball Champs!
Thank you to the spirited group who showed up last Saturday ready to compete in an epic pickle ball tournament! Chris Everett and Bjorn Borg (aka North/Chandler) rallied back from behind against Jimmy Connors and Margaret Court (aka McDonalds) to pull out the championship victory. Thank you for your support of the Madeleine Auction event. And, stay tuned for the results from the next tournament battle!
---
Re-Enroll Your Rewards Card to Continue Earning Free Money for Madeleine
In order for participating nonprofits to continue to receive donations from their Community Rewards program, Fred Meyer is requiring that everyone re-enroll their rewards card. Quick! Do it now before you forget, so Madeleine can continue to earn hundreds of dollars every quarter from your grocery shopping. Here's how:
Relink your card to the Fred Meyer Community Rewards program by logging on to your account at www.fredmeyer.com/communityrewards.
You can search for Madeleine by name or by our non-profit number: 86447. Then, every time you shop and use your Rewards Card, you are helping The Madeleine School earn a donation!
You still earn your Rewards Points, Fuel Points, and Rebates!
---
Now Taking Brick Orders for our 2016 Installation
Makes a great graduation gift!
Celebrate and remember your loved ones with a personalized brick on The Madeleine School's Field of Dreams Walkway. The walkway is located on Klickitat along the basketball court.
An inscribed brick makes a perfect graduation, anniversary, or birthday gift. Your $75 donation will support The Madeleine School's 2016 Annual Fund Campaign. Gift Certificates available.
Please click here to view and print your order form. Engravings will be done in August when the weather is warm and dry. Thank you for your support!
---
Visit themadeleine.edu/amazon This Summer to Benefit The Madeleine School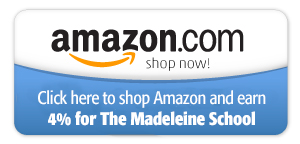 When shopping for vacation supplies and movies/books/games to keep the kids busy, remember to use the Madeleine Parents Club Amazon link. This program donates a portion of everything you spend on Amazon to The Madeleine – and it won't cost you a single cent more! You can click this link to get shopping immediately, or you can read more about this "free fundraiser" here.
The more you shop on Amazon using www.themadeleine.edu/amazon, the more money the school makes. The prices and shopping experience are exactly the same as the "normal" Amazon, but using that link earns the school a minimum of 4% commission. It's one of the easiest fundraisers you'll ever find!
---
YDP Summer Camp Open for Registration
YDP summer camp at Madeleine will be offered from June 20 - August 12 from 8am - 6pm each weekday. Only 30 spots available per day, so don't delay!
Click here to see the complete brochure and registration information.
---
SAVE THE DATE
Madeleine Round-Up, the 2016 Auction
Save Saturday, November 5th for the Madeleine 2016 Auction. We'll be rounding up friends and family for rowdy good time at the Madeleine School. Let'er bid!
---
CYO Registration for 2016/17 Football and Cheer Seasons
Football highlights:
- Open to 3rd - 8th grades
- Registration closes July 4th
Cheer highlights:
- Open to K - 8th grades
- Registration closes July 31st
Click here to see the flyer with complete details about football.
Click here to see the flyer with complete details about cheer.
---
Portland Stags, Local Pro Ultimate Frisbee Team
June 12 @ 3pm
Did you know Portland has a pro ultimate frisbee team? The team exists and is hosting the San Francisco Dogfish at Milwaukie High School Stadium. Family fun includes facepainting, balloon artists and more.
​​
---
Summer Camps
At this time of year, we receive tons of listings for various summer programs and camps. In an effort to let you know about all of these great opportunities and still keep Footnotes to a reasonable length, the camps will now be listed only by name.
To get the complete details about each camp, simply click here!
Madeleine YDP Summer Camp
Concordia University Girls Basketball Camp
Bernie Fagan Soccer Summer Camps
La Salle Athletic Camps
Central Catholic Summer Program
Jesuit High School Summer Session
University of Portland School of Education Summer Learning Program
---
This Week's Checklist
---
Download your copy of the bulletin at www.themadeleine.edu/bulletin
Congratulations to our Class of 2016 High School Graduates!

Thank you for sending us the names of your Class of 2016 High School Graduates. Congratulations to all and good luck as you go off to college and beyond!
Central Catholic

Erin Santos, Salutatorian
Theodore Anderson
Katelynn Barron
Natalie Collmer
Joseph Ellis
Gabrielle Fechter
Joe Gianotti
Sam Hawkinson
Jack Kennedy
John Lance
Finn O'Rourke
Jose Francisco Pinomesa
Bailey Puetz
Mitchell Puga
Andrew Rowan
Peyton Sciborski
Owen White

De La Salle North

Grace Pennick

Edison High School

Michael Loeffler

Grant
Olivia Abbott
Olivia Bozarth
Sean Gillen
Morgan Mealy

Jesuit

Robert Marksthaler

La Salle Prep

Raleigh Slyman, Valedictorian
Patrick Dooris

St. Mary's Academy

Maggie DeLany
Jane Cecilia English
Clara Gambee
Emily Jayne
Anya Kmetz
Elisabeth Sullivan

Union High School, Vancouver

Elizabeth Babilo
Madeleine Youth: Become an Altar Server!

Training sessions Monday & Tuesday, June 13 & 14, 3:30 pm

Becoming an Altar Server is one way you, the youth of our parish, can come and serve the Lord. Altar Servers assist the priest and deacon during Mass, and help the people pray by your example.

We welcome any youth Second Grade or older to come to Altar Server training on Monday and Tuesday, June 13 & 14, 3:30 pm–4:15 pm in the church.

Questions? Contact Deacon Mike O'Mahoney, deaconmike@themadeleine.edu.
Summer projects at The Madeleine

Summer at The Madeleine traditionally means big projects, and this summer is no different. Sandwiched in between all the events we have going on throughout the campus, we will have a number of significant repairs and improvements in progress.

The well-past-its-prime North parking lot (adjacent to the school field) will be repaved, re-curbed and re-striped in late July. Crews will remove all the existing pavement and put down fresh new asphalt.
Additional security enhancements on the parish side in September

The paver walkway in the Courtyard will be widened to safely accommodate walkers, wheelchairs and scooters
The Disabled parking spot on 23rd Avenue will receive a section of sidewalk to ease exit from vehicles

The deteriorating hallway in the second floor of the school will be completely replaced. Middle school students rejoice!

New cabinets are being installed in the Parish Hall to more conveniently and accessibly accommodate all the dinnerware, glassware, silverware, etc. we are acquiring to serve the events being held in our Parish Hall and other facilities. This work will begin after The Haitian Project Garage Sale.

And on top of these large projects, there are numerous smaller ones as well.
As you can tell, it's going to be a busy summer for our Business Manager, James Wurzer.
If you have questions on any of these projects, feel free to send him an email at jwurzer@themadeleine.edu.
PDXCatholicTots Potluck

Friday, June 17, 5:30-7:00 pm, in the Courtyard

Please join our tots group for a family potluck. We will gather in the Courtyard or Fireside Room depending on the weather. Please bring a dish and drink to share. We hope to see you there!

Have young kids who are not yet in Kindergarten? Want to connect with other families who do too? Join the mailing list for PDXCatholicTots and hear about upcoming events for families of little ones! Email laurakirkish@gmail.com or ahart@themadeleine.edu for more information.
Children's Liturgy of the Word Recruiting Catechists

Respond by June 12 for ministry beginning in September

Calling all who are interested in being Catechists next school year for Children's Liturgy of the Word.

We will soon be preparing the CLW calendar for the 2016-2017 school year. If you feel called to serve in the parish and enjoy teaching elementary school age children, this is for you!
CLW meets during the 10 am Mass beginning September 18, 2016. Grade 1-5 children meet in the Parish Hall for 25 minutes and PreSchool to K children meet in the Fireside Room for 40 minutes. Two catechists are paired for each group, one never teaches alone. Teaching materials are also provided.

What a meaningful way to use one's Community Service Hours!

A training session will be held on Thursday September 8th, 7:00-8:00 p.m.
Please contact CLW volunteer coordinators before June 12, if you are interested in joining our dynamic group.

Sarah McCormick, smccormick.rd@gmail.com
Stephanie Fernandes, stephanieashok@yahoo.ca
Horse & Rider logo, "Pendleton Round-Up" and "Let 'er Buck" are trademarks of the Pendleton Round-Up Association and used with permission.
Congratulations for making it all the way to the end of Friday Footnotes!
---
Contributing to Friday Footnotes
If you have information to contribute to Friday Footnotes, please e-mail the copy exactly as you would like it to appear in a Word document to: fridayfootnotes@themadeleine.edu. Deadline is Wednesday at 5pm, or Tuesday at 5pm if there is no school on Friday.