March 10, 2017
A Note from Susan
Dear Parents and Guardians,
Is this rain ever going to stop??? I don't know about you, but I want to get my Visa card out and fly to the nearest sunny spot on the map---even if it is in the middle of Alaska. I can take cold over wet any day right now. Hopefully, Spring Break will be warm and sunny in Portland. One can dream, right? Check out Fr. Mike and Harvey in their rain gear! (Picture below.)
Parish Affiliation Information       
In today's Friday folder is a hard copy of the Madeleine Parish Affiliation Form (or Click Here for a digital copy). As you know we have two tuition rates, one for parents who are registered and active in a Catholic parish, and a higher one for families not affiliated with a Catholic parish. If you feel you are eligible for the "in-parish" tuition rate, you must fill out the Parish Affiliation Form and give it to Fr. Mike for approval. He will then inform Mrs. Palmer, our bookkeeper, and you will be billed at the applicable rate. The return date is March 24th.
Tuition Assistance for 2017-2018 School Year
Just a quick reminder regarding tuition assistance for next year. Applications for aid from the Archdiocese of Portland are due March 31st. You can still apply after this date, but the pool of funds available will be smaller. Click here for an application for the 2017-2018 school year.
Also, get ready for a new principal…..no, I am not retiring yet, but Claire Uthman will be Principal For A Day and in charge of school next Thursday because her parents were the highest bidders for this auction item last November. I am not quite sure what she has planned (or what will be allowed!) but stay tuned for some fresh, new ideas that involve Irish dancing!
     Have a great weekend,
Susan
---
Five for Friday
The news you need really, really fast!
Mugs for Hugs - 3/13-3/20: Click Here
Parent Education Night - 3/15 @ 6:30pm: Click Here
Spring Grounds Clean Up - 3/11 @ 9am: Click Here
St. Patricks Day Parade - 3/19 @ 1pm: Click Here
St. Vincent de Paul Food Drive: Click here
---
Science Night Success

Wow, what a night! Hopefully, you were able to attend Science Night last night and play with the incredible interactive projects our middle school students proudly presented.The night included egg boat races, spheros mini golf, parachutes, magnets, a teeter totter, paper airplanes and so much more! Many students and parents said that this was the best Science Night ever thanks to all the interactive displays for everyone to learn from and enjoy.

Thank you to Ms. Yuhas for her leadership
and guidance in creating such a fun and
educational event.
---
Mugs for Hugs
March 13 - March 20
This week Student Government is sponsoring Mugs for Hugs, a Lenten mug drive for St. Francis Dining Hall in SE Portland. St. Francis Dining Hall provides meals for the homeless and less fortunate. They are in need of additional coffee mugs. So, please go through your cupboards and know that your old mugs will be given a new life helping those in need.
Please bring in used mugs, starting on March 13th, to your child's classroom. On March 20, Student Government will come around to each classroom to collect the mugs. We will also take a photo of everyone in the class holding their mugs. Deacon Mike, also said they have a tremendous need for new underwear. If you want slip a package of new underwear in with your mug, that would be greatly appreciated. Thank you for helping St Francis Dining Hall!
---
Parent Education Night - Children and Social Media
March 15 @ 6:30pm FIreside Room
The Madeleine School Parents Club is proud to present Shawn Marshall, from the Children's Program, on March 15th at 6:30pm.
Shawn Marshall, MA, LPC returns to the Madeleine to present on Kids and Social Media. Shawn's presention is developed from the challenges that many of his clients and their families have experienced while navigating the intricacies of social media.  He focuses on educating parents on a variety of social media sites and explores the potential negative impacts on their children.  Shawn offers numerous recommendations to support parents, who like their kids, are dealing with the ever-changing social media.  He provides up-to-date information and statistics on the impact that social media has on the developing brain including sleep, academics, and physical health.
Shawn Marshall MA, LPC is a licensed professional counselor who has over 20 years of experience working with children and families.  He has worked in residential programs, community mental health, consulted with school districts and is currently at the Children's Program in Portland.  He specializes in working with teens and has expertise in depression, anxiety, attention deficit, academic challenges, and oppositional behaviors.
---
5th Graders take 1st Place at
Destination Imagination
The Mad Thinkers, Catherine R., Celine G., Drew L., Jacob B. and Milo R. competed in the Destination Imagination Regional Tournament this past weekend. They took home 1ST PLACE honors and the DaVinci Award for performing a risky chemistry experiment combined with the creative use of technology.
The Mad Thinkers, have worked together since October to create a performance to tell a story about how the disappearance of a single color would change the world with required elements of a live vanishing act and technical theater methods. They wrote their own script, created and designed their own set/props/costumes, worked within a budget and used technology and science to deliver a funny and entertaining performance. Teams also compete in an Instant Challenge where they are given instructions for a performance or engineering based challenge on the spot. They have 4 minutes to create their solution and 2 minutes to perform to a set of judges.
These fabulous 5 kids topped their competition in all scoring categories! Nextsteps for The Mad Thinkers is the State Tournament April 8th in Salem…wish them luck!!
Learn more about Destination Imagination here www.destinationimagination.org
---
Spring Grounds Clean Up
Saturday, March 11 from 9am - noon
We will be focusing on our North Parking lot and the sidewalk along 24th Avenue. There are a variety of things that need to be done, from weeding and digging to pruning and sweeping. Come for a short time or come for the whole time. All and any help will be appreciated!
We welcome students! Students that volunteer will be rewarded with a free dress pass!!!
Please bring the tools that you will need, such as shovels, pruners, yard brooms, and wheel barrows. Thanks for volunteering to help make our grounds better.
Questions? Contact Daniela Grogro at daniela.grogro@nike.com or
503-412-9474.
---
Come One, Come All!
28th Annual
St. Patrick's Day Parade
Sunday, March 19th @ 1pm
This year's Grand Marshalls will be
Fr. Mike and Susan Steele!
Whether you march or watch, don't miss it! Sunday, March 19th at 1:00pm. The parade leaves from Beverly Cleary school and heads up Northeast Hancock. Rain or shine.
Contact Steve O'Slavik at 503-282-6370 for more information. May the luck of the Irish be with you!
---
St. Vincent de Paul food pantry in need of donations!
The St. Vincent de Paul food pantry is low on items and is looking to fill their shelves. Bags and barrels will be located in the entrance to the church, and a big box will be located in the school's front hallway to receive donations. Please help fill their needs by bringing in the following items:
Canned Vegetables, Canned Fruit, Canned Meat, Pasta & Sauce, Packaged Meals, Hearty Soups, Rice Mixes, Tuna, Fish, Cereal, Juice Boxes
**No Mac and Cheese, please (they have plenty).
---
St. Stephen's Lunch Program
CONGRATULATIONS, we've made over 5000 lunches!
It is only March, and I am proud to announce that The Madeline has made 5086 lunches since September. Thank you for your commitment, support and sandwich making skills to make this the most successful year yet! The 7th graders sent in 95 lunches last week and an additional 54 sandwiches were also made.
Our friends at St. Stephen's have a need for at least 200 lunches each week.  So please have your student make 6-10 lunches each.
---
Update from the Art Room
Art brings us together
The Madeleine Sixth Grade was delighted to host a special guest all the way from Pine Forest Elementary School in Maumelle, Arkansas. After seeing my post to the art teachers' on-line community that showed student work inspired by Pacific Northwest Glass artist Dale Chihuly, Art Educator, Mrs. Pat McCauley, sent their art room's resident Flat Chihuly (like Flat Stanley only cooler) to visit the Madeleine School art room. Flat Chihuly got to spend time with our sixth graders and pose for photo ops.
Mrs. McCauley reports that her students loved seeing the photos from his road trip, especially the one taken of him with our sixth grade artists. Flat Chihuly is on his way home having made new friends and memories, and with a little memento of his visit.

-Mrs. Galash
---
YDP Late Fee Reinstated
A friendly reminder from the YDP staff.

We have seen a rise in parents picking up their child/children late. YDP closes promptly at 6pm and we appreciate your promptness. Beginning Monday, March 20th we will be reinstating a $1.00 per minute fee charged for each minute after 6:00pm you are late picking up your child/children. This late fee is to be paid directly to the staff person who waited with your child/children at the time of occurrence.
---
Be On the Lookout! The 2016 Annual Fund Report Comes Home Today
Check in with your child to get your copy of The Madeleine School 2016 Annual Fund Report.
Thanks to your generosity, the school's 2016 Annual Fund Campaign was a great success. It raised almost $65,000 in donations and matching gifts for the Tuition Assistance and Endowment Funds as well as a discretionary fund for Area of Greatest Need.
Your support helps keep Catholic education affordable for all families at The Madeleine. Thank you!
Click here to read the 2016 Annual Fund Report.
---
Still a Few Spaces Left
Spread the word! We still have space left in the 1st grade for the 2017 - 2018 school year. Word of mouth has always proven to be our strongest form of marketing, so text your friends and neighbors and invite them to come for a tour and submit an application.
---
Madeleine Bulldogs CYO Spring Sports
**REGISTER FOR TRACK AND FIELD**

CYO TRACK & FIELD (3rd-8th Grade, Boys & Girls): CLICK HERE TO REGISTER NOW!
Track season practice may begin on March 13th
.
LACROSSE (K-8th Grade, Boys & Girls):
BASEBALL (3rd-8th Grade, Boys & Girls): CLICK HERE TO REGISTER NOW!
SCHOLARSHIPS: Scholarships are available through CYO. Click here to view and apply for a scholarship. The form can also be found at cyocamphoward.org. Do not hesitate to apply if you need assistance.
COACHES NEEDED Please contact the Athletic Director at cyo@themadeleine.edu if you are interested in coaching a Spring sport. We'd love to have you join the team!
BOARD MEMBER & ATHLETIC DIRECTOR OPEN POSITIONS Are you interested in helping shape the CYO Athletic Program at The Madeleine? Then, we need you! The Madeleine Athletic Board has upcoming open board member positions. The board meets quarterly during the year to discuss the CYO sports programs and scholarships offered. Please download and fill out this application and return by March 24th.
For more information about these or other sports offered or to register, check out the website http://www.themadeleine.edu/cyo
Go Bulldogs!!
Aimee Holzschuh
Madeleine Athletic Director
cyo@themadeleine.edu
---
Wilshire Riverside Little League Spring Baseball
Registration now open
Open to players 5 - 13. Please visit wilshireriversidell.org to register your son or daughter. Registration for lower levels (T-Ball, Single A and Double A) runs through March 24 for ages 5-8. Registration for Minors, Majors and 50/70 is now closed.
Madeleine School students 13 and younger are automatically eligible to play for WRLL since the school is within our league boundary. Come join the fun!
Contact Jim Honish for more information ~ jhonish7@gmail.com
---
Get Ready for the Teenage Years!
Sunday, April 9th
Northwest Family Services will present Mother-Daughter and Father-Son Adolescent Development Programs at Providence Portland Medical Center, 4805 NE Glisan St., on Sunday, April 9th.
These programs, approved by the Archdiocese of Portland, help families prepare for the physical, emotional, and social changes that adolescents experience.
The Mother-Daughter Program, for girls ages 9-12 and their mother, is from 2:00 to 4:00 p.m. The Father-Son Program, for boys ages 10-13 and their father, is from 5:00 to 7:00 p.m.
Registration is $15 per family per program. Pre-registration by April 6 is required. For more information or to register, please visit Northwest Family Services website for more information.
Click here to see the flyer for the Mother-Daughter event
Click here to see the flyer for the Father-Son event
---
This Week's Checklist
---
Download your copy of the bulletin at www.themadeleine.edu/bulletin
Lenten Faith Sharing Groups Forming Now!

Please sign up at the back of the church for a Lenten Small Faith Group. The purpose of Small Faith Groups is to bring people into communion with God through relationship building and faith exploration. Journey to the Cross is our spiritual booklet for our Lenten Small Faith Groups.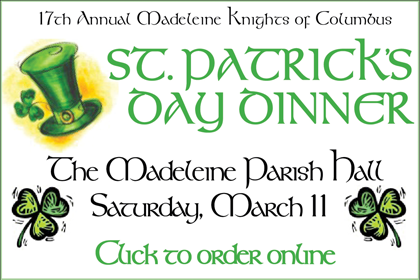 Congratulations for making it all the way to the end of Friday Footnotes!
---
Contributing to Friday Footnotes
If you have information to contribute to Friday Footnotes, please e-mail the copy exactly as you would like it to appear in a Word document to: fridayfootnotes@themadeleine.edu. Deadline is Wednesday at 5pm, or Tuesday at 5pm if there is no school on Friday.