September 9, 2016
A Note from Susan
Dear Parents and Guardians,
Welcome back to a new school year. I know January first is actually the first day of the calendar year, but for me….a former teacher, principal of 23 years, and a mom of school-age children for 25 years….the first day of the year is the day after Labor Day. Change is in the air and the pace picks up as I greet our new and returning families and look forward to a busy fall. I trust everyone had a wonderful summer and is ready to begin a new year filled with learning, challenges, and growth.
Mark Your Calendar!
Be sure that you have marked your calendar for three events coming up very quickly. This Sunday is the Annual Parish Picnic immediately following the 10:00 am Mass. As always, this is a free event where all are welcome. Hamburgers and hot dogs will be served. All you are asked to bring is a dessert to share.
Mr. Grant has planned another "Tee It Up for Technology" golf outing on September 17th to benefit our technology needs. See details below for how to sign up and be a part of this fun day on the links.
On Thursday, September 15th we will have our annual Back To School night beginning at 7:00pm. We will begin in the Parish Hall with information and announcements that apply to all parents and then there will be two 25 minute classroom sessions. Teachers will review the curriculum, activities, and highlights for the coming year. I really try to keep the evening moving along so that we finish in 90 minutes. This is not the time for individual conferences with your child's teacher. Scheduled conferences are late in October, and we will give you information on how to sign up for those. Hope to see you next Thursday.
Staffing Update
On another note……I am sad to inform you that Ms. Bjore has decided to take a medical leave for the next few months. You may remember that she had a serious medical incident last June, but she thought that she would be ready to come back to us in September. After consultation with her doctor, she has been advised that she needs more time to heal before returning to the stress of teaching. Please continue to keep her in your prayers. Since this was an unexpected turn of events, I will begin investigating options for our music program in Cynthia's absence.
Sincerely,
Susan
---
Five for Friday
The news you need really, really fast!
---

Auction Raffle has Begun!
Raffle packets are being sent home today in your child's Friday folder.  Please help support our school by selling your tickets. 
Our kids set a record last year for sales and we want to do it again. Tickets to sporting events are a huge incentive. Do you have tickets to sporting events you can't use this fall? Please consider donating them to the Madeleine raffle to be offered as special prizes for students who turn in sold raffle tickets.
Contact amandapower1@hotmail.com with questions.
Family Donations for the 2016 Auction
Due October 7
Welcome back to school!  Get ahead of your to-do list and get your auction donation in early this year, before the October 7 deadline -- because after the deadline, you will be billed for $250.
This year we are targeting items and services that have historically generated the most interest from bidders. To make this process work, we are requesting that you donate an item or service from the list of items below OR prayerfully consider a cash donation and write your best check ($200 minimum).
Trips
Vacation homes and accommodations
Hosted or Themed Dinners (Choose your favorite cuisine, party theme, or location)
Hosted Experiences (Group games, pool parties, scavenger hunts, races, wine tours)
Restaurant Gift Cards
Sporting Events, Tickets (Blazers, Ducks, Thorns, Timbers, Golf)
Cultural Events, Tickets (Plays, Musicals, Concerts, Theater, Symphony)
We understand that you may have a fun idea that aligns with our target list, so you can contact Andrew Steiner at auction@themadeleine.edu to share your thoughts.
Auction Sub-Chair Still Needed
We still have one sub-chair role we need to fill. Please consider the following position and contact auction@themadeleine.edu if you are able to help!
Auction Volunteers Needed
As part of our commitment to Madeleine, each two-parent family is required to contribute 30 hours per year -- 20 Service hours and 10 Auction hours. Each single parent family is required to contribute 20 hours per year -- 13 Service hours and 7 Auction hours. Look for sign-up lists at Back to School Night or contact auction@themadeleine.edu. 
Save the Date
Madeleine Round-Up, the 2016 Auction
Save Saturday, November 5th for the Madeleine 2016 Auction. We'll be rounding up friends and family for rowdy good time at the Madeleine School. Let'er bid!
Be sure to use #madeleineauction2016 for Instagram and Twitter!
---
Thanks for Kicking the Year Off Right!
Thank you to all the volunteers who made the Back-To-School BBQ so much fun. A special thanks to Deborah Naugler, Parents Club President, for rallying the troops over the summer so they would be ready to shop, grill, serve and clean-up on the very first day of school.
Jacks of all Trades: Julie Baldwin ~ Cathy Bargovan ~ Mark Bargovan ~ Evelyn Bian ~ Molly Briscoe ~ Marni Campbell ~ Paul Mortimer ~ Deborah Naugler ~ Laura Randall ~ Kristin Rios ~ Susan Samuelson
Grillmasters: Mike Hare ~ Mike Pelley
Ice Cream Procurement: Kevin and Emily Pennick
Food Shopper Extraordinaire: Scott Naugler
Music and Blessing of the Backpacks: Deacon Mike
Set-up: Terry Silva ~ Sean Gillen
In addition to all these great folks, we also had many people step in to help by monitoring trash, recycling and compost. Thank you to everyone for making it such a fun day back at school.
---
Technology Responsible Use Agreement for Middle Schoolers
In order to save large amounts of paper, we are not going to send home a printed copy of Madeleine's Technology Responsible Use agreement. Instead, this year, we are asking all middle school parents to read through the Responsible Use Agreement (click here) with your student then both sign and return the agreement sheet that you will find in your Friday Folders.
We appreciate your help as we try to cut down on paper and save more trees.
---
Enthusiastic and Energetic Teacher Needed for Madeleine's After-School Program
Qualifications: Previous experience working with school-age students in educational or child care setting preferred OR coursework in child development, elementary education, special education, recreation, or early childhood education.
Candidates must pass criminal background check and be willing to enroll in the Oregon Child Care Division Online Central Background Registry. Candidates must obtain an Oregon Food Handlers card and become CPR/First Aid certified.
Approximate hours: Monday, Tuesday, Thursday, Friday 3 pm-6 pm; Wednesday 2:15-6 pm. Hourly wage based upon experience and qualifications. Hours are approximate, but would be within the times listed.
Position is available immediately. Contact The Madeleine School Principal Susan Steele, ssteele@themadeleine.edu.
---
Save the Date: 3rd Annual Golf Tournament
September 17th @ 1pm
The Madeleine School is hosting a 4 Player Scramble golf tournament at Heron Lakes on September 17th. 
Get a foursome together, don your flashiest golf apparel and come enjoy a wonderful day on the course to support The Madeleine School. Register at www.themadeleine.edu/golf.
Any questions, please don't hesitate to contact Brian Grant at bgrant@themadeleine.edu.
---
Sign up for Hot Lunch in October

Sign ups open tomorrow for hot lunches served during October. The deadline to sign up is September 24th.
Click here to review the monthly menu, place your order and make your payment.
---
St. Stephen's Lunch Program
Making a difference, one lunch at a time!
Throughout the year we ask all the students to participate in our school-wide service project, which provides lunches to Portland's homeless. One class each week is designated to bring in bagged lunches, which we then deliver to a local parish.
Our commitment to the hungry will begin Tuesday, September 13th with the 8th graders bringing in lunches, which will be taken to St. Stephen's while St. Michaels is being remodeled. We suggest that each child brings in at least six lunches, but any help is appreciated. Please include a sandwich and some snacks. Our contributions are distributed to Safe Place, two women's shelters, and handed out to people in need at Pioneer Square.
Please no condiments on sandwiches. Why no condiments? St. Stephen's volunteers specifically made this request because eggs are on the "Big 8" of food allergens. Many lunches in the past were not being accepted because of mayonnaise on the bread. Madeleine School has purchased boxes of individual packets of both mayonnaise and mustard to hand out separately. If you have extra individual packets of either mustard or mayonnaise at home that you would like to donate please do. Just place in a separate plastic bag and we will bring it to the parish. Thanks!
Here are a few tips for the lunches you make:
Simple sandwiches with plain bread, meat and cheese. PB&J is also okay.
No mustard or mayo!
Lunches should also include chips and a cookie or piece of fruit.
There is no limit to the number of lunches you may bring in.
---
Check Out Madeleine's Facebook Page
Please join The Madeleine School on Facebook! We'll be sharing event info and reminders, school announcements, fun photos, contest information and more!
When you actively support the school on social media with a 'Like' and by sharing our posts you help spread the word about our incredible education program, our fundraisers, and our community involvement. Add The Madeleine School to your Facebook feed and stay tuned!
Like and follow The Madeleine School by clicking here.
---
Sign up Now for YDP During In-Service and Parent/Teacher Conferences
Where will your children be when school is closed for In-Service and Parent-Teacher conferences in October? They could be enjoying a PJ Day and Halloween-related fun right here at Madeleine. Sign up now for a spot in Madeleine's YDP program.
Click here for rates and the registration form.
---
Gaila Savery Takes a (Temporary) New Role at The Madeleine
Many of us know Gaila Savery as the head of Madeleine School's YDP (Youth Development Program/Before and After School Care) and as one of the Learning Specialists who works one-on-one with students in the Learning Loft. But, did you know she has been an educator since 1981? It is this wealth of training and experience that allowed her to step in to the sixth grade classroom while Mrs. Chambers is on maternity leave.
Ms. Savery was born and raised right here in Portland in the Southeast. In fact, her elementary school, Earl Boyles, was named after her maternal grandfather!
After graduating with a B.A. from Western Oregon she immediately went into teaching. She later went back to graduate school and obtained her M.A. from Concordia University. Since 2003, she has been a valuable part of the Madeleine School community.
As the substitute teacher for Mrs. Chambers, Ms. Savery will teach religion, social studies, math and language arts to the sixth graders. In addition, as she has done for the past couple of years, she will continue to teach them about their brains and executive functioning skills based on Mary Dee Sklar's "Seeing My Time" curriculum.
She believes teaching is all about relationships and that teachers need to build relationships first to be effective educators. She herself is a kinesthetic learner (tactile style of learning), but looks forward to working with all the different types of learners in the classroom.
Ms. Savery is "very excited to teach such a fun grade" and hopes "having a familiar face in the classroom will help with the middle school transition." She is especially looking forward to attending Outdoor School with the class in October.
While Ms. Savery is busy in the classroom, her trusty YDP staff will ensure YDP is as fun as ever and the teachers will take turns helping Mrs. Steele oversee lunch. Mrs. Chambers will return to the classroom at the start of the second trimester in early December.
---

The 3rd graders enjoyed a visit from Father Mike on the first day of school.
---
Counselor Corner
by Carolyn Ullman
Welcome back!
It is exciting to see all of our returning students and the new members of our community. I believe that most, if not all students enter school with excitement, enthusiasm, and optimism. From time to time, we see the excitement fade, enthusiasm replaced with drudgery and optimism replaced with pessimism. In today's world education is so critical that we must do all that we can to help students understand that school is a vital stepping stone to bigger and better things! We can do that!
We can help them develop an appreciation for learning for the sake of learning. One thing that I think is critical to emphasize is that they need not compete with anyone except themselves. What we can instill is: Be the best that you can be!   Not be better than someone else and not do enough to get just get by.  It takes confidence and effort. We can help with that!
We know that the single most important variable in a child's school experience is positive parental involvement. I encourage you to take time to talk with your child each day about their experience at school.  Asking what they learned that day may not be enough. In that conversation you can discuss with them their successes, their disappointments, their frustrations and their goals. You can teach them how to deal with frustration, disappointment, and how to set goals. You can instill in them an appreciation of hard work. There is a process to success. Research shows that when we excessively praise success children sometimes develop a fear of failure, while when we emphasize the process of being successful children develop resiliency and recognize the value of hard work and perseverance. We can do that together!
Let's join together this year in helping our children become the best that they can be! I welcome the opportunity of talking with you and am always glad to share thoughts and ideas. I don't have all the answers, but I have learned a few things after a lifetime of studying and working with students. Most importantly I care, as I know that you do. We can have a great year!
---
Results of Water Testing at The Madeleine
In August, you received an email sharing a letter from the Archdiocese regarding the lead testing that they authorized and that was completed in June. It is good news because "The results of the tests indicate that all water samples were below the action level of 20 ppb as established by the EPA." If you did not get a chance to read the letter last month, please take a minute to read it now.
Click here to read the letter from the Archdiocese.
---
Re-Enroll Your Rewards Card to Continue Earning Free Money for Madeleine
In order for participating nonprofits to continue to receive donations from their Community Rewards program, Fred Meyer is requiring that everyone re-enroll their rewards card. Quick! Do it now before you forget, so Madeleine can continue to earn hundreds of dollars every quarter from your grocery shopping. Here's how:
Relink your card to the Fred Meyer Community Rewards program by logging on to your account at www.fredmeyer.com/communityrewards.
You can search for Madeleine by name or by our non-profit number: 86447. Then, every time you shop and use your Rewards Card, you are helping The Madeleine School earn a donation!
You still earn your Rewards Points, Fuel Points, and Rebates!
---
Visit themadeleine.edu/amazon to Benefit The Madeleine School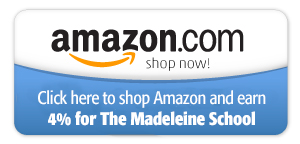 When shopping on Amazon, remember to use the Madeleine Parents Club Amazon link. This program donates a portion of everything you spend on Amazon to The Madeleine – and it won't cost you a single cent more! You can click this link to get shopping immediately, or you can read more about this "free fundraiser" here.
The more you shop on Amazon using www.themadeleine.edu/amazon, the more money the school makes. The prices and shopping experience are exactly the same as the "normal" Amazon, but using that link earns the school a minimum of 4% commission. It's one of the easiest fundraisers you'll ever find!
---
Annual Asbestos Notification
Many years ago all of the Archdiocesan properties (schools, churches, buildings, etc.) were inspected for asbestos. Any asbestos that was found was removed or encapsulated. Twice a year all buildings, including those at Madeleine, are inspected to be sure that any encapsulation is intact and there is no danger to the people in the building. In addition we are required to send out a letter each year, with details of the abatement program. Click here to read that letter.
---
Cub Scout Pack 47 Invites You to Join the Fun!
Come see what Scouting is all about! Join us for a BBQ and kickball game and meet the other Scouts of Pack 47.
When: Wednesday, September 14 from 6 – 8pm
Where: Archbishop Howard School ~ Covered Basketball Court ~ 2727 NE 54th Avenue
For more information, contact Matt Wilson at 503-347-8511.
---
Sign up Now for M.U.S.E. Band
The M.U.S.E Band Program is currently registering students for our after school band program which will be on Wednesdays from 2:45-3:35pm (Beginning Band). If there are some students who play a band instrument already, we can look at having a second class for intermediate level.
There will be an Open House next Wednesday, September 14th at 2:45pm. Eryn Vercammen, the instructor, will go over the program for about 15-20 minutes and answer questions. Classes will officially start the following week, September 21st.
In addition, there is an instrument petting zoo where students can try out instruments on Saturday, September 17th from 9:30-11:30am at St. Rose School (formerly Archbishop Howard). Instruments will also be available to rent that morning.
Students can choose what they would like to play: flute, clarinet, saxophone, trumpet, trombone, and percussion (drums and tuned bells). Students will have the opportunity to march in this year's Portland Junior Rose Parade.
See the music website at www.museband.com for all the details including cost of lessons and rental instrument.
---
Invitation to Parents of K-5 Students
Dessert Meetup hosted by moms in the Portland Eco-School Network
The Eco-School Network parents help "green" the experience of their children at school. At the meetup, learn how you can get involved for the 2016-17 school year.
Four Dessert Meetups will be held in homes of Portland Network members. If you cannot attend one in your area, you may attend another. Feel free to bring other interested parents. 
Please RSVP to Jeanne Roy, 503-244-0026 or Jeanne@earthleaders.org, and she will send you the name of your host and directions for the home meetup in your area.
North – September 26, 7:00 p.m.
Northeast – September 27, 7:00 p.m.
Southeast – September 28, 7:00 p.m.
West – September 29, 7:00 p.m.
The Eco-School Network, www.ecoschoolnetwork.org, aims to introduce or upgrade sustainable practices and to increase eco-awareness as a means to enrich the daily experience of K-5 children at school. Network parents from about 30 schools share ideas, experiences, and projects, in person and online, and provide mutual support and inspiration. The sponsor of the Eco-School Network is the Center for Earth Leadership, www.earthleaders.org, a local nonprofit founded by life-long Portlanders, Jeanne and Dick Roy.
​​
---
This Week's Checklist
---
Download your copy of the bulletin at www.themadeleine.edu/bulletin
Join us—Annual Parish Picnic
This Sunday, 10:00 Mass
Families are back from their busy summers, kids are in school, parish events get back into full swing...and our Parish Picnic kicks it all off. It has been one of the biggest events each year, and we look forward to another great one this year.
Join us for Mass at 10:00 am, then a wonderful picnic on the parish grounds
After Mass, come on out to the parish grounds where we'll have food, beverages, games, kids' activities, entertainment and fellowship. Hamburgers and hot dogs, grilled to perfection by the Knights of Columbus, will be on the menu.
The Madeleine Music Ministry
Join us at www.themadeleine.edu/choir
Do you or your child love to sing or play an instrument? Our Madeleine Music Ministry is looking for YOU to join one of our wonderful music ministry teams! ALL are welcome!! Click to read more....
Confirmation program reaches out to high school youth
Programs at The Madeleine or at Central Catholic High School
It's time to begin thinking about confirmation for high school youth, and this year, we have some exciting news. Not only will we hold a confirmation program here at The Madeleine, but in an exciting pilot program, we will also be managing a confirmation program taught at Central Catholic High School! Click to read more
September Startups from your Faith Formation Office
Programs, ministries and opportunities for everyone! Be sure to check dates as our Sacramental Prep programs begin early this year! Click here for more information on:
First Reconciliation/First Eucharist
Confirmatiuon
Children's Liturgy
RCIA
WOmen's Retreat
PDXCatholicTOTS
Adult Confirmation
and much more....
Poverty, Inc. showing, Friday, Sept. 16

On Friday, Sept. 16 the Madeleine Peace & Justice committee is showing the documentary, Poverty, Inc. 7:00 pm in the Parish Hall.Click for more information
Horse & Rider logo, "Pendleton Round-Up" and "Let 'er Buck" are trademarks of the Pendleton Round-Up Association and used with permission.
Congratulations for making it all the way to the end of Friday Footnotes!
---
Contributing to Friday Footnotes
If you have information to contribute to Friday Footnotes, please e-mail the copy exactly as you would like it to appear in a Word document to: fridayfootnotes@themadeleine.edu. Deadline is Wednesday at 5pm, or Tuesday at 5pm if there is no school on Friday.