September 16, 2016
Editor's Note:
We hope Friday Footnotes makes it easier for you to keep track of school events, volunteer opportunities and all things Madeleine-related. The main section below contains Susan's weekly column, "Five for Friday" for quick reference, and short articles about everything going on around Madeleine.
The right-hand column includes five useful sections:
1) a printable summary of upcoming events and deadlines
2) deadlines and events to remember for the current week
3) a look ahead to important upcoming items that should go on your calendar
4) links to regularly used web pages and forms
5) a list of archived issues of Friday Footnotes, so you always have access to information published previously
If you would like to contribute to Friday Footnotes, please send the copy in a Word document exactly as you would like it to appear to:fridayfootnotes@themadeleine.edu. The deadline is Wednesday at 5pm or Tuesday at 5pm if there is no school on Friday.
---
A Note from Susan
Dear Parents and Guardians,
It was so great to see all of you last night at our Back to School Night. I heard from many people that there is such a wonderful spirit of enthusiasm, openness, and expectation for the coming year. (Maybe we should start Back to School Night at 6:00 pm so that parents can "socialize" for an hour before the meeting. The atrium was filled with such happy chatter that I felt bad about asking everyone to sit down so we could begin the evening.)
Thank you for taking time out of your busy family and business lives to support your children and their teachers. School events, such as BTS night, serve more than just one purpose. Teachers definitely want to share their goals and objectives for the year, but we also want to build a partnership where home and school work together to nurture the growth of the whole child. That is our mission. That is why we are here—to help students grow spiritually, academically, morally, socially, and physically. Thank you for entrusting your children to The Madeleine School.
Called to Protect Training
I promised last night to clarify the Archdiocesan Called to Protect program that I touched on at the meeting. In an effort to prevent instances of child abuse, the Archdiocese of Portland has instituted this program in all parishes and schools. The key points are that if you wish to volunteer in any program that involves children, you must submit and clear a Volunteer Background Check AND attend a training session on preventing child abuse AND read/sign off on a Standards of Conduct document that can be found online or hard copy in the office. The background checks are valid for three years. The in-person training is a one-time event and the Standards of Conduct document is good until another one might take its place.
The fall training for Called to Protect will be September 21st at 6:30 in the parish atrium. Plan on about an hour. We will have another training later in the year. Date TBD. You may attend a training at another Archdiocesan location, but just be sure that you get a certificate of attendance and turn it in to the school office so we can record it in the database. Locations are listed on the Archdiocesan website at www.archdpdx.org.
Each year following the training, volunteers need to view a child abuse prevention video to stay on the volunteer list. You will need to go online to see a short video and then you will be automatically extended for another year of volunteering. You will be able to do this from your home, office, Starbucks, wherever you have an Internet connection. This year's video is on Social Media Safety. Please click here to see the detailed instructions on how to log on and view the video.
Please remember that you may not volunteer until you have completed the background check, the training, read the Standards of Conduct, and for returning volunteers, viewed this year's online video.
Allergies
On another safety note…. We are reviewing our procedures for responding to the needs of students who could have a severe allergic reaction (SAR). The first step is to identify any children who know they have a reaction to bee stings, peanuts, certain foods, allergens, etc. We are asking our parents to please, please, please, let us know if your child is in this category AND if your physician has developed a plan to deal with an emergency. We will keep this on file and follow those directions. We have staff trained to recognize a severe allergic reaction and administer an Epi-Pen injection in a life-threatening situation while 911 help is being summoned. Also, if your child suffers from any medical condition that could require our assistance, please let us know so that we are prepared in an emergency.
Tee It Up for Technology – TOMORROW!
It is not too late to sign up for our Third Annual "Tee It Up for Technology" golf outing to benefit our school's technology needs. Be part of this fun day on the links at Heron Lakes by registering at www.themadeleine.edu/golf. The action starts at 1pm!
Have a great weekend.            
Sincerely,
Susan
---
Five for Friday
The news you need really, really fast!
---

Auction Raffle Is In Full Swing!
FLASH SALE PRIZE ALERT
Kids who sell 5 tickets by next Friday (9/23) will have a chance to win a FUJIFILM Mini 8 Instant Camera.
We are still on the lookout for anyone who may have extra tickets to sporting events this fall that you can't use. Please consider donating them to use as incentive prizes for kids who are working hard to sell their raffle tickets.
Contact amandapower1@hotmail.com with questions.
Family Donations for the 2016 Auction
Due October 7
This year we are targeting items and services that have historically generated the most interest from bidders. To make this process work, we are requesting that you donate an item or service from the list of items below OR prayerfully consider a cash donation and write your best check ($200 minimum).
Trips
Vacation homes and accommodations
Hosted or Themed Dinners (Choose your favorite cuisine, party theme, or location)
Hosted Experiences (Group games, pool parties, scavenger hunts, races, wine tours)
Restaurant Gift Cards
Sporting Events, Tickets (Blazers, Ducks, Thorns, Timbers, Golf)
Cultural Events, Tickets (Plays, Musicals, Concerts, Theater, Symphony)
We understand that you may have a fun idea that aligns with our target list, so you can contact Andrew Steiner at auction@themadeleine.edu to share your thoughts.
Auction Volunteers Hours
As part of our commitment to Madeleine, each two-parent family is required to contribute 10 Auction hours, and each single parent family is required to contribute 7 Auction hours. If you did not get a chance at Back to School Night to sign up for a volunteer job, contact auction@themadeleine.edu. 
Be sure to use #madeleineauction2016 for Instagram and Twitter!
---
Tee It Up for Technology
TOMORROW - September 17th @ 1pm
It is not too late to sign up for our 3rd Annual "Tee It Up for Technology" golf outing to benefit our school's technology needs. Be part of this fun day on the links at Heron Lakes by registering at www.themadeleine.edu/golf. The action starts at 1pm!
The event will be a 4 Player Scramble golf tournament at Heron Lakes. Get a foursome together, don your flashiest golf apparel and come enjoy a wonderful day on the course to support The Madeleine School.
Questions? Contact Brian Grant at bgrant@themadeleine.edu.
---
Fall Grounds Clean-Up
Saturday, September 17th @ 9am - noon
We will be focusing on our North Parking lot and the sidewalk along 24th. There are a variety of things that need to be done, from weeding and digging to pruning and sweeping. Come for a short time or come for the whole time. All and any help will be appreciated!
We welcome students! Students that volunteer will be rewarded with a free dress pass!!!
Please bring the tools that you will need, such as shovels, pruners, yard brooms, wheel barrows, etc. 
Thanks for volunteering to help make our grounds better.
Please contact Daniela Grogro at daniela.grogro@nike.com or 503-412-9474 with any questions.
---
Hard Work by Parents Pays Off for Our Students!
Many thanks to our school parents for all your volunteer hours last year, which helped to raise over $304,000 to support art, music and other great programs at Madeleine.
Click here if you would like to read the complete Madeleine School 2015 - 2016 Fundraising Report, which includes a breakdown of funds raised by our Student Service Projects as well as our Parents Club.
---

Parent-Teacher Online Conference Sign-ups
Sign-up online starting on Monday @ 7am
Starting on Monday at 7am, you can sign-up for Parent-Teacher conferences, which will be held October 26 - 28.
Click here to read the Parents' Guide to Booking Fall Conferences.
Please contact Alison Anderson at aanderson@themadeleine.edu if you have any questions.
---
Enthusiastic and Energetic Teacher Needed for Madeleine's After-School Program
Qualifications: Previous experience working with school-age students in educational or child care setting preferred OR coursework in child development, elementary education, special education, recreation, or early childhood education.
Candidates must pass criminal background check and be willing to enroll in the Oregon Child Care Division Online Central Background Registry. Candidates must obtain an Oregon Food Handlers card and become CPR/First Aid certified.
Approximate hours: Monday, Tuesday, Thursday, Friday 3 pm-6 pm; Wednesday 2:15-6 pm. Hourly wage based upon experience and qualifications. Hours are approximate, but would be within the times listed.
Position is available immediately. Contact The Madeleine School Principal Susan Steele, ssteele@themadeleine.edu.
---
Sign up for Hot Lunch in October
Deadline = September 24th
Sign ups are now open for hot lunches served during October. The deadline to sign up is September 24th.
Click here to review the monthly menu, place your order and make your payment.
---
Subway is Back for Parent's Club Hot Lunch Starting in October
Please note that the Regular 6" Subway sandwich remains at $4.00, but the Large/12" Sub is now $6.00 (a $1.00 increase). I'm sorry for the change, but Subway has been affected by a price increase in groceries and wages and rather than canceling our offering, we decided to offer the large with a $1.00 increase.
If you have questions or concerns, feel free to email me at mollyfaherty@yahoo.com.
---
St. Stephen's Lunch Program
Making a difference, one lunch at a time!
As our Mission here at The Madeleine states: "We build community based on love, understanding, and respect for the dignity of all people as modeled by Jesus Christ."
Tina Hanselman's 8th Grade class demonstrated our mission by providing 131 lunches to Portland's hungry this week. This year we will continue our school-wide service project with St. Stephen's Episcopal Church and HOMEpdx, which work to feed the homeless in downtown Portland. You can learn more at www.homepdx.net.
Here are a few tips for the lunches you make:
Simple sandwiches with plain bread, meat and cheese. PB&J is also okay.
No mustard or mayo!
Lunches should also include chips and a cookie or piece of fruit.
There is no limit to the number of lunches you may bring in.
---
Last Chance to Support the 2016 Annual Fund Campaign

Donation Deadline = September 30th
If received by September 30th, your tax-deductible donation will help us raise $27,500, which will then be matched with another $27,500 by the OCF Joseph E. Weston Public Foundation. 
Our Annual Fund Campaign supports our tuition assistance program and helps close the over $400,00 gap between what everyone pays in tuition and the actual cost of educating our students. 
Click here to make a donation to the 2016 Annual Fund Campaign.
Questions? Contact Lynn Robinson, Development Director, at 503-288-9197 or lrobinson@themadeleine.edu.
---
School Advisory Council (SAC) Meeting
September 22 @ 7pm in the Library
The School Advisory Council (SAC) will hold its first meeting of the school year on Thursday, September 22 at 7pm in the Library. Click here to read the agenda.
All meetings are open to visitors unless specifically designated as being closed. If you would like to attend the meeting and add something to the agenda, please contact the Chair prior to the meeting (Lucas Newman: lnewman@firstrepublic.com).
SAC Purpose and Members
The purpose of the Madeleine School Advisory Council (SAC) is to provide advice to Father Mike and Susan Steele regarding policy direction for program needs of the school, especially in Planning, Finances, Technology and Development.
If you can't attend a SAC meeting, but have a topic you would like to bring to the group's attention, please contact one of the members: Fr. Mike Biewend, Susan Steele, Lucas Newman (Chair), Heather Matteri (Vice-Chair), Eric Anctil, Catherine Glaven, Diana Nunez, Tim Resch, Margaret Scharle, Anne Steiner, Erskine Williams, Jonas Allen (Parents Club Representative), Lynn Robinson (Development Representative).
---
Picture Day
Thursday, September 29
Get those haircuts scheduled! You have less than two weeks until picture day. Don't forget that students have a choice to come to school in either free dress or their school uniform.
Click here for online ordering instructions.
---
Youth Group news: Working together with St. Charles
As we head into the new school year there are some very exciting things happening with our youth group. The Madeleine and St. Charles have decided to merge our youth programs. Our youth live in a world where they are not confined by the boundaries created by their grandparents. The world that our youth are growing up in is a global community. It's fast, it's huge, and it brings with it exciting possibilities as well as new challenges for youth ministry. In order to adequately address the new challenges we need to be able to grab hold of the new possibilities. We need to break old modes, be creative, and re-imagine what is possible. Both parishes hold the same goal: to bring the Gospel of Jesus Christ to the lives of young people. We know that each individual and each parish brings different gifts to the table. We firmly believe that together we will be stronger and better able to live out our mission. Click to read more...
---
Check Out Madeleine's Facebook Page
Please join The Madeleine School on Facebook! We'll be sharing event info and reminders, school announcements, fun photos, and more!
When you actively support the school on social media with a 'Like' and by sharing our posts you help spread the word about our incredible education program, our fundraisers, and our community involvement. Add The Madeleine School to your Facebook feed and stay tuned!
Like and follow The Madeleine School by clicking here.
---
Sign up Now for YDP During In-Service and Parent/Teacher Conferences
Where will your children be when school is closed for In-Service and Parent-Teacher conferences in October? They could be enjoying a PJ Day and Halloween-related fun right here at Madeleine. Sign up now for a spot in Madeleine's YDP program.
Click here for rates and the registration form.
---

Colorful Manadala Greets Everyone at Back to School Night
Thanks to Mrs. Galash's fast work, every student in the school made an individual piece of art that she then assembled into a colorful mandala for Back to School Night. The word mandala means circle and creating a group mandala is considered a unifying experience in which people can express themselves individually within a unified structure.
---
Re-Enroll Your Rewards Card to Continue Earning Free Money for Madeleine
In order for participating nonprofits to continue to receive donations from their Community Rewards program, Fred Meyer is requiring that everyone re-enroll their rewards card. Quick! Do it now before you forget, so Madeleine can continue to earn hundreds of dollars every quarter from your grocery shopping. Here's how:
Relink your card to the Fred Meyer Community Rewards program by logging on to your account at www.fredmeyer.com/communityrewards.
You can search for Madeleine by name or by our non-profit number: 86447. Then, every time you shop and use your Rewards Card, you are helping The Madeleine School earn a donation!
You still earn your Rewards Points, Fuel Points, and Rebates!
---
Visit themadeleine.edu/amazon to Benefit The Madeleine School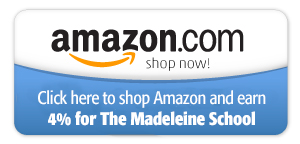 When shopping on Amazon, remember to use the Madeleine Parents Club Amazon link. This program donates a portion of everything you spend on Amazon to The Madeleine – and it won't cost you a single cent more! You can click this link to get shopping immediately, or you can read more about this "free fundraiser" here.
The more you shop on Amazon using www.themadeleine.edu/amazon, the more money the school makes. The prices and shopping experience are exactly the same as the "normal" Amazon, but using that link earns the school a minimum of 4% commission. It's one of the easiest fundraisers you'll ever find!
---
Sign up Now for M.U.S.E. Band
The M.U.S.E Band Program is currently registering students for our after school band program which will be on Wednesdays from 2:45-3:35pm (Beginning Band). If there are some students who play a band instrument already, we can look at having a second class for intermediate level.
Eryn Vercammen, the instructor, says classes will officially start on September 21st. As an introduction to the instruments, there is an instrument petting zoo where students can try out instruments on Saturday, September 17th from 9:30-11:30am at St. Rose School (formerly Archbishop Howard). Instruments will also be available to rent that morning.
Students can choose what they would like to play: flute, clarinet, saxophone, trumpet, trombone, and percussion (drums and tuned bells). Students will have the opportunity to march in this year's Portland Junior Rose Parade.
See the music website at www.museband.com for all the details including cost of lessons and rental instrument.
---
Central Catholic CYO Nights
Central Catholic will be hosting a CYO Night several times throughout the school year to encourage middle school students to attend volleyball, football, and basketball games and check out their athletic program. To receive free admission, students can wear their CYO sports jersey.
Click here to see the flyer with dates and complete details.
---
Invitation to Parents of K-5 Students
Dessert Meetup hosted by moms in the Portland Eco-School Network
The Eco-School Network parents help "green" the experience of their children at school. At the meetup, learn how you can get involved for the 2016-17 school year.
Four Dessert Meetups will be held in homes of Portland Network members. If you cannot attend one in your area, you may attend another. Feel free to bring other interested parents. 
Please RSVP to Jeanne Roy, 503-244-0026 or Jeanne@earthleaders.org, and she will send you the name of your host and directions for the home meetup in your area.
North – September 26, 7:00 p.m.
Northeast – September 27, 7:00 p.m.
Southeast – September 28, 7:00 p.m.
West – September 29, 7:00 p.m.
The Eco-School Network, www.ecoschoolnetwork.org, aims to introduce or upgrade sustainable practices and to increase eco-awareness as a means to enrich the daily experience of K-5 children at school. Network parents from about 30 schools share ideas, experiences, and projects, in person and online, and provide mutual support and inspiration. The sponsor of the Eco-School Network is the Center for Earth Leadership, www.earthleaders.org, a local nonprofit founded by life-long Portlanders, Jeanne and Dick Roy.
​​
---
This Week's Checklist
---
Download your copy of the bulletin at www.themadeleine.edu/bulletin
Poverty, Inc. showing, Friday, Sept. 16

On Friday, Sept. 16 the Madeleine Peace & Justice committee is showing the documentary, Poverty, Inc. 7:00 pm in the Parish Hall.Click for more information
The Madeleine Day
of Service
Our Second Annual Day of Service is October 15. Plan now to be a part of it. Below is a list of service projects we are planning to undertake. Take a look, then go to www.themadeleine.edu/service to sign up.
Welcome to Cathy Armstrong, Ministry Liaison
Catherine Johnson-Armstrong is joining the Madeleine team as the Ministry Liaison. She will be coordinating Ministry Development and is going to help design a ministry program that attempts to engage every member of the Madeleine Community as a minister. She will provide support to the Madeleine Ministry leaders and their various community missions, along with supporting ministry leaders in their engagement and spiritual development of ministry members. Click to read more...
Welcome to Deacon Bill Zondler, Transitional Deacon
My name is Deacon Bill Zondler, I will be with you on the weekends for the entirety of this academic year. I was born and raised in San Diego, California in a family of four in a little coastal surf town. I am currently in my last year of studies and preparation to become a priest for the Diocese of San Diego. Click to read more...
Help eliminate obstacles to overcoming poverty.
Join the team!
Village Support Network Orientation Training • Thursday, September 22 • Fireside Room • 7:00-8:30 pm
The Madeleine Parish has been part of the NE Interfaith Alliance (NIA), a growing network of NE Portland faith-based communities that is on a mission to fight poverty in our region. Last May members of NIA met with parishioners and others to share our planning and to seek input from you. Now, at the beginning of fall it is the time for action and we need your help. Click to read more...
The Madeleine Music Ministry
Join us at www.themadeleine.edu/choir
Do you or your child love to sing or play an instrument? Our Madeleine Music Ministry is looking for YOU to join one of our wonderful music ministry teams! ALL are welcome!! Click to read more....
Confirmation program reaches out to high school youth
Programs at The Madeleine or at Central Catholic High School
It's time to begin thinking about confirmation for high school youth, and this year, we have some exciting news. Not only will we hold a confirmation program here at The Madeleine, but in an exciting pilot program, we will also be managing a confirmation program taught at Central Catholic High School! Click to read more
September Startups from your Faith Formation Office
Programs, ministries and opportunities for everyone! Be sure to check dates as our Sacramental Prep programs begin early this year! Click here for more information on:
First Reconciliation/First Eucharist
Confirmation
Children's Liturgy
RCIA
Women's Retreat
PDXCatholicTOTS
Adult Confirmation
and much more....
Horse & Rider logo, "Pendleton Round-Up" and "Let 'er Buck" are trademarks of the Pendleton Round-Up Association and used with permission.
Congratulations for making it all the way to the end of Friday Footnotes!
---
Contributing to Friday Footnotes
If you have information to contribute to Friday Footnotes, please e-mail the copy exactly as you would like it to appear in a Word document to: fridayfootnotes@themadeleine.edu. Deadline is Wednesday at 5pm, or Tuesday at 5pm if there is no school on Friday.