February 24, 2017
A Note from Susan
Dear Parents and Guardians,
Well, I am off again to another conference, this time with Fr. Mike and Mary Witka to keep an eye on me. Last week the principals of the Archdiocese gathered for a retreat at the beach. Bishop Peter Smith was our retreat master, and he was wonderful. He spoke to considering the humanity of Christ while he was on this earth and beginning his ministry. He was able to infuse his remarks with references to present day locations in the Holy Land as he is a well-traveled person. His talks were very thought provoking and truly inspired us all in the common ministry we have. Of course, there was also much laughing, sharing, and camaraderie within the group.
Now I am off to the biggest religious education conference in the US, perhaps world. Over 40,000 people at the Anaheim Convention Center! Sessions on liturgy and religious education dominate the gathering, but also talks on personal spirituality, etc. to help one grow in his/her faith and how to pass on that faith to the next generation. I am sure I will come back with renewed serenity and a halo.
Sincerely,
Susan
---
Five for Friday
The news you need really, really fast!
March Hot Lunch Deadline TODAY-2/24: Click Here
Mardi Gras - 2/28 @ 6:00pm: Click Here
CYO Spring Sports: Click Here
Auction Sub-Chair Sign-ups: Click Here
Madeleine Employment Opportunity: Click Here
---
Sign up Now to get Hot Lunch in March

Registration is open until February 24th
Sign-ups are now open to order hot lunches served during March.
Click here to review the montly menu, place your order and make your payment.
---

Mardi Gras Volunteers Needed
Our annual Mardi Gras celebration is this Tuesday, February 28th at 6:00pm.. It's one of the biggest events on campus each year, with people coming not only from the parish and school, but from the whole neighborhood.

To make this event a success we need volunteers! We need help with setup, cleanup, food, the kids' FunZone in the gym and much more. We'd love your help!
Please contact Janeen Reilly, jreilly@themadeleine.edu, and she'll find just the right spot for you!
---
Madeleine Bulldogs CYO Spring Sports
**REGISTER FOR TRACK AND FIELD**
CYO TRACK & FIELD (3rd-8th Grade, Boys & Girls): CLICK HERE TO REGISTER NOW!
Track season practice may begin on March 13th
.
LACROSSE (K-8th Grade, Boys & Girls):
BASEBALL (3rd-8th Grade, Boys & Girls): CLICK HERE TO REGISTER NOW!
SCHOLARSHIPS: Scholarships are available through CYO. Click here to view and apply for a scholarship. The form can also be found at cyocamphoward.org. Do not hesitate to apply if you need assistance.
COACHES NEEDED Please contact the Athletic Director at cyo@themadeleine.edu if you are interested in coaching a Spring sport. We'd love to have you join the team!
BOARD MEMBER & ATHLETIC DIRECTOR OPEN POSITIONS Are you interested in helping shape the CYO Athletic Program at The Madeleine? Then, we need you! The Madeleine Athletic Board has upcoming open board member positions. The board meets quarterly during the year to discuss the CYO sports programs and scholarships offered. Please download and fill out this application and return by March 24th.
For more information about these or other sports offered or to register, check out the website http://www.themadeleine.edu/cyo
Go Bulldogs!!
Aimee Holzschuh
Madeleine Athletic Director
cyo@themadeleine.edu
---
St. Stephen's Lunch Program
Making a difference, one lunch at a time!
Our St. Stephen's lunch program is such a success this year! Thank you for generously preparing extra lunches this week. Our school brought in 116 lunches on a day we all thought was vacation! Your support means so much, not only to the school, but to all the people who look forward to a sack lunch on Tuesday.
---
Madeleine Students Help Welcome New Immigrants

We all have charitable causes near and dear to our hearts, and we support these causes with no expectation of fame or fortune. But, every once in a while, 15 seconds of fame find us anyways.
On Wednesday, Madeleine sixth grader, Ava, could be seen on the front cover of the Oregonian holding a bouquet of flowers to welcome a little boy emigrating from Uganda to Portland where he was going to be reunited with his mom after years of separation.
For a couple of years now, Ava, her older brother Jude, and their mom Diana, have been volunteering with Catholic Charities to help welcome refugees to Portland. "It was part of my work as Community Outreach Director for former Mayor Charlie Hales, and we just really loved being part of the welcoming team," said Diana. Read more here about how you can get involved.
To see this story in the Oregonian, CLICK HERE
---
Update from the Art Room
The Art hallway has been celebrating Lunar New Year. It will be sad to take down the beautiful 2nd grade fans, colorful 1st grade dragons, and the lively 3-D koi made by our 4th grade. Many "Know the Artist" art prints are up creating a mini art museum for the students to study and enjoy.
Just wait until you see the new projects students are working on! It is an exciting time in the art room. Stop by for a visit.
- Mrs. Galash
---
The 2017 Auction is Coming . . .
Yes, it is already time to start thinking about the 2017 auction. The theme will be revealed in the coming weeks . . .
. . . but while you consider the possibilities, please also think about stepping up into a sub-chair role. These roles provide a guaranteed way to get your auction hours and the opportunity to meet lots of other amazing Madeleine parents. Here are the roles for you to consider:
Advertising

: Coordinate ad sales for the auction catalog. A list of previous advertisers is available as a starting point.
A/V & Sound: Be the bridge between the auction team and the audio visual and sound vendor.

Business Procurement

: Point person on all business procurement; oversee a team of volunteers.

Honorary Chair Video

: Coordinate the production of a short video highlighting our honorary chair (who is TBD).

Parish Liaison

: Be the auction bridge between the school and parish.

Raffle Tickets

: Encourage the kids to sell their tickets, and oversee the team who counts tickets each week during auction season.

Sponsorship

: Secure auction sponsors. A list of previous sponsors is available as a starting point.

Silent Auction "Night Of" Sub-chair Shadow

: Learn the ropes from a veteran this year and be in charge next year as the bridge between the silent auction and cashiering.

Volunteer Coordinator Sub-chair Shadow

: Learn the ropes from a veteran this year and be in charge next year as the lead person who matches volunteers and open positions.
Ready to volunteer or have some questions before you decide? Send an email to auction@themadeleine.edu.
---
Upcoming Easel Item Parties: Spaces Still Available
If you never got around to signing up for an easel item party during the auction, here's your chance! The following parties still have space, so sign up now and join the fun!
Middle School Movie Mixer
Friday, March 3rd from Noon – 3pm (early dismissal day)
Mission Theater
$30/student
Hosts: Stolberg, Krebs and McMenamin Families
Ping Pong Night!
Saturday, March 4th from 6-10pm
Rose City Hall, 358 NE Mason Street
$40/person
Hosts: Brian & Tara Hendrickson and Farooq Nasserziayee & Lenny Supnet
March Madness Party
Saturday, March 18th at 3pm
The Miller home
$40/person
Hosts: Harpster and Miller Families
Click here to sign up for an easel item party before they sell out!
---
Employment Opportunity at The Madeleine School
Enthusiastic and energetic teacher needed to work with some amazing kids at the Madeleine School.
Qualifications: Previous experience working with school-age students in an educational or child care setting preferred OR coursework in child development, elementary education, special education, recreation or early childhood education.
Candidates must pass criminal background check and be willing to enroll in the Oregon Child Care Division Online Central Background Registry. Candidates must obtain an Oregon Food Handlers card and become CPR/First Aid certified.
Approximate hours: Monday, Tuesday, Thursday, Friday 3pm-6pm; Wednesday 2:15-6pm. Hourly wage based upon experience and qualifications. Hours are approximate, but would be within the times listed. Position is available now.
Interested candidates should submit a resume to Principal Susan Steele at ssteele@themadeleine.edu.
---
Still a Few Spaces Left
Spread the word! We still have space left in the 1st grade for the 2017 - 2018 school year. Word of mouth has always proven to be our strongest form of marketing, so text your friends and neighbors and invite them to come for a tour and submit an application.
---
Parent Education Night - Children and Social Media
March 15 @ 6:30pm
The Madeleine School Parents Club is proud to present Shawn Marshall, from the Children's Program, on March 15th at 6:30pm.
Are you worried about potential negative impacts that electronics could have on your children? Popular speaker Shawn Marshall returns to Madeleine Parent Education Night to provide up-to-date research on the impacts that electronics can have on the developing brain, including sleep, academics, and physical health. He offers recommendations and support to parents navigating the challenges posed by children's use of social media, cell phones, and video games.
Shawn Marshall MA, LPC is a licensed professional counselor who has over 20 years of experience working with children and families. He has worked in residential programs, community mental health, consulted with school districts and is currently at the Children's Program in Portland. He specializes in working with teens and has expertise in depression, anxiety, attention deficit, academic challenges, and oppositional behaviors.
---
Wilshire Riverside Little League Spring
Baseball
Registration now open
Open to players 5 - 13. Please visit wilshireriversidell.org to register your son or daughter. Registration for lower levels (T-Ball, Single A and Double A) runs through March 24 for ages 5-8. Registration for Minors, Majors and 50/70 closes today, February 24. Skills assessments for Majors and Minors will be held March 4-5 at Grant High School.
Madeleine School students 13 and younger are automatically eligible to play for WRLL since the school is within our league boundary. Come join the fun!
Contact Jim Honish for more information ~ jhonish7@gmail.com
---

Adult Confirmation
If you thought you missed your opportunity--there is still time! We will meet 5 times (dates vary) on Sundays from 9:00 AM to 9:50 AM for your Sacramental preparation. Confirmation is set for Saturday May 13th at the 5PM Mass. For more information or to register contact Julie Onderko, jonderko@themadeleine.edu
---

God Squad Lock-In



When:
Saturday, March 4 from 8pm - 8am

Who: Grades 5 - 7; all are welcome, so bring a friend!

Where: The Madeleine Gym

Cost: Free!

What to bring: Sleeping bag, personal hygiene items, snacks, music/games

Parents need to sign a permission slip, which are available at the door or in the parish office.
---
Get Ready for the Teenage Years!
Sunday, April 9th
Northwest Family Services will present Mother-Daughter and Father-Son Adolescent Development Programs at Providence Portland Medical Center, 4805 NE Glisan St., on Sunday, April 9th.
These programs, approved by the Archdiocese of Portland, help families prepare for the physical, emotional, and social changes that adolescents experience.
The Mother-Daughter Program, for girls ages 9-12 and their mother, is from 2:00 to 4:00 p.m. The Father-Son Program, for boys ages 10-13 and their father, is from 5:00 to 7:00 p.m.
Registration is $15 per family per program. Pre-registration by April 6 is required. For more information or to register, please visit Northwest Family Services website for more information.
Click here to see the flyer for the Mother-Daughter event
Click here to see the flyer for the Father-Son event
---
This Week's Checklist
---
Download your copy of the bulletin at www.themadeleine.edu/bulletin
Lenten Faith Sharing Groups Forming Now!

Please sign up at the back of the church for a Lenten Small Faith Group. The purpose of Small Faith Groups is to bring people into communion with God through relationship building and faith exploration. Journey to the Cross is our spiritual booklet for our Lenten Small Faith Groups.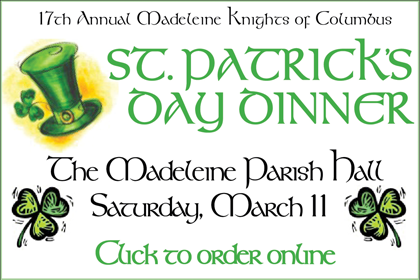 Congratulations for making it all the way to the end of Friday Footnotes!
---
Contributing to Friday Footnotes
If you have information to contribute to Friday Footnotes, please e-mail the copy exactly as you would like it to appear in a Word document to: fridayfootnotes@themadeleine.edu. Deadline is Wednesday at 5pm, or Tuesday at 5pm if there is no school on Friday.