February 10, 2017
A Note from Susan
Hello Parents and Guardians,
It was wonderful to have so many parents join us for yesterday's student Mass. Mr. Parker and the 7th grade did an excellent job of echoing the American bishops' statement on welcoming the immigrant and refugee. Thank you to Mr. Tadjedin, dad of Emma and Alexander, for sharing his family's story of coming to the US from Iran in the 1970s and the challenges they encountered. Please know that we celebrate Mass every Thursday, and parents are always welcome to join us at 2:00.
Mrs. Rosebrook wanted me to remind parents that the annual book/material fee of $200 is due by February 14. There are still a few outstanding payments, and the fee goes up to $250 on February 15.
Please join me in welcoming a new staff member to The Madeleine. Kate Miller, mom to Lucy and Henry, is going to be our new Development Coordinator. She will be working with Caryn Fiedler on the many tasks that market our school, communicate news to all our shareholders, and plan for the financial security of our school (i.e. annual fund, endowment and auction). Welcome, Kate!
I will be at the annual principals' retreat next week. I wish I could say it is in Palm Springs or somewhere warm and dry, but…. The teachers are all fighting about who is going to be the "acting principal." (You do it. No, you do it. It is your turn. No, I did it last time. I don't want to do it. Worst job ever!) I even hear there is talk of a "teacher jean day." Oh, well. When the cat's away, the mice will play.

Sincerely,

Susan

---
Five for Friday
The news you need really, really fast!
---
Open House Success
We had a wonderful Open House attended by 46 families who look forward to sending their kids to Madeleine next year.
Many thanks to Julie Baldwin for organizing all our parent volunteers who so proudly spread The Madeleine message to all our visitors.
Whether you gave tours, organized the hospitality or answered questions in the classroom, thank you, thank you to Cathy Armstrong ~ Cathy Bargovan ~ Evelyn Bian ~ Lindsie Campbell ~ Jennie Ehleringer ~ Anne Gaber ~ Erica Glaser ~ Deb Henderson ~ Jennifer Johnson ~ Armando Luna ~ Ali McMenamin ~ Deborah Naugler ~ Lucas Newman ~ Diana Nunez ~ Emily Pennick ~ Stephanie Savage ~ Jen Tadjedin ~ Anne Thompson ~ Michelle Thor.
---
$2 Free Dress Day on Valentine's Day
Tuesday, February 14
Valentine's Day is just around the corner. This year on Valentine's Day we will be doing a $2 free dress day once again. This Tuesday the 14th, if students bring in $2, they will be able to wear pink, red, purple or any Valentine's Day type clothes. The money we collect will be donated to Catholic Services Refugee Resettlement. Don't forget!
---

Student Mass Celebrates Immigrants and Refugees
Mr. Parker and the 7th graders were in charge of this week's student mass and decided to focus on the plight of immigrants and refugees. All grades participated in a procession around the block carrying a photo of a refugee. In addition, Amir Tadjedin, dad to 2nd and 3rd graders, spoke from the heart about his personal experience immigrating to the United States from Iran. Surely, a mass the students will remember for a very long time!
Click here to see coverage of the procession on KATU.
Click here to read thoughts from Mary Witka, our second grade teacher, about what the Mass meant to her and her students.
---
The 2017 Auction is Coming . . .
Yes, it is already time to start thinking about the 2017 auction. The theme will be revealed in the coming weeks . . .
. . . but while you consider the possibilities, please also think about stepping up into a sub-chair role. These roles provide a guaranteed way to get your auction hours and the opportunity to meet lots of other amazing Madeleine parents. Here are the roles for you to consider:
Advertising

: Coordinate ad sales for the auction catalog. A list of previous advertisers is available as a starting point.
A/V & Sound: Be the bridge between the auction team and the audio visual and sound vendor.

Business Procurement

: Point person on all business procurement; oversee a team of volunteers.

Cashiering

: Oversee a team of cashiers who help auction guests check in and out the night of the big event.

Honorary Chair Video

: Coordinate the production of a short video highlighting our honorary chair (who is TBD).

Parish Liaison

: Be the auction bridge between the school and parish.

Raffle Tickets

: Encourage the kids to sell their tickets, and oversee the team who counts tickets each week during auction season.

Sponsorship

: Secure auction sponsors. A list of previous sponsors is available as a starting point.

Silent Auction "Night Of" Sub-chair Shadow

: Learn the ropes from a veteran this year and be in charge next year as the bridge between the silent auction and cashiering.

Volunteer Coordinator Sub-chair Shadow

: Learn the ropes from a veteran this year and be in charge next year as the lead person who matches volunteers and open positions.
Ready to volunteer or have some questions before you decide? Send an email to auction@themadeleine.edu.
---
Employment Opportunity at The Madeleine School
Enthusiastic and energetic teacher needed to work with some amazing kids at the Madeleine School.
Qualifications: Previous experience working with school-age students in an educational or child care setting preferred OR coursework in child development, elementary education, special education, recreation or early childhood education.
Candidates must pass criminal background check and be willing to enroll in the Oregon Child Care Division Online Central Background Registry. Candidates must obtain an Oregon Food Handlers card and become CPR/First Aid certified.
Approximate hours: Monday, Tuesday, Thursday, Friday 3pm-6pm; Wednesday 2:15-6pm. Hourly wage based upon experience and qualifications. Hours are approximate, but would be within the times listed. Position is available now.
Interested candidates should submit a resume to Principal Susan Steele at ssteele@themadeleine.edu.
---

Last Chance to get Auction Artwork
Prints are still available of the amazing sixth grade "Made in Oregon" auction project. And, yes, their class project really did sell for $4200 at the auction! Now you can own a print of this beautiful artwork for $100. All proceeds go toward the auction. Here are the details:
Price: $100
Make checks out to Sally Damewood
Print will be 16x20 and unframed
Questions: Contact Sally Damewood at sallydamewood@gmail.com
[Editor's Note: Many thanks to Sally Damewood for coordinating the reprinting of this fabulous piece of art and helping the school to raise an extra $1,025 in post-auction money!]
---
Madeleine Morning News Returns
Under the leadership of Alison Anderson, the Madeleine Morning News has returned. Each week, the Tech Club writes the scripts, produces and edits the news segments.
Sound interesting? Tech Club is open to all middle school students and meets on Friday after school. Contact Alison Anderson to learn more.
Click here to see the first episode of the year
---
St. Stephen's Lunch Program
Making a difference, one lunch at a time!
The 1st grade went big! They brought in 326 lunches, which were distributed to those in need of some nourishment and kind thoughts. Thank you for everything you did to show that someone cares.
---
Adult Confirmation

Are you an adult Catholic who has not received the Sacrament of Confirmation? Is the Holy Spirit nudging you to receive this most important Sacrament of Initiation and become full members of the Church?
We will have preparation classes for adults seeking Confirmation beginning Sunday, February 19th from 9:00 AM to 9:50. There will be 6 preparation sessions scheduled (same time frame, dates vary) with reception of the Sacrament of Confirmation at the Vigil Mass on Saturday, May 13th.

For more information and to register, please contact Julie Onderko, jonderko@themadeleine.
---
Mardi Gras Volunteers Needed
Our annual Mardi Gras celebration is still a few weeks away, but the planning is well underway. It's one of the biggest events on campus each year, with people coming not only from the parish and school, but from the whole neighborhood.

To bring this off successfully, we need volunteers! We need help with setup, cleanup, food, the kids' FunZone in the gym and much more. We'd love your help!
Please contact Janeen Reilly, jreilly@themadeleine.edu, and she'll find just the right spot for you!
---

God Squad Lock-In

 



When: Saturday, March 4 from 8pm - 8am
Who: Grades 5 - 7; all are welcome, so bring a friend!
Where: The Madeleine Gym
Cost: Free!
What to bring: Sleeping bag, personal hygiene items, snacks, music/games
Parents need to sign a permission slip, which are available at the door or in the parish office.
---
This Week's Checklist
---
Download your copy of the bulletin at www.themadeleine.edu/bulletin
Lenten Faith Sharing Groups Forming Now!

Please sign up at the back of the church for a Lenten Small Faith Group. The purpose of Small Faith Groups is to bring people into communion with God through relationship building and faith exploration. Journey to the Cross is our spiritual booklet for our Lenten Small Faith Groups.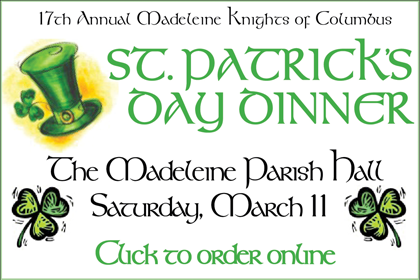 Congratulations for making it all the way to the end of Friday Footnotes!
---
Contributing to Friday Footnotes
If you have information to contribute to Friday Footnotes, please e-mail the copy exactly as you would like it to appear in a Word document to: fridayfootnotes@themadeleine.edu. Deadline is Wednesday at 5pm, or Tuesday at 5pm if there is no school on Friday.