February 17, 2017
A Note from Susan
Hello Parents and Guardians,
Since Susan has been gone almost all week at the annual principals' retreat, I am taking over her column to give you a few calendar reminders:
Please bring a few lunches on Tuesday for St. Stephen's since the whole school will contributing on this snow make-up day (2/21)
Don't forget to sign up for hot lunch by Friday (2/24)
Get your outfit together for Madeleine Mardi Gras (2/28)
Join us for Parent Education Night when Shawn Marshall, from the Children's Program, will discuss children and social media (3/15 @ 6:30pm)
Have a great weekend!
Caryn Fiedler
Development Director
---
Five for Friday
The news you need really, really fast!
All Grades Bring St. Stephen's Lunches 2/21: Click Here
March Hot Lunch Deadline 2/24: Click Here
Open Spots in 1st and 4th Grade: Click Here
Auction Sub-Chair Sign-ups: Click Here
Madeleine Employment Opportunity: Click Here
---
Sign up Now to get Hot Lunch in March

Registration is open until February 24th
Sign-ups are now open to order hot lunches served during March.
Click here to review the montly menu, place your order and make your payment.
---
St. Stephen's Lunch Program - All Grades Contribute on February 21!
Making a difference, one lunch at a time!
Along with their class valentines and party treats, Mrs. Schneider's Kindergarten class brought in 167 lunches for St. Stephen's this week. We noticed that most of Kindergarten lunches were even decorated with fun pictures and hearts. Thank you for remembering our friends on such a busy morning.
Since this Tuesday, February 21 is a snow make-up day, ALL GRADES are invited to bring in lunches for St. Stephens. If everyone brings in five lunches, we could provide those living in the elements with over 1,000 lunches!
---
Still a Few Spaces Left
Spread the word! We still have space left in 1st and 4th grades for the 2017 - 2018 school year. Word of mouth has always proven to be our strongest form of marketing, so text your friends and neighbors and invite them to come for a tour and submit an application.
---
The 2017 Auction is Coming . . .
Yes, it is already time to start thinking about the 2017 auction. The theme will be revealed in the coming weeks . . .
. . . but while you consider the possibilities, please also think about stepping up into a sub-chair role. These roles provide a guaranteed way to get your auction hours and the opportunity to meet lots of other amazing Madeleine parents. Here are the roles for you to consider:
Advertising

: Coordinate ad sales for the auction catalog. A list of previous advertisers is available as a starting point.
A/V & Sound: Be the bridge between the auction team and the audio visual and sound vendor.

Business Procurement

: Point person on all business procurement; oversee a team of volunteers.

Honorary Chair Video

: Coordinate the production of a short video highlighting our honorary chair (who is TBD).

Parish Liaison

: Be the auction bridge between the school and parish.

Raffle Tickets

: Encourage the kids to sell their tickets, and oversee the team who counts tickets each week during auction season.

Sponsorship

: Secure auction sponsors. A list of previous sponsors is available as a starting point.

Silent Auction "Night Of" Sub-chair Shadow

: Learn the ropes from a veteran this year and be in charge next year as the bridge between the silent auction and cashiering.

Volunteer Coordinator Sub-chair Shadow

: Learn the ropes from a veteran this year and be in charge next year as the lead person who matches volunteers and open positions.
Ready to volunteer or have some questions before you decide? Send an email to auction@themadeleine.edu.
---
Counselor Corner
by Carolyn Ullman
Kids are talking about politics in school. From kindergarten to eighth grade our students seek to engage their classmates and to share their views. Many students are too young to decide for themselves and echo what they hear at home and in the media. This can be hurtful and cause anxiety in our school. It is important that we, as adults, model for our children in these polarizing times. Below are some general guidelines and some links to organizations that are invested in safe schools and developing positive ways for our students to express themselves.
Share your opinions but recognize your own biases.
Show both sides of issues.
Seek out the positive.
Understand your child's developmental level and approach them where they are.
Teach your child how to disagree respectfully.
Help students realize that decisions made locally, nationally and globally affect all people not just them.
Let kids decide for themselves.
Click here to for more resources and link recommendations
---
School Advisory Council (SAC) Meeting
February 22 @ 7pm in the Library
The School Advisory Council (SAC) will hold its February meeting on Thursday, February 22 at 7pm in the Library
Click here to read the agenda.
All meetings are open to visitors unless specifically designated as being closed. If you would like to attend the meeting and add something to the agenda, please contact the Chair prior to the meeting
(Lucas Newman: lnewman@firstrepublic.com).
SAC Purpose and Members
The purpose of the Madeleine School Advisory Council (SAC) is to provide advice to Father Mike and Susan Steele regarding policy direction for program needs of the school, especially in Planning, Finances, Technology and Development.
If you can't attend a SAC meeting, but have a topic you would like to bring to the group's attention, please contact one of the members: Fr. Mike Biewend, Susan Steele, Lucas Newman (Chair), Heather Matteri (Vice-Chair), Eric Anctil, Catherine Glaven, Diana Nunez, Tim Resch, Margaret Scharle, Anne Steiner, Erskine Williams, Jonas Allen (Parents Club Representative), Caryn Fiedler (Development Representative).
---
Mardi Gras Volunteers Needed
Our annual Mardi Gras celebration is just around the corner. It's one of the biggest events on campus each year, with people coming not only from the parish and school, but from the whole neighborhood.

To bring this off successfully, we need volunteers! We need help with setup, cleanup, food, the kids' FunZone in the gym and much more. We'd love your help!
Please contact Janeen Reilly, jreilly@themadeleine.edu, and she'll find just the right spot for you!
---
Upcoming Easel Item Parties: Spaces Still Available
If you never got around to signing up for an easel item party during the auction, here's your chance! The following parties still have space, so sign up now and join the fun!
Middle School Movie Mixer
Friday, March 3rd from Noon – 3pm (early dismissal day)
Mission Theater
$30/student
Hosts: Stolberg, Krebs and McMenamin Families
Ping Pong Night!
Saturday, March 4th from 6-10pm
Rose City Hall, 358 NE Mason Street
$40/person
Hosts: Brian & Tara Hendrickson and Farooq Nasserziayee & Lenny Supnet
March Madness Party
Saturday, March 18th at 3pm
The Miller home
$40/person
Hosts: Harpster and Miller Families
Click here to sign up for an easel item party before they sell out!
---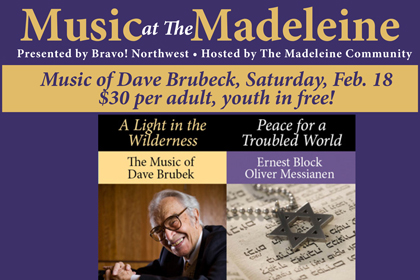 ---
Employment Opportunity at The Madeleine School
Enthusiastic and energetic teacher needed to work with some amazing kids at the Madeleine School.
Qualifications: Previous experience working with school-age students in an educational or child care setting preferred OR coursework in child development, elementary education, special education, recreation or early childhood education.
Candidates must pass criminal background check and be willing to enroll in the Oregon Child Care Division Online Central Background Registry. Candidates must obtain an Oregon Food Handlers card and become CPR/First Aid certified.
Approximate hours: Monday, Tuesday, Thursday, Friday 3pm-6pm; Wednesday 2:15-6pm. Hourly wage based upon experience and qualifications. Hours are approximate, but would be within the times listed. Position is available now.
Interested candidates should submit a resume to Principal Susan Steele at ssteele@themadeleine.edu.
---
Madeleine Morning News Returns
Under the leadership of Alison Anderson, the Madeleine Morning News has returned. This weeks segment includes the KATU news story on last weeks mass, "Guess That Teacher?" and Teacher of the week.
Sound interesting? Tech Club is open to all middle school students and meets on Friday after school. Contact Alison Anderson to learn more.
Click here to watch this weeks episode
---
Parent Education Night - Children and Social Media
March 15 @ 6:30pm
The Madeleine School Parents Club is proud to present Shawn Marshall, from the Children's Program, on March 15th at 6:30pm.
Are you worried about potential negative impacts that electronics could have on your children? Popular speaker Shawn Marshall returns to Madeleine Parent Education Night to provide up-to-date research on the impacts that electronics can have on the developing brain, including sleep, academics, and physical health. He offers recommendations and support to parents navigating the challenges posed by children's use of social media, cell phones, and video games.
Shawn Marshall MA, LPC is a licensed professional counselor who has over 20 years of experience working with children and families. He has worked in residential programs, community mental health, consulted with school districts and is currently at the Children's Program in Portland. He specializes in working with teens and has expertise in depression, anxiety, attention deficit, academic challenges, and oppositional behaviors.
---
Adult Confirmation

Are you an adult Catholic who has not received the Sacrament of Confirmation? Is the Holy Spirit nudging you to receive this most important Sacrament of Initiation and become full members of the Church?
We will have preparation classes for adults seeking Confirmation beginning Sunday, February 19th from 9:00 AM to 9:50. There will be 6 preparation sessions scheduled (same time frame, dates vary) with reception of the Sacrament of Confirmation at the Vigil Mass on Saturday, May 13th.

For more information and to register, please contact Julie Onderko, jonderko@themadeleine.
---

God Squad Lock-In



When: Saturday, March 4 from 8pm - 8am
Who: Grades 5 - 7; all are welcome, so bring a friend!
Where: The Madeleine Gym
Cost: Free!
What to bring: Sleeping bag, personal hygiene items, snacks, music/games
Parents need to sign a permission slip, which are available at the door or in the parish office.
---
This Week's Checklist
---
Download your copy of the bulletin at www.themadeleine.edu/bulletin
Lenten Faith Sharing Groups Forming Now!

Please sign up at the back of the church for a Lenten Small Faith Group. The purpose of Small Faith Groups is to bring people into communion with God through relationship building and faith exploration. Journey to the Cross is our spiritual booklet for our Lenten Small Faith Groups.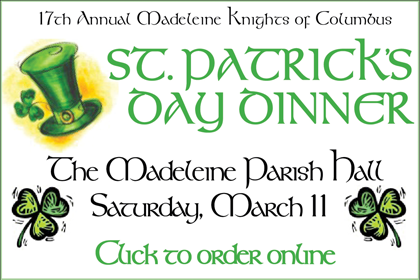 Congratulations for making it all the way to the end of Friday Footnotes!
---
Contributing to Friday Footnotes
If you have information to contribute to Friday Footnotes, please e-mail the copy exactly as you would like it to appear in a Word document to: fridayfootnotes@themadeleine.edu. Deadline is Wednesday at 5pm, or Tuesday at 5pm if there is no school on Friday.