November 18, 2016
A Note from Susan
Dear Parents and Guardians,
Since we have no school next week due to accreditation work days, I want to go into a bit more detail of what this event is that is looming on the horizon. I know I have talked about it at various parent gatherings and meetings, but it seemed so far away that I think a little refresher course is in order.
First of all, all schools in the Archdiocese of Portland go through the process of accreditation every six years. Our accrediting agency is the Western Catholic Education Association (WCEA). The school writes a self-study based on the WCEA protocol and provides evidence to support our statements in the document. A team of 6-8 teachers and principals visits the school for 3 days and evaluates the school based on the protocol. They sit in on classes, interview students, parents, the pastor, the principal, and faculty. They write a report of their findings and then make a recommendation of accreditation to the commissioners of WCEA.
Each school is given six days without students to write their self-study and gather data and evidence. In reality it takes many more hours to do the job well. We will be visited in the Fall of 2017 and so we must write our self-study this year. Four days have been set aside for writing this year and two days will be used next year to get ready for the actual visit. I know it is a hassle for families to have those days off from school, but as I have said many times, the teachers would much prefer to be teaching than writing this document. It is a tremendous amount of work which will spill over into our faculty meeting and prep times. I truly appreciate Shannon Myers, our third grade teacher, and Alison Anderson, our Library Media teacher, for stepping forward to be on the Leadership Team for this Accreditation visit. They have gone to trainings, volunteered to be on visiting teams for other schools in our Archdiocese (as have Andy Stephens, Tina Hanselman, and I) and put in many hours planning our work days.
We had a very constructive planning meeting this week and hopefully next week will also be productive. I know after three days of writing we will be looking forward to some rest and turkey when Thanksgiving arrives.

Sincerely,

Susan

---
Five for Friday
The news you need really, really fast!
---
Easel Items: Spaces Still Available
There are four easel item events coming up in December. Sign up now before they sell out!
PJs, Popcorn & Pizza (for grades K-5)
December 3 @ 6pm in Parish Hall
$25 per child
Ugly Christmas Sweater Soiree
December 16 @ 7pm at the Nelson's
$55 per person
Christmas Co-ed Basketball Camp (3rd-5th grade & 6th-8th grade)
December 21 in the Madeleine Gym
$25 per child

Winning Bidders: Check Friday Folders
Unclaimed gift certificates have been sent home today in Friday Folders. Be sure to look for your winning items in your child's backpack.
Do You Have Post Auction Questions?
Of course, you can always email auction@themadeleine.edu. If your question is specifically about your receipt, please contact Caryn Fiedler at cfiedler@themadeleine.edu.
---
Mark Your Calendars!
No School or YDP November 21-25
The Madeleine Faculty will all be participating in Accreditation Preparation the week of Thanksgiving. There will, therefore, be no school or YDP on the Monday (11/21), Tuesday (11/22) and Wednesday (11/23).  Thank you for your understanding and support of this important accreditaton prep time. We hope you have a wonderful, famliy-filled Thansgiving week.
---
Meet Mr. Pederson, Our New Music Teacher
Warm greetings! My name is Cary Pederson. I am the new music teacher at the Madeleine School. It is an honor and a privilege to be working with all of the great students and staff who belong to this wonderful community.
My teaching experience of 14 years ranges from kindergarten, middle school, high school, college, and beyond. I love and cherish music. My goal is to share this passion for music with others. When not at the Madeleine School, I direct both a professional jazz band and a community band, am an avid studio recording artist, and operate a small private teaching studio.
I look forward to guiding and directing all of the students to a memorable, educational, and enjoyable school season. Thank you and happy holidays.
Cary Pederson
---
Sign up to get Hot Lunch in December
Registration deadline = November 24
Sign ups are now open to order hot lunches served during December.
Click here to review the montly menu, place your order and make your payment.
---
Job Opening in The Madeleine Development Office: Apply Now!
When Lynn Robinson left the Madeleine Development Office and Caryn Fiedler moved into the Development Director position, it left the Development Coordinator position open. We are now looking to fill this part-time position, which provides a good way to have a super family-friendly schedule and commute!
Duties include writing Friday Footnotes, updating the web site, marketing, data entry into both our donor and auction databases, assisting with the Annual Fund Campaign and other as needed tasks.
If this sounds interesting to you, please send a resume to Susan Steele at ssteele@themadeleine.edu by Friday, December 2.
---
The Community recording was a huge success with over 300 folks lending their voices to a catchy Christmas Finale. Thanks to all who showed up!
Now it's time to order your CDs! Order one (or 10) at www.themadeleine.edu/cd. They make great gifts and will be treasured by family and friends for Christmases to come.
---
Amazon + Holiday Shopping = Madeleine Money!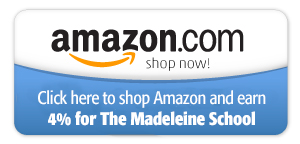 Starting your Christmas shopping? If Amazon is your destination, please remember to use   Madeleine's Amazon link.
It doesn't cost you a single cent more, and the School earns "free money" each time you buy something using the link at http://www.themadeleine.edu/amazon.
You can even double-dip by buying your Amazon scrip cards at the School and then using that credit to make purchases!
---
Book Fair Volunteers Needed
Our book fair is coming - December 4th-9th. Come volunteer and help us raise funds to buy new books for the library. Volunteers needed to help set up, cashier, tear down and go to Scholastic warehouse for restocks during the week. As always, your children are welcome to come with you to the shifts you work. Please contact Cheri Krebs at krebs.cheri@gmail.com if you are interested in helping out with this fun event.
---
Looking for a Clothes Rack . . .
The clothes rack that the Book Fair uses to hang our posters went missing after the play last spring when it was being used to hang costumes for the play.
If anyone knows where to find the missing clothing rack or if anyone has one they would like to donate to the book fair, we would really appreciate it. Contact Cheri Krebs at krebs.cheri@gmail.com.
---
St. Vincent de Paul Door-to-Door Food Drive
November 19 @ 9am
We need all hands on deck for our annual Door to Door food drive on Saturday, November 19 from 9:00am - 11:00am. Meet under the carport on the 23rd Street side. We will break into groups, and hit the streets going door to door collecting food.

This is a fantastic whole family opportunity to help feed the hungry in our community. Parents, get your children involved in volunteering/charity work.
Children, show your parents how good you are at helping feed the poor.
Teens, great way to stock up on needed community service hours for school.

We desperately need your help! We are going to try to feed 100 families this holiday. Wow, that's a lot of food!

Contact Lisa Hawkins at lhawkins2916@comcast.net with any questions.
---
Advent Toiletry & Sock Drive
Starts November 28
When we return from Thanksgiving Break, we will be in Advent! This Advent, Student Government will be sponsoring an Advent Toiletry and Sock Drive. It will run through December 14th. We are collecting socks, toothbrushes, toothpaste, travel soap/shampoo, razors, and deodorant for the Ecumenical Ministries of Oregon. There will be boxes by the office at the front of the school where you can put your donations.

---
St. Stephen's Lunch Program
Making a difference, one lunch at a time!
The eighth graders kicked off the holiday season by bringing in 98 lunches. Feel free in the coming weeks to decorate the lunch bags with holiday messages.
To date, The Madeleine School has made almost 2,400 lunches! Keep up the good work and have a Happy Thanksgiving!
---
Counselor Corner
by Carolyn Ullman
Parenting with Love & Logic Love and Logic is basically a process by which children grow through their mistakes and learn from the consequences of their choices. There are 2 basic rules in Love & Logic:
Adults set firm limits in loving ways without anger, lecture, threats or repeated warnings.
Set limits using enforceable statements, regard mistakes as learning opportunities, and resist the temptation to nag.

When children misbehave and cause problems, adults hand these problems back in loving ways. Provide empathy before describing consequences, use few words and more loving actions, delay consequences when necessary, and give kids the gift of owning and solving their problems.

The Foundation: The Love & Logic Process
Shared Control – Gain control by giving away the control you don't need (and often the control you didn't have to begin with).
Shared Thinking/Decision-Making – Provide opportunities for the child to do the greatest amount of thinking/decision making.
Equal Shares of Consequences with Empathy – An absence of anger causes a child to think and learn from his/her mistakes.
Maintain the Child's Self-Concept – Increased self-concept leads to improved behavior and improved achievement.
---
Youth Group Mission Trip Mandatory Meeting
Sunday, December 4, Noon-1:00 pm • Fireside Rm
All Madeleine Parish youth grades 9-12 have the opportunity to go on an AWESOME mission trip to Tucson AZ this summer (June 23-July 4) with our youth group leader Gabe Triplett and Deacon Mike. We promise a fantastic, super fun, once-in-a-lifetime, and life-changing experience! If you are interested you must attend our information meeting at noon on December 4 in the Fireside Room. Lunch is included. More information: gtriplett@themadeleine.edu.
Inequality Banquet recap
On the evening of November 13, over 60 people gathered in the Gym of St. Charles for our first ever "Inequality Banquet." Throughout the year the youth program is focusing on the works of Mercy. On the 13th, we looked at comforting the sorrowful, feeding the hungry, and giving drink to the thirsty. It was a powerful and fun night!  grandmas and grandpas, parents and guardians, and youth of all ages spent two hours getting to know each other, learning about inequality in our society, and most importantly talking about what our faith response to injustice looks like. 
Read more about it in this week's parish bulletin
Questions? Contact Gabe Triplett at gabet@stcharlespdx.org.
---
Year of Mercy Closing Mass
This year Pope Francis declared an extraordinary Year of Mercy. In light of the many conflicts going on in the world, he asked for the faithful to dedicate this year to showing God's mercy to all by acts of kindness and forgiveness. Madeleine students reviewed the Corporal and Spiritual Works of Mercy and discussed practical ways we could put them into action in our modern world.
On December 8th the official Year of Mercy comes to an end. On November 9th all schools from the Archdiocese of Portland were invited to send representatives to a special Mass celebrated at the Cathedral with Archbishop Vlaszny. We sent our student government reps along with Mrs. Steele, Mrs. Anderson and Deacon Mike O'Mahoney. Even though the extraordinary Year of Mercy will be over soon, we are challenged to continue to show mercy in all we do.

---
2016 Yuletide Chess Tournament
December 10 @ La Salle Catholic College Prep
The tournament is open to any Kindergarten through 12th grader who plays chess. Register by December 7.
Click here for complete details.
---
March of Hope
November 22 @ 3pm
Groups from across the city are coming together on November 22 for a March of Hope on the waterfront starting at Salmon Street Springs. Add your voice either by joining in person or making a sign of hope to be carried by the marchers. You can bring your sign to mass this Sunday where they will be collected by Diana Nunez. Questions? Contact Diana at ddnunez1@gmail.com.
​​
---
This Week's Checklist
---
Download your copy of the bulletin at www.themadeleine.edu/bulletin
Thanksgiving Day Mass, 9:00 am

Take some time giving thaks, as you start your busy Thanksgiving Day. Bring the bread (or rolls) and a bottle of wine (or non-alcohol beverage) that will be used at your Thanksgiving table to be blessed during the Mass.

This also is the day we change out our Breaking Bread hymnals and take down the banners with the names of the deceased and begin to put up our Advent banners and hangings. All these tasks can be completed in about 30 minutes.

Please plan to stay and help if you can.

Thanksgiving Collection:
St. Vincent de Paul

As is traditional at The Madeleine, the entire Thanksgiving Day Mass collection goes to support the vital works of St. Vincent de Paul, to further their ability to help those with special needs to maintain their homes in a stable environment. The Madeleine community has always been very generous in supporting this ministry, and we know you will be again this year. You will find special collection envelopes in the pews. Please be generous.

You are also encouraged to bring non-perishable food and toiletries to Church this day and bring them forward at the time of the collection for the St. Vincent de Paul annual Food Drive.
Communal Penance Service in Celebration of the Close Year of Mercy

Sunday November 20 after 10:00 Mass

At your Baptism, God forgave all your sins. Afterward, whenever you fall, God extends an embrace of mercy through the Sacrament of Reconciliation. This year, we're holding our Lenten Communal Reconciliation on Sunday after Mass in the hope that all parishioners will be able to attend. We will have additional priests available to hear your confessions.

Take time this week to prepare for Reconciliation by inviting the Holy Spirit to help you to examine your conscience. Look to the past and reflect on the wrongs you have done. Look to the present and think of the bad habits you wish to break. Look to the future to see how you wish to grow closer to God and others.

Please join us in this celebration of God's mercy.
Advent Faith Sharing Groups
Advent Faith Sharing Groups will begin the week after Thanksgiving and last through Christmas. If you'd like to join an Advent Faith Sharing Group, please sign-up at the Information Table in the back of the church.
Information Station!

Our information table, now known as the Information Station, is back! Look to the back of the church every Mass, and you'll see the table, staffed during the Mass and immediately afterward by Cathy Armstrong and her band of helpers. What can you do there?

Join a ministry

Find out about our latest events and occasions.

Update your parish registration

Register at The Madeleine, if you aren't already.

Request a Mass Intention

Update or make your Parish Stewardship Pledge

The Information Station will be set up after most weekend Masses. Stop by and say "hi"!
Horse & Rider logo, "Pendleton Round-Up" and "Let 'er Buck" are trademarks of the Pendleton Round-Up Association and used with permission.
Congratulations for making it all the way to the end of Friday Footnotes!
---
Contributing to Friday Footnotes
If you have information to contribute to Friday Footnotes, please e-mail the copy exactly as you would like it to appear in a Word document to: fridayfootnotes@themadeleine.edu. Deadline is Wednesday at 5pm, or Tuesday at 5pm if there is no school on Friday.