September 30, 2016
A Note from Susan
Dear Parents and Guardians,
I am turning over my space in the Footnotes this week so that our super hardworking Auction Chairs can bring to your attention some very important information. I can't believe that we are only 5 weeks away from this event……I need to polish my cowboy boots ASAP. Susan
Dear Madeleine Families,
As you know the auction is quickly (perhaps stampeding) upon us! Thank you so much for all of your hard work to date. The auction, our biggest fundraiser of the year, is simply not possible without everyone's help.
Our Madeleine Round-Up theme is set, the food has been chosen, but we still need to fill up the auction catalogue with items to sell (especially LIVE Auction Items!). And this is why we are reaching out…we need help!
Do you have a second home, time share or hotel/airline rewards points that maybe you've thought about loaning out for the auction but have questions or concerns? Let us know, we can put you in touch with other families who have offered these items in the past. We'd love to talk to you!
Do you make a mean margarita? Host a fiesta with friends -- you can offer your home for the location or take the party to the winning bidder's house. There are many options to make hosting a dinner or cocktail party fun and easy. We'd love to help you put together something or team you with another host family to combine forces.
Please contact Andy Steiner steineram@gmail.com regarding any items you would like to donate. This is the first year we are focusing on "Target Items," so if you have any questions, please don't hesitate to ask. An auction chair will be in the parking lot every Friday morning until the auction to answer your FAQ's!

Remember the auction item deadline is one week from today, Friday, October 7. Thank you very much for your support!

Andy Steiner, Alisa Pyszka, Lisa Colling, and Matt Kohlbecker

P.S. We will be having a sub-chair meeting Monday October 10th at 7pm in the Parish Hall. Please let us know if you will be able join us!
---
Five for Friday
The news you need really, really fast!
---
Yee Haw! Auction tickets are on sale!!!

Go to www.themadeleine.edu/tickets to secure your tickets to the only round-up in the Rose City for a knee-slappin' good time!

Courtesy of Grand Cru Hospitality, bring your appetite and enjoy a hearty and delicious family-style meal. Click here for the mouth-watering menu details.
Family Donations for the 2016 Auction
ONLY ONE WEEK LEFT: Deadline = October 7
The deadline for family donations is right around the corner, only a week from today! A key component of a successful auction are the donations that families thoughtfully contribute. Thank you to those who have already submitted your donations and for those who haven't, please remember we are targeting items and services that generate the most interest from bidders, listed below, OR prayerfully consider a cash donation and write your best check ($200 minimum). Thank you for your support of the school and a successful auction!
Trips
Vacation homes and accommodations
Hosted or Themed Dinners (Choose your favorite cuisine, party theme, or location)
Hosted Experiences (here's an opportunity to have fun and get creative - group game night, pool parties, scavenger hunts, races, wine tours)
Restaurant Gift Cards
Sporting Events, Tickets (Blazers, Ducks, Thorns, Timbers, Golf)
Cultural Events, Tickets (Plays, Musicals, Concerts, Theater, Symphony)
We understand that you may have a fun idea that aligns with our target list, so you can contact Andrew Steiner at auction@themadeleine.edu to share your thoughts.
Raffle Talk
Unbelievable ticket sales last week! Our current raffle sales total is a whopping $11,390. More importantly, 140 out of 258 students have turned in raffle tickets so far. Way to go kids! Keep up the great work.

If you are running into a brick wall and don't know who to sell your remaining tickets to, there is a sign-up sheet on the Raffle Bulletin Board at the school entrance to sell after Mass or QFC.

This week's winner of the Fuji instant camera is sixth grader Noah W. Winner of the Pass for an hour of jump time for 5 people at G6 Airpark/Trampoline Park will be announced at Monday morning assembly.

Next week's Big Prize: Sell at least 1 ticket by Friday to be eligible to win: 2 Wildlife Safari Passes.

Contact amandapower1@hotmail.com with raffle questions.
Send Us Your Photos for the Auction Slide Show
You know you want to see your kiddo up on the big screen during the auction! The only way to make that happen is to submit some photos. All you have to do is go to www.themadeleine.edu/photos and follow the simple directions. NOTE: Let's try to include photos from on-campus or school-related events. Vacation photos are nice, but probably not going to make it in the slideshow!
You may have photos of the following. Please send them in!
Back to School BBQ ~ Classroom parties ~ Recess ~ Lunch ~ Student plays ~ Sports ~ Field trips ~ Christmas Program ~ Art Show ~ Youth Group ~ Blessing of the Animals ~ Bike to School Day ~ YDP ~ Student Fundraisers ~ Science Night ~ Spirit Week ~ Jog-a-thon ~ Spring Musical ~Talent Show
Auction Questions
If you have any auction-related questions - donation questions, volunteer jobs questions or whatever - send an email to auction@themadeleine.edu. 
Be sure to use #madeleineauction2016 for Instagram and Twitter!
---
Thanks for the New Parent Potluck
Thank you to Julie Baldwin, our New Family Coordinator, and her volunteers, for organizing and hosting the New Parent Potluck. We welcomed our new families to the Madeleine community with drinks, a potluck dinner and a little Q&A to answer questions about auction, scrip, and all things Madeleine. The level of chatter before and during dinner was a great indication that questions were being asked and answered and new community connections were being made right before our eyes!
---
Friendship Family Fall Picnic
Monday, October 3
On Monday, the school will be celebrating its annual Friendship Family Fall Picnic. A friendship family is a group of about 14 students with one or two students from each grade. These families stay intact through a student's years at the Madeleine. Friendship Families gather about once a month for some sort of activity with the purpose of building community across grade levels.
For the fall picnic, each student is to bring in their own sandwich to eat, and his/her grade level item, which you can see on the list below. Students will meet their Friendship Family and share lunch and play "get to know you" games during an all-school lunch period.
What to bring?
**All students bring their own individual sandwich of choice **
7th and 8th grades: 6 juice boxes each
5th and 6th grades: 6 servings of fresh fruit/veggies each
3rd and 4th grades: 6 servings of cookies/chips each
1st, and 2nd grade: 6 servings of snack items each (granola bars, handi-snax, cheese sticks, etc.)
K: just bring your own sandwich
Thank You,
The Friendship Family Committee
---
Last Chance to Support the 2016 Annual Fund Campaign
Donation Deadline = TODAY
If received today, your tax-deductible donation will help us raise $27,500, which will then be matched with another $27,500 by the OCF Joseph E. Weston Public Foundation. 
Our Annual Fund Campaign supports our tuition assistance program and helps close the over $400,00 gap between what everyone pays in tuition and the actual cost of educating our students. 
Click here to make a donation to the 2016 Annual Fund Campaign.
Questions? Contact Caryn Fiedler, Development Director, at 503-288-9197 or cfiedler@themadeleine.edu.
---
Blessing of the Animals
Thursday, October 6 @ 3pm
Bring your pet(s) or a picture of your pet(s) for a blessing as part of Madeleine School's celebration of the Feast of St. Francis of Assisi!
We will gather at the circular driveway (in between the rectory and the gym entrance) at 3pm.
To ensure the safety of everyone gathered, as well as the safety of everyone's pets, dogs need to be on leashes and other pets should be brought using appropriate means (cages, travel carriers etc.). Dogs that do not enjoy the company of other dogs should be left at home. 
---
Upcoming Youth Ministry Events
As some of you may know, Madeleine's Youth Ministry has merged with St. Charles' Youth Ministry. After all, more kids = more fun! The new Youth Ministry leader is named Gabe Triplett, and he is on staff at St. Charles.
Each week, Gabe will post weekly reflections and updates. Sometimes the message will be for parents and sometimes it will be for youth. Here is this week's post: http://www.stcharlespdx.org/for-parents.
Coming up on October 14 is the ever-popular outing to the Corn Maze. Click here to see the flyer with complete details.
Questions? Contact Gabe Triplett at gabet@stcharlespdx.org.
---

Parent-Teacher Online Conference Sign-ups
If you haven't done so already, take two minutes right now to sign-up for Parent-Teacher conferences, which will be held October 26 - 28.
Click here to read the Parents' Guide to Booking Fall Conferences.
Please contact Alison Anderson at aanderson@themadeleine.edu if you have any questions.
---
St. Stephen's Lunch Program
Making a difference, one lunch at a time!
Sixth Grade really stepped up by making 190 lunches this week! The folks at St. Stephen's were very appreciative. The cool weather is just around the corner, so a little food in someone's stomach can make all the difference in helping them know that someone cares!
---
Guess Who's Going to be on Television?
Sunday, October 2 @ 7pm on ABC
This Sunday, one of our very own Madeleine School families will be featured on the long-running America's Funniest Home Videos TV show in a musical montage of hoverboard mishaps. Be sure to tune into ABC at 7pm to see who it is!
---
Sign up Now for YDP During In-Service and Parent/Teacher Conferences
Where will your children be when school is closed for In-Service and Parent-Teacher conferences in October? They could be enjoying a PJ Day and Halloween-related fun right here at Madeleine. Sign up now for a spot in Madeleine's YDP program.
Click here for rates and the registration form.
---
Enthusiastic and Energetic Teacher Needed for Madeleine's After-School Program
Qualifications: Previous experience working with school-age students in educational or child care setting preferred OR coursework in child development, elementary education, special education, recreation, or early childhood education.
Candidates must pass criminal background check and be willing to enroll in the Oregon Child Care Division Online Central Background Registry. Candidates must obtain an Oregon Food Handlers card and become CPR/First Aid certified.
Approximate hours: Monday, Tuesday, Thursday, Friday 3 pm-6 pm; Wednesday 2:15-6 pm. Hourly wage based upon experience and qualifications. Hours are approximate, but would be within the times listed.
Position is available immediately. Contact The Madeleine School Principal Susan Steele, ssteele@themadeleine.edu.
---
Visit themadeleine.edu/amazon to Benefit The Madeleine School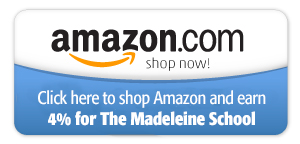 When shopping on Amazon, remember to use the Madeleine Parents Club Amazon link. This program donates a portion of everything you spend on Amazon to The Madeleine – and it won't cost you a single cent more! You can click this link to get shopping immediately, or you can read more about this "free fundraiser" here.
The more you shop on Amazon using www.themadeleine.edu/amazon, the more money the school makes. The prices and shopping experience are exactly the same as the "normal" Amazon, but using that link earns the school a minimum of 4% commission. It's one of the easiest fundraisers you'll ever find!
---
The Madeleine Day
of Service
Our Second Annual Day of Service is October 15. Plan now to be a part of it. Below is a list of service projects we are planning to undertake. Take a look, then go to www.themadeleine.edu/service to sign up
---
---

Free Talk on Disaster Preparation
Sunday, October 16 after 10am Mass
Please reserve time right after 10 o'clock mass on Sunday, October 16, to attend a free presentation in the Parish Hall by the Red Cross on disaster preparation – especially what you can do in case of a major earthquake.
Sponsored by the Madeleine Safety & Security Committee, this free 45-minute presentation is part of Father Mike's commitment to making our church, school and parish facilities safer for children, adults and visitors.
With Father Mike's support, the Safety & Security Committee spent the last year developing an Emergency Disaster Plan for the school and parish. This year the committee is focused on educating parishioners on how to be safer in their homes and how to prepare for a major earthquake or other natural disasters.
The Red Cross will also provide free educational material at their talk in the Parish Hall. So, please plan to attend after 10 am mass on October 16. It's suitable for children, too. There'll be coffee, donuts and lemonade, of course.
If you have an interest in joining the Safety & Security Committee, please contact Marc Gonzales (Committee Chair) at gonzalesmarc5@gmail.com.
---
La Salle Future Falcon Nights
Future Falcon Nights are for grade school and middle school students who may be interested in participating in athletics in high school. These events are free and with your registration includes pizza, a visit with the coaches and players, admission to the game and La Salle swag. Register online at www.lsprep.org.
Click here to see the flyer with dates and complete details.
---
Central Catholic CYO Nights
Central Catholic will be hosting a CYO Night several times throughout the school year to encourage middle school students to attend volleyball, football, and basketball games and check out their athletic program. To receive free admission, students can wear their CYO sports jersey.
Click here to see the flyer with dates and complete details.
---
Madeleine Parish Blood Drive
October 5 from 2pm - 7pm
Madeleine Parish will again be hosting an Ecumenical blood drive on October 5, 2016, in the Parish Hall. We hope you will consider making a potentially lifesaving donation. One donation can save up to three lives.
A convenient time to donate can be arranged by calling Neil Davidson, the drive facilitator, at (503) 288-3627. Hours of the drive are 2:00 P.M. to 7:00 P.M. If you cannot donate yourself, please consider recruiting someone else to give. Just pass along to them the contact information listed above.

Every two seconds someone in the U.S. needs blood. Let's help out by helping our community and our nation!
---
Portland Area Catholic High Schools Work Together to Raise Money for Children's Cancer Association
Sunday, October 2 @ 8am
On Sunday, October 2, Jesuit, Central Catholic, St. Mary's Academy and Valley Catholic students are coming together to raise money for the Children's Cancer Association. In fact, Hunter Baldridge, who is an alum of Madeleine and a current Central Catholic student, is helping to organize the event!
If you would like to sign up for the walk or support a student you know, please visit JoyRX.kintera.org/walkforjoy16.
Click here to read the flyer with complete details.
​​
---
This Week's Checklist
---
Download your copy of the bulletin at www.themadeleine.edu/bulletin
World Food Day is a day of action against hunger
Bring non-perishable food items to Masses the next two weekends
On October 16, people around the world come together to declare their commitment to eradicate hunger in our lifetime. Because when it comes to hunger, the only acceptable number in the world is zero.
At The Madeleine, we are asking every parishioner to bring canned or non-perishable foods to Masses the weekend of October 15-16. You can drop your donation in the St. Vincent de Paul barrels in the church entry.
The Madeleine Music Ministry
Join us at www.themadeleine.edu/choir
Do you or your child love to sing or play an instrument? Our Madeleine Music Ministry is looking for YOU to join one of our wonderful music ministry teams! ALL are welcome!! Click to read more....
Confirmation program reaches out to high school youth
Programs at The Madeleine or at Central Catholic High School
It's time to begin thinking about confirmation for high school youth, and this year, we have some exciting news. Not only will we hold a confirmation program here at The Madeleine, but in an exciting pilot program, we will also be managing a confirmation program taught at Central Catholic High School! Click to read more
Horse & Rider logo, "Pendleton Round-Up" and "Let 'er Buck" are trademarks of the Pendleton Round-Up Association and used with permission.
Congratulations for making it all the way to the end of Friday Footnotes!
---
Contributing to Friday Footnotes
If you have information to contribute to Friday Footnotes, please e-mail the copy exactly as you would like it to appear in a Word document to: fridayfootnotes@themadeleine.edu. Deadline is Wednesday at 5pm, or Tuesday at 5pm if there is no school on Friday.