January 6, 2017
A Note from Susan
Dear Parents and Guardians,
Happy 2017 to all our Madeleine families. I hope your holiday was filled with family, feasting, and fun. I celebrated with all of my children, their spouses, and 5 grandchildren. Unfortunately, one of my son-in-laws got a mild case of the flu so he had to return home Christmas morning. But fortunately my daughter and her new baby just had to stay with us for an extra 4 days so they did not get sick. I got lots of extra "grandma time" in when I wasn't loading or unloading the dishwasher.
Snow Days
I know we all enjoyed the long vacation with the four snow days in December. Two snow days are automatically built into the calendar, but now we have to make up two, and it is only January 6. We could have more severe weather in the coming months, but for now we are going to make up the days in the following manner. We will have school on January 17th and February 21st, which were scheduled to be Accreditation work days for teachers. I am sure that some families were heading out of town for those 4 day weekends, but adding days on to the end of the year would also impact summer vacation plans. And we may still need to do that if we get any bad storms in the next few weeks. So please adjust your calendars accordingly, and don't worry if you can't cancel travel plans.
Christmas Program
Speaking of changing plans…..we are going to try one more time to have our Christmas program this Sunday night at 6:30. Children should dress in
"Sunday best" and report to their classroom at 6:00. I have heard that the weather on Saturday may be nasty, but it is too early to see if it will impact the performance. I will send an email early in the afternoon to let you know the status of the program if snow seems to be a factor. You can also check our web page on Sunday.
Scarf Drive
Finally, be sure to check out the pictures below that show our families in Pioneer Square sharing the many scarves that were donated. A big thank you to all who gave a warm scarf and to Kris Thompson, Heather Matteri, and Tim Resch who spearheaded the effort.

Have a great weekend.

Sincerely,

Susan

---
Five for Friday
The news you need really, really fast!
---
All School Christmas Program
January 6 @ 7pm
The entire school -- that's right, grades Kindergarten through 8th -- will bring you the songs of Christmas and celebrate the release of The Madeleine's first-ever Christmas album.
---
Thanks for Contributing to the Scarf Drive
Another awesome experience hanging scarves on the old hotel gate in Pioneer Square. A great group of families braved the cold and came out ... even a grandma (who knitted close to 30!) wanted to be a part of it.
We collected over 200 scarves this year ... and a shout out to Grocery Outlet employees who jumped in at the last minute to get our total to over 200.
The notes on the scarves were so heartfelt. Many people, stood, reading them all - really feel-good stuff here. The kids seemed equally as touched to see people so excited to pick a scarf for themselves. What a great way to start 2017.
---
Open House: Spread the Word!
It's time to reach out to all the families who look forward to sending their kids to Madeleine next year. Word of mouth is our best marketing tool, so be sure to tell everyone you know about our Open House Events.
Parent Information Night – Monday, February 6th @ 7pm
Come hear all about the school from Principal Susan Steele, Father Mike Biewend and current parents. Visit the classrooms and enjoy conversations with current parents.
School Tours – Tuesday, February 7th from 10am - 1pm
Bring your child for a tour of the school and see the teachers and current students in action.
---
Help Market The Madeleine School
At this time of year when so many families are deciding which schools to apply to, your active support of the school on social media with a 'Like' or by sharing our posts helps spread the word about our incredible school.
Add The Madeleine School to your Facebook feed today!
Madeleine on Facebook: Click here to check us out
---

Sign up to get Hot Lunch in February
Registration begins January 10th and closes January 24th
Sign-ups will open next week on January 10th to order hot lunches served during February. Mark your calendar!
Weather-related credits for snow days will be applied to the following month.
Click here to review the monthly menu, place your order and make your payment.
---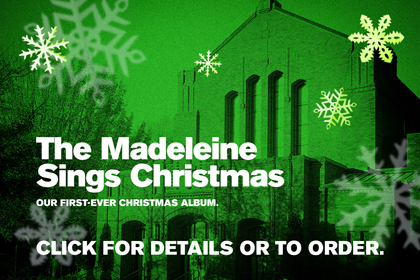 Time to start your 2017 Chrtistmas shopping! Order one (or 10) at www.themadeleine.edu/cd. The CD makes a great gift and will be treasured by family and friends for Christmases to come.
---
St. Stephen's Lunch Program
Making a difference, one lunch at a time!
The Global Day of Giving is usually the Tuesday following Thanksgiving and kicks off the charitable season, when many focus on their holiday and end-of-year giving. This year The Madeleine chose to celebrate on the first Tuesday of 2017 as our day to utilize our collective power.
We delivered 770 lunches to St. Stephen's! To date, this is the most we have ever given in one week. They were distributed to women's and family shelters and to those on the streets. Your generosity, love and respect for all people provided real change in our community. Thank you!
---
#YouthGroupPDX

MLK Day Rally and March on January 16 @ 11am
In the fall, we began planning a youth led Martin Luther King Rally and March. This march is entirely youth driven and designed. The Rally will begin at 11am in Glenhaven park on 82nd Ave. The March will begin at noon. Our theme is WE HAVE A DREAM. Join us for this inclusive, family friendly event!
Click here to check out our MLK Day Rally and March Flyer
Questions? Contact Gabe Triplett at gabet@stcharlespdx.org.
---
This Week's Checklist
---
Download your copy of the bulletin at www.themadeleine.edu/bulletin
A TREMENDOUS THANK YOU TO
THE MADELEINE COMMUNITY
I am at a loss for words to express my overwhelming gratitude to all of you that supported my Children of Incarcerated Parents through The Madeleine Giving Tree. Through your generosity 23 students were given a Christmas to remember. My students live in extreme poverty and are faced with food and housing insecurity, trauma, abuse, neglect and more. The gifts represent so much more than new sneakers, Barbies or video games. They represent the love and generosity of people that care about them and believe in their worth as children of God and don't even know them. My heartfelt thanks to The Madeleine Community for truly going above and beyond in serving my students.
Blessings,
Marianne Kersten,
Children of Incarcerated Parents
Congratulations for making it all the way to the end of Friday Footnotes!
---
Contributing to Friday Footnotes
If you have information to contribute to Friday Footnotes, please e-mail the copy exactly as you would like it to appear in a Word document to: fridayfootnotes@themadeleine.edu. Deadline is Wednesday at 5pm, or Tuesday at 5pm if there is no school on Friday.