December 16, 2016
A Note from Susan
Dear Parents and Guardians,
Well, what a way to begin our Christmas vacation. At one point on Wednesday night I thought I would be spending Christmas with all my new friends who were also stuck on Highway 26! However after 3.5 hours I finally made it home. I am sure many of you were also in the same predicament. A cozy warm house never looked so good!

Many regrets about this storm....missing the Christmas program, the Tree lighting, class Christmas parties, the Marketplace, and now snow days to make up. All of it will be sorted out, and there is nothing to be done now except to wish everyone a blessed Christmas and a happy, prosperous, and peaceful New Year.
Sincerely,

Susan

---
Five for Friday
The news you need really, really fast!
---
Be An Angel Among Us
Christmas Teacher Wish List
You can become a Christmas Angel by giving a gift from the "Teacher Wish List." These items are not in the budget, but would enhance the classroom. Thanks to the many angels last year, donations to the teacher wish list provided hundreds of dollars in classroom extras!
Click here to see the teacher wish list. Earn your wings this year and join the many angels in our midst!
Questions? Contact Caryn Fiedler at cfiedler@themadeleine.edu
More Angels needed:
Hokki Stools aid learning, improve student focus.
Earlier this fall, The Madeleine School bought two "Hokki" stools. Immediately, these stools became the favorite seating choice for students because they are helpful for learning, comfortable, and fun! These stools provide students with the ability to move (and improve their focus) without distracting other students around them.
If your child or one of your child's friends might benefit from a Hokki stool, please consider the gift of an Amazon Gift Card for the Madeleine Learning Support Team. The team is working toward buying at least seven more stools for use in the Learning Loft.
Questions? Email Caryn Fiedler at cfiedler@themadeleine.edu.
---
Sign up to get Hot Lunch in January
Registration deadline = December 24
Sign-ups are now open to order hot lunches served during January. Do it now before you forget!
Click here to review the monthly menu, place your order and make your payment.
---
Last Minute Shopping + Amazon = Madeleine Money!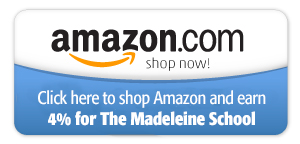 Doing some last minute shopping on Amazon for Christmas? If so, please remember to use Madeleine's Amazon link.
It doesn't cost you a single cent more, and the School earns "free money" each time you buy something using the link at http://www.themadeleine.edu/amazon.
---

All Grades Contribute to St. Stephen's Lunch Program
Tuesday, January 3
Don't forget that when we all come back to school on Tuesday, January 3 ALL GRADES are asked to bring in lunches for St. Stephens. If everyone brings in 5 lunches, we could provide them with over 1,000 lunches!
---
Way To Go, Max!
5th grader Max M. qualified for the USA Track & Field Junior Olympics Cross Country National Championships in Hoover, Alabama last Saturday. Max participated in the Boys 9-10 age group with the Bowerman Track Club. His team finished 7th out of 28 teams, while Max was the 3rd finisher for the team. Overall he finished mid-pack at 171st out of 340 runners. Wow, Max; what an amazing accomplishment!
---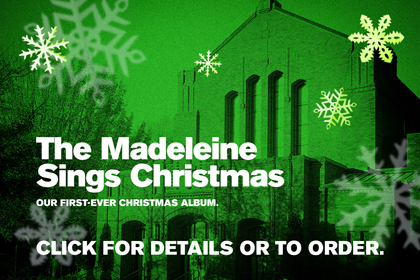 There is still time to order your CDs! Order one (or 10) at www.themadeleine.edu/cd. The CD makes a great gift and will be treasured by family and friends for Christmases to come.
CDs can be picked up after Mass on December 17 and 18.
---
Pageant Casting Call for the Christmas Eve 4PM Mass
We've got a donkey, some sheep and an Alpaca posing as a camel, now we need YOU. Please join us and be a part of the telling of one of the greatest stories ever told.
Schedule:
Sunday, December 18th at 11:15am in the Parish Hall
Sign up and participate in two run-throughs. First come first served.
Thursday, December 22nd at 5:30pm in the church
Get your costume and participate in two run-throughs. Please eat a light dinner / snack beforehand so we can all stay focused and get through the rehearsal promptly.
Being at the rehearsals is super important. Please be sure you can make them both before signing up.
Plan to arrive at 3:15 on Dec 24th - we will meet in the Fireside Room.
---
Easel Items: Spaces Still Available
Christmas Co-ed Basketball Camp (3rd-5th grade & 6th-8th grade)
December 21 in the Madeleine Gym ~ $25 per child
Grab Your Chance to Get Original Artwork
The sixth grade class is making a print version of its "Made in Oregon" auction project available to everyone. Yes, their class project really did sell for $4200 at the auction! And now you can have a print of this beautiful artwork for $100. All proceeds go toward the auction. Here are the details:
Price: $100
Make checks out to Sally Damewood
Print will be 16x20 and unframed
Delivery will take place in January
Questions: Contact Sally Damewood at sallydamewood@gmail.com

---
St. Stephen's Lunch Program
Making a difference, one lunch at a time!
We ended the year strong with 223 lunches from Mrs. Doran's class. Thank you 5th Grade! Our friends at St. Stephens want to wish everyone a Merry Christmas, and tell you how blessed they are by your generosity. Great job!
Don't forget that when we all come back to school on Tuesday, January 3 ALL GRADES are asked to bring in lunches for St. Stephens. If everyone brings in 5 lunches, we could provide them with over 1,000 lunches!
---
Counselor Corner
by Carolyn Ullman
Love and Logic: The 3 Styles of Parenting
The Helicopter Parent – This kind of parent hovers, rescues, and protects their child. They send messages like:
"You're fragile and can't make it without me."
"You need me to run interference."
"You need me to protect you."
"You can't make it in life without me."
The Drill Sergeant Parent – This kind of parent demands that their children do it now, their way, OR ELSE!! They send messages like:
"You can't think."
"I have to do your thinking for you, boss you around, and tell you what to do."
"You aren't capable of making it in life."
 The Consultant Parent – This kind of parent is always around to give advice and let the child make the decision, with the idea that they will let the child make as many mistakes as possible when the price tag is affordable. They send messages like:
"You'd better do your own thinking because the quality of your life has a lot to do with your decisions".
Most of us are a combination of all three.  The theory of Love and Logic requires us to examine our parenting styles and help our children to grow in their mistakes and learn from the consequences of them.
---
#YouthGroupPDX

Thanks to all who came out for our Christmas party festivities last week. We had a great time sharing a meal, playing games and hearing stories of St. Nickolas!
We are moving ahead with our planning of a Martin Luther King March. Our next planning meeting is this Sunday at St. Charles from 4-6. Then families and youth are welcome to join in for la Posada that starts at 6pm.

The Youth group is selling tickets after Mass for our fundraising concert on Jan 1. We will begin selling a delicious and affordable dinner at 6pm in the Fireside room. Amanda Vernon will begin her concert in the Church at 7pm. Remember, that if you went to the informational meeting for the Mission trip and have decided you want to go, the 18th is your final day to let me know and get your name on the list!

God Squad: God Squad also had a great time during our Christmas party. We continue to get more and more kids from The Madeleine, and we are having a blast getting to know each other, building trust, and growing in our spirituality. I want to encourage parents to keep an eye on the God Squad schedule and make sure their youth attend. Our next God Squad will be this Sunday after 10am Mass.
Questions? Contact Gabe Triplett at gabet@stcharlespdx.org.
---
8th Grade Girls! Join Us for "The Scoop"
January 6 @ 4:15pm
Join us for "The Scoop" on Friday, January 6 from 4:15-6:00pm to enjoy an ice cream social and super fun activities with your friends and the St. Mary's Academy Ambassadors. This is a free event for 8th grade girls to learn more about high school life at St. Mary's.

RSVP to Caitlin Whitty at admissions@smapdx.org by December 30.
---
This Week's Checklist
---
Download your copy of the bulletin at www.themadeleine.edu/bulletin

First concert is Handel's Messiah, December 11 • Please join us!

Discount Series Tickets for our Music at The Madeleine Series are ON SALE NOW. Order before December 7 to make sure you don't miss out!

Save 33% when you purchase a 3-concert Series Ticket for $60. Students age 18 and younger are FREE with paid parents. Get tickets at www.themadeleine.edu or complete the order form in the series brochure and drop it off at the Church office.

Our 2016-17 series includes 3 concerts beginning with Handel's MESSIAH on Sunday, December 11th @ 3 PM. The MESSIAH concert is a great way to begin the celebration of Advent and Christmas seasons at The Madeleine. Concerts are performed by the Bravo! Northwest Chorale, Northwest Chamber Orchestra and nationally acclaimed jazz and classical soloists and conductors.

Please join us for Music at The Madeleine —here in the beautiful Madeleine Church— where ALL are welcome!
Ministries, teachers, service groups! Send us your photos!
We will be publishing our annual The Madeleine in Service edition of the Bulletin on Christmas Day. Please send photos of your ministry, classroom or service grop by December 20 ! Click www.themadeleine.edu/photos for instructions.
Horse & Rider logo, "Pendleton Round-Up" and "Let 'er Buck" are trademarks of the Pendleton Round-Up Association and used with permission.
Congratulations for making it all the way to the end of Friday Footnotes!
---
Contributing to Friday Footnotes
If you have information to contribute to Friday Footnotes, please e-mail the copy exactly as you would like it to appear in a Word document to: fridayfootnotes@themadeleine.edu. Deadline is Wednesday at 5pm, or Tuesday at 5pm if there is no school on Friday.