March 3, 2017
A Note from Susan
Dear Parents and Guardians,
It was great to see so many school families at Tuesday's Mardi Gras. I really enjoyed the music and visiting with so many folks. The Kidz Zone was a big hit, not that I spent that much time up there. Kudos to the many volunteers who were in the gym keeping the kids busy and happy. As they say in New Orleans, the home of Mardi Gras, "Laissez les bon temps rouler."
Science Night
Don't forget that Thursday, March 9th is Science Night. This is one evening you don't want to miss. Ms. Yuhas, our science teacher, with the able help of the middle school students, have a fun-packed event planned. The 6th, 7th, and 8th graders will have their science projects on display in the Atrium. The quality of the work is usually amazing. They also will be organizing activities that the rest of the students can participate in. Ann is still looking for a few small wading pools …something to do with floating raw eggs! (If you have one to lend, call the school.) Be sure to put the event on your calendar…..Thursday night, March 9th at 6:30 in the parish hall and commons.
Parent Education Night
Another evening event for parents is Wednesday, March 15th. The Parents Club has asked Shawn Marshall, a licensed counselor from the Children's Program, to come and talk about how electronics and social media affect children. Shawn spoke to our parents a few years ago and he was amazing. I highly recommend this program and thank the Parents Club for arranging his talk- 6:30 in the Fireside Room.
Have a great weekend,
Susan
---
Five for Friday
The news you need really, really fast!
---
Science Night
Thursday March 9th
You're  invited! The Madeleine School proudly presents Science Night 2017 on Thursday,
March 9th from 6:30pm – 8:00pm. 
The middle school will be hosting an evening of science challenges and fun for scientists of all ages.  Parents and children are invited to play at the bridge station, make their own rocket, build science toys, or compete in the egg boat competition (see instructions for Egg Boat Challenge here).  Middle school students will be also presenting many exciting science demonstrations.  All of the 6 – 8th grade science projects will be on display in the Atrium.  See you there!
---
Madeleine Bulldogs CYO Spring Sports
**REGISTER FOR TRACK AND FIELD**

CYO TRACK & FIELD (3rd-8th Grade, Boys & Girls): CLICK HERE TO REGISTER NOW!
Track season practice may begin on March 13th
.
LACROSSE (K-8th Grade, Boys & Girls):
BASEBALL (3rd-8th Grade, Boys & Girls): CLICK HERE TO REGISTER NOW!
SCHOLARSHIPS: Scholarships are available through CYO. Click here to view and apply for a scholarship. The form can also be found at cyocamphoward.org. Do not hesitate to apply if you need assistance.
COACHES NEEDED Please contact the Athletic Director at cyo@themadeleine.edu if you are interested in coaching a Spring sport. We'd love to have you join the team!
BOARD MEMBER & ATHLETIC DIRECTOR OPEN POSITIONS Are you interested in helping shape the CYO Athletic Program at The Madeleine? Then, we need you! The Madeleine Athletic Board has upcoming open board member positions. The board meets quarterly during the year to discuss the CYO sports programs and scholarships offered. Please download and fill out this application and return by March 24th.
For more information about these or other sports offered or to register, check out the website http://www.themadeleine.edu/cyo
Go Bulldogs!!
Aimee Holzschuh
Madeleine Athletic Director
cyo@themadeleine.edu
---
Upcoming Easel Item Parties: Spaces Still Available
If you never got around to signing up for an easel item party during the auction, here's your chance! The following parties still have space, so sign up now and join the fun!
Ping Pong Night!
Saturday, March 4th from 6-10pm
Rose City Hall, 358 NE Mason Street
$40/person
Hosts: Brian & Tara Hendrickson and Farooq Nasserziayee & Lenny Supnet
March Madness Party
Saturday, March 18th at 3pm
The Miller home
$40/person
Hosts: Harpster and Miller Families
Click here to sign up for an easel item party before they sell out!
---
St. Stephen's Lunch Program
Making a difference, one lunch at a time!
The 8th Grade students made 108 lunches this week. Our friends at St Stephen's were very thankful for such amazing work. Also, when I saw the lunches made by the 8th graders, it reminded me to mention how meaningful and appreciated kind words and art work are. It only takes a few extra minutes, but a few kind words can really turn someone's a day around.
---
Parent Education Night - Children and Social Media
March 15 @ 6:30pm
The Madeleine School Parents Club is proud to present Shawn Marshall, from the Children's Program, on March 15th at 6:30pm.
Shawn Marshall, MA, LPC returns to the Madeleine to present on Kids and Social Media. Shawn's presention is developed from the challenges that many of his clients and their families have experienced while navigating the intricacies of social media.  He focuses on educating parents on a variety of social media sites and explores the potential negative impacts on their children.  Shawn offers numerous recommendations to support parents, who like their kids, are dealing with the ever-changing social media.  He provides up-to-date information and statistics on the impact that social media has on the developing brain including sleep, academics, and physical health.
Shawn Marshall MA, LPC is a licensed professional counselor who has over 20 years of experience working with children and families.  He has worked in residential programs, community mental health, consulted with school districts and is currently at the Children's Program in Portland.  He specializes in working with teens and has expertise in depression, anxiety, attention deficit, academic challenges, and oppositional behaviors.
---
Update from the Art Room
March is Youth Arts Month!

It's a perfect time to celebrate creativity and the many ways the Arts enrich our lives and bring people together.

Make time to make art with your kids
Visit the Portland Art Museum - students get in FREE
Stroll through some of Portland's many art galleries and maker spaces
Buy a piece of original art
Attend a Sip and Paint Night and make some art and new friends
Check out the work of our own Madeleine Artists currently on exhibit in the STEAM wing
Mark your calendar for ordering Kids Kreations note cards featuring your child's artwork

And remember, "Earth without ART is just eh."
Mrs. Galash
---
The 2017 Auction is Coming . . .
Yes, it is already time to start thinking about the 2017 auction. The theme will be revealed in the coming weeks . . .
. . . but while you consider the possibilities, please also think about stepping up into a sub-chair role. These roles provide a guaranteed way to get your auction hours and the opportunity to meet lots of other amazing Madeleine parents. Here are the roles for you to consider:
Advertising

: Coordinate ad sales for the auction catalog. A list of previous advertisers is available as a starting point.
A/V & Sound: Be the bridge between the auction team and the audio visual and sound vendor.

Business Procurement

: Point person on all business procurement; oversee a team of volunteers.

Honorary Chair Video

: Coordinate the production of a short video highlighting our honorary chair (who is TBD).

Parish Liaison

: Be the auction bridge between the school and parish.

Raffle Tickets

: Encourage the kids to sell their tickets, and oversee the team who counts tickets each week during auction season.

Sponsorship

: Secure auction sponsors. A list of previous sponsors is available as a starting point.

Silent Auction "Night Of" Sub-chair Shadow

: Learn the ropes from a veteran this year and be in charge next year as the bridge between the silent auction and cashiering.

Volunteer Coordinator Sub-chair Shadow

: Learn the ropes from a veteran this year and be in charge next year as the lead person who matches volunteers and open positions.
Ready to volunteer or have some questions before you decide? Send an email to auction@themadeleine.edu.
---
Oregon Aquarium Comes to Madeleine
Last week, 3rd, 4th and 5th graders were treated to a visit from the folks at the Oregon Aquarium. A great, interactive presentation made the learning really fun!
---
Still a Few Spaces Left
Spread the word! We still have space left in the 1st grade for the 2017 - 2018 school year. Word of mouth has always proven to be our strongest form of marketing, so text your friends and neighbors and invite them to come for a tour and submit an application.
---

Come One, Come All! 28th Annual St. Patrick's Day Parade
Sunday, March 19th @ 1pm
Whether you march or watch, don't miss it! Sunday, March 19th at 1:00pm. The parade leaves from Beverly Cleary school and heads up Northeast Hancock. Rain or shine. Contact Steve O'Slavik at 503-282-6370 for more information. May the luck of the Irish be with you!
---
Wilshire Riverside Little League Spring
Baseball
Registration now open
Open to players 5 - 13. Please visit wilshireriversidell.org to register your son or daughter. Registration for lower levels (T-Ball, Single A and Double A) runs through March 24 for ages 5-8. Registration for Minors, Majors and 50/70 closes today, February 24. Skills assessments for Majors and Minors will be held March 4-5 at Grant High School.
Madeleine School students 13 and younger are automatically eligible to play for WRLL since the school is within our league boundary. Come join the fun!
Contact Jim Honish for more information ~ jhonish7@gmail.com
---
Adult Confirmation
It is not too late to join a Faith Sharing Group this Lent. If you have not joined a group, please consider joining the Faith Sharing group for Lent starting Wednesday 8th and running for 5 weeks. We will meet at 1:30 PM on Wednesdays in the Rectory Dining Room for one hour—finishing just in time to meet your children when they get out of school.
Contact Julie Onderko to sign up
---

POSTPONED:
God Squad Lock-In



Due to many sick chaperones, the God Squad Lock-in has been postponed. Stay tuned for a new date!
God Squad, however, will still meet on Sunday after 10am Mass.
---
Get Ready for the Teenage Years!
Sunday, April 9th
Northwest Family Services will present Mother-Daughter and Father-Son Adolescent Development Programs at Providence Portland Medical Center, 4805 NE Glisan St., on Sunday, April 9th.
These programs, approved by the Archdiocese of Portland, help families prepare for the physical, emotional, and social changes that adolescents experience.
The Mother-Daughter Program, for girls ages 9-12 and their mother, is from 2:00 to 4:00 p.m. The Father-Son Program, for boys ages 10-13 and their father, is from 5:00 to 7:00 p.m.
Registration is $15 per family per program. Pre-registration by April 6 is required. For more information or to register, please visit Northwest Family Services website for more information.
Click here to see the flyer for the Mother-Daughter event
Click here to see the flyer for the Father-Son event
---
This Week's Checklist
---
Download your copy of the bulletin at www.themadeleine.edu/bulletin
Lenten Faith Sharing Groups Forming Now!

Please sign up at the back of the church for a Lenten Small Faith Group. The purpose of Small Faith Groups is to bring people into communion with God through relationship building and faith exploration. Journey to the Cross is our spiritual booklet for our Lenten Small Faith Groups.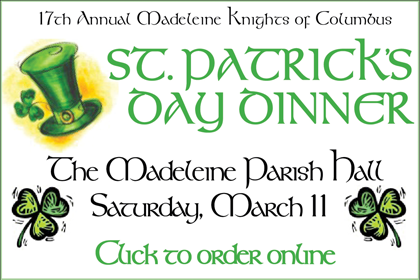 Congratulations for making it all the way to the end of Friday Footnotes!
---
Contributing to Friday Footnotes
If you have information to contribute to Friday Footnotes, please e-mail the copy exactly as you would like it to appear in a Word document to: fridayfootnotes@themadeleine.edu. Deadline is Wednesday at 5pm, or Tuesday at 5pm if there is no school on Friday.