November 10, 2016
A Note from Susan
Dear Parents and Guardians,
I don't know if I can add anything more to the glowing reviews of this year's auction Madeleine Round-Up. It was truly a major fund-raiser and "fun-raiser." The preliminary reports indicate a very successful event, with incredible generosity for the paddle raise going to renew, refresh and remodel the main floor bathrooms, perhaps not the most glamorous, but most pragmatic paddle raise we have had in a few years.

This incredible evening couldn't have happened without the hard work and calm vision of our auction chairs, Lisa Colling, Matt Kohlbecker, Alisa Pyszka, and Andy Steiner, as well as the above and beyond support of Lynn Robinson, Rich Hammons, and Caryn Fiedler from our Development Office. This auction has become such a complex event that it takes "tribal knowledge," passed from each year's team to the 3 grade "newbies," to continue this tradition of excellence.

Each year I worry about who will be brave enough to step forward and take on the challenge of directing the auction. But the Holy Spirit always inspires a few individuals to answer my prayers. Thank you, again, to Lisa, Matt, Alisa, and Andy for a job well done.

Music Teacher Staffing Change
I received an email from Ms. Bjore this week. She regretted to inform us that due to her continuing health problems, she needed to resign her position at The Madeleine. She said that the responsibilities required of the position might run the risk of aggravating and accelerating her condition. I told her that we have been praying for her and hope that she makes a full recovery. She said that she truly enjoyed her time at The Madeleine and thanked everyone for their kindness.

Our music substitute, Cary Pederson, has agreed to stay on and assume the full responsibilities of the job. I know you will welcome him warmly and give him your full support.

Have a great weekend,

Susan

---
Five for Friday
The news you need really, really fast!
---
Do You Have Post Auction Questions?
Of course, you can always email auction@themadeleine.edu. If your question is specifically about your receipt or if you still need to pick up an item you won, please contact Caryn Fiedler at cfiedler@themadeleine.edu.
Paddle Raise Results
The Cleaner, Greener Bathroom Project is now a reality thanks to the generosity of everyone who raised their paddle for this year's Paddle Raise, which raised a whopping $52,450 in restricted funds to remodel the downstairs bathrooms! In order to reduce the impact of the remodel on our students, construction is scheduled begin this summer. Stay tuned!
If you were unable to attend the auction, but would like to support the Cleaner, Greener Bathroom Project, you can make a check out to The Madeleine School, put "Paddle Raise" in the memo, and drop it off in the front office.
Click here to read the complete description of the Cleaner, Greener Bathroom Project.
Overall Auction Results
Madeleine Round-Up, the 2016 Madeleine Auction, rode into town last weekend, with 271 cowboys and cowgirls totin' along a great spirit of community and generous attitude.

Thank you to everyone who worked, attended, donated or prayed to make this evening amazing. And a special thanks to the hardest working cowhands on the ranch, auction chairs Andy Steiner, Matt Kolhbecker, Alisa Pyszka and Lisa Colling.
While the final numbers are still being tabulated, it's safe to say that our auction guests were overwhelming in their generosity. Be sure to read upcooming editions of Friday Footnotes for the grand announcement of how much we raised for our kids.
Easel Items: Spaces Still Available
Click here to sign up before they sell out

Winning Bidders: Pick Up Your Loot
We still have a number of items waiting to be picked up. Don't you want your prizes? Contact Caryn Fiedler at cfiedler@themadeleine.edu to pick up your loot!
Facebook & Instagram
Be sure to use #madeleineauction2016 when posting to Facebook or Instagram so we can capture all the great photos of the night.
---
Mark Your Calendars!
No School or YDP November 21-25
The Madeleine Faculty will all be participating in Accreditation Preparation the week of Thanksgiving. There will, therefore, be no school or YDP on the Monday (11/21), Tuesday (11/22) and Wednesday (11/23).  Thank you for your understanding and support of this important accreditaton prep time. We hope you have a wonderful, famliy-filled Thansgiving week.
---
Sign up to get Hot Lunch in December
Registration deadline = November 24
Sign ups are now open to order hot lunches served during December.
Click here to review the montly menu, place your order and make your payment.
---

November 13 @ The Madeleine Church after 10am Mass
WE NEED VOICES...ESPECIALLY YOURS! The Madeleine is producing a first-ever Christmas album just in time for this Christmas. Under the direction of Madeleine Musical Director, Maria Manzo, students from the parish school and the members of the Madeleine Choir will join voices for this very special collaboration. But we need you too!! – We are including everyone on our group finale extravaganza … students, parents, faculty, staff as well as any and all from our Parish community.
This is a great way we are can all come to together to celebrate the Christmas season and raise money for the restoration of the old church - which will be used as a gathering space for the Madeleine community as well as the future home to the school's music program.

So, bring your best Fa la la la la … la la la la and engage your Christmas spirit early this year. All voices are welcome! The more the merrier. Light lunch and refreshments to be served following the record.
Please RSVP at wwwthemadeleine.edu/signup.

If you have any questions. Please contact Julie McGinnis at jamcginnis5@yahoo.com.
---
Help Wanted: PAID(!) Gym Site Monitors
Help make this basketball season run smoothly by stepping up to be a PAID(!) gym site monitor. The Madeleine CYO Club is in need of PAID Site Monitors to work at the upcoming Basketball games. Games are on Saturdays in Madeleine Gym and start at 8:30am, last game starts at 2:45pm. Site Monitors will be responsible for opening up gym at 8am and closing the gym after final game. $100 stipend per Saturday. If interested, please contact Aimée Holzschuh, Madeleine Athletic Director, at cyo@themadeleine.edu.
---
Youth Ministry Upcoming Events
Questions? Contact Gabe Triplett at gabet@stcharlespdx.org.
---
St. Stephen's Lunch Program
Making a difference, one lunch at a time!
Mrs. Schneider's Kindergarten class finished up "Round 1" and brought in 233 lunches. It is so awesome to see 5 and 6 year olds beam with pride as they stack their lunches in the hall. To date, The Madeleine has made 2,289 lunches! Our goal this year is to break 10,000 so we encourage each student to make at least 8-10 lunches.
---
St. Vincent de Paul Door-to-Door Food Drive
November 19 @ 9am
We need all hands on deck for our annual Door to Door food drive on Saturday, November 19 from 9:00am - 11:00am. Meet under the carport on the 23rd Street side. We will break into groups, and hit the streets going door to door collecting food.

This is a fantastic whole family opportunity to help feed the hungry in our community. Parents, get your children involved in volunteering/charity work.
Children, show your parents how good you are at helping feed the poor.
Teens, great way to stock up on needed community service hours for school.

We desperately need your help! We are going to try to feed 100 families this holiday. Wow, that's a lot of food!

Contact Lisa Hawkins at lhawkins2916@comcast.net with any questions.
---
Amazon + Holiday Shopping = Madeleine Money!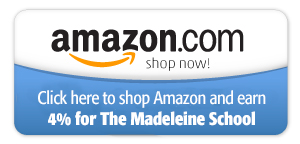 Starting your Christmas shopping? If Amazon is your destination, please remember to use the  Madeleine's Amazon link.
It doesn't cost you a single cent more, and the School earns "free money" each time you buy something using the link at http://www.themadeleine.edu/amazon.
You can even double-dip by buying your Amazon scrip cards at the School and then using that credit to make purchases!
---
Free Family STEM Night at University of Portland
November 17 @ 7pm
Your family is invited to enjoy a night discovering the wonders of science, technology, engineering and math.
Click here to see the flyer with complete details.
​​
---
This Week's Checklist
---
Download your copy of the bulletin at www.themadeleine.edu/bulletin
Honor our servicemen and servicewomen: "Blue Mass" this weekend, Nov. 13
Please make a point of joining us Sunday, November 13 at 10:00 am, for a special "Blue Mass" in thanksgiving for all those who are in service to our community and our country.

ALL parishioners, family, friends and colleagues—active or retired—from all branches of Military service, Police or Fire, are encouraged to wear their uniforms for this Mass.

We will have a special blessing and music to honor your service to our community and to our country.
Communal Penance Service in Celebration of the Close Year of Mercy

Sunday November 20 after 10:00 Mass

At your Baptism, God forgave all your sins. Afterward, whenever you fall, God extends an embrace of mercy through the Sacrament of Reconciliation. This year, we're holding our Lenten Communal Reconciliation on Sunday after Mass in the hope that all parishioners will be able to attend. We will have additional priests available to hear your confessions.

Take time this week to prepare for Reconciliation by inviting the Holy Spirit to help you to examine your conscience. Look to the past and reflect on the wrongs you have done. Look to the present and think of the bad habits you wish to break. Look to the future to see how you wish to grow closer to God and others.

Please join us in this celebration of God's mercy.
Information Station!

Our information table, now known as the Information Station, is back! Look to the back of the church every Mass, and you'll see the table, staffed during the Mass and immediately afterward by Cathy Armstrong and her band of helpers. What can you do there?

Join a ministry

Find out about our latest events and occasions.

Update your parish registration

Register at The Madeleine, if you aren't already.

Request a Mass Intention

Update or make your Parish Stewardship Pledge

The Information Station will be set up after most weekend Masses. Stop by and say "hi"!
Horse & Rider logo, "Pendleton Round-Up" and "Let 'er Buck" are trademarks of the Pendleton Round-Up Association and used with permission.
Congratulations for making it all the way to the end of Friday Footnotes!
---
Contributing to Friday Footnotes
If you have information to contribute to Friday Footnotes, please e-mail the copy exactly as you would like it to appear in a Word document to: fridayfootnotes@themadeleine.edu. Deadline is Wednesday at 5pm, or Tuesday at 5pm if there is no school on Friday.