October 7, 2016
A Note from Susan
Dear Parents and Guardians,
Fall is not only the beginning of the school year, it is also the time for our Madeleine parish to begin its faith formation programs. Two areas that serve our families in their children's (and parents) faith journey are Sacramental Preparation and Rite of Christian Initiation for Adults and Children (RCIA/RCIC). Sacramental preparation includes Baptism, Eucharist, Reconciliation and Confirmation. Julie Onderko, Madeleine Director of Faith Formation, is the "go-to" person. If anyone in your family (adults, youth, and children) has not been baptized, received First Reconciliation/Eucharist, and/or Confirmation, she can answer any questions and get the process started.
If you have not had much exposure to the Catholic faith and are wondering what exactly we believe and profess, you might like to attend a Catholic Inquiry/RCIA session. The parish is just beginning the inquiry portion of the Rite of Christian Initiation of Adults (RCIA). It is a welcoming time to inquire, with no pressure or expectations, but with a compelling invitation from Jesus to "come and see," John 1: 39. Once again, Julie is the person who can give you the details of this wonderful program. You can reach her at jonderko@themadeleine.edu or at the parish office 503-281-5777.
Sincerely,
Susan

PS. Please help Angela out regarding baptismal certificates. If your child has been baptized at any Catholic church, we need to have a copy of the certificate on file. Give the office a call if you are not sure you turned one in when you registered.

---
Five for Friday
The news you need really, really fast!
---
Family Donations for the 2016 Auction
DUE TODAY - OCTOBER 7!
The deadline for family donations is today! Thank you to those who have already submitted your donations and for those who haven't, please consider either an item from our "wish list" below or write your best check ($200 minimum). Thank you for your support of the school and a successful auction!
Wish List
Trips
Vacation homes and accommodations
Hosted or Themed Dinners (Choose your favorite cuisine, party theme, or location)
Hosted Experiences (here's an opportunity to have fun and get creative - group game night, pool parties, scavenger hunts, races, wine tours)
Restaurant Gift Cards
Sporting Events, Tickets (Blazers, Ducks, Thorns, Timbers, Golf)
Cultural Events, Tickets (Plays, Musicals, Concerts, Theater, Symphony)
We understand that you may have donation questions. If so, contact Andrew Steiner at auction@themadeleine.edu.
Yee Haw! Auction tickets are on sale!!!

Go to www.themadeleine.edu/tickets to secure your tickets to the only round-up in the Rose City for a knee-slappin' good time!

Courtesy of Grand Cru Hospitality, bring your appetite and enjoy a hearty and delicious family-style meal. Click here for the mouth-watering menu details.
Raffle Talk
We are at the half-way point for selling raffle tickets. We have just four weeks left. If you haven't sold any raffle tickets yet, now is the time to start asking your friends, co-workers and relatives.

Last week, we sold a whopping 700 tickets to make our current raffle ticket sale total: $18,390!
More importantly, we now have 184 students out of 258 who have sold at least 1 raffle ticket. We are getting closer to our 100% school participation raffle goal. Yay!

Brady C., 6th grade, was our lucky winner of the G6 Airpark Pass. Congrats!

Winner of the Wildlife Safari Pass will be announced at Monday morning assembly. This week's Flash Sale Prize: Sell a least 5 tickets by Friday for chance to win: Admission to Christmas Festival of Lights for 4 people at The Grotto.
Contact amandapower1@hotmail.com with raffle questions.
Easel Items Available
Get 'em while you can. We already have fantastic easel items on sale.
How about Brewcycle Pub Crawl riding a giant 15 person bike pub to pub with the Madeleine community? Enjoy a springtime event bonding with old friends and making new ones along the way.

Or if you are already thinking about the holidays, consider Madeleine's first Christmas Basketball Camp. Madeleine's very own basketball stars Laurie Merlino and Ann Reno will provide your kids with expert instruction while you finalize your Christmas shopping and preparations. This is a win-win event!!
Still Looking for an Auction Job?
If you are still searching for an auction job, look no further! The following volunteer opportunities will more than fill your 10 hour auction requirement.
Cashiers: Help auction guests check in, process their orders and check out. A brief training will be offered the week before the auction, so no previous experience necessary.
Dishwashers: Join the party in the kitchen! Wear comfy clothes! Best of all, this volunteer opportunity offers double hours - work 5 hours and get credit for 10 hours!
Contact Anne Gaber, Auction Volunteer Coordinator, at gaber20@msn.com to sign up.
Send Us Your Photos for the Auction Slide Show
You know you want to see your kiddo up on the big screen during the auction! The only way to make that happen is to submit some photos. All you have to do is go to www.themadeleine.edu/photos and follow the simple directions. NOTE: Please include photos from on-campus or school-related events. Vacation photos are nice, but probably not going to make it in the slideshow!
You may have photos of the following. Please send them in!
Back to School BBQ ~ Classroom parties ~ Recess ~ Lunch ~ Student plays ~ Sports ~ Field trips ~ Christmas Program ~ Art Show ~ Youth Group ~ Blessing of the Animals ~ Bike to School Day ~ YDP ~ Student Fundraisers ~ Science Night ~ Spirit Week ~ Jog-a-thon ~ Spring Musical ~Talent Show
After-Party
Make sure you bring your giddy-up this year. We are keeping the rowdiness rowdy with an after party. Join us after the auction for live music and square dancing with Portland's finest string band musicians! No charge to attend - you just need to cover your own swill.


Auction Questions
If you have any auction-related questions - donation questions, volunteer jobs questions or whatever - send an email to auction@themadeleine.edu. 
Be sure to use #madeleineauction2016 for Instagram and Twitter!
---
Blessing of the Animals
Check out these cuties!
---
St. Stephen's Lunch Program
Making a difference, one lunch at a time!
Mrs. Doran's Fifth Grade class were super stars this week, and if this was a competition they pulled away from the pack! They brought in 345 lunches and five bags of pre-packaged food for the St. Stephens' community–run food pantry, which helps 350 households in the downtown neighborhood.
Fifth Grade, you received not only a big thumbs up from Mrs. Steele, but your generosity reached hundreds of people in need. Thank you!
---
Last Yard Clean Up of the Year!
Saturday, October 8 from 9am - noon
We will be focusing on our North Parking lot and the sidewalk along 24th Avenue. There are a variety of things that need to be done, from weeding and digging to pruning and sweeping. Come for a short time or come for the whole time. All and any help will be appreciated!
We welcome students! Students that volunteer will be rewarded with a free dress pass!!!
Please bring the tools that you will need, such as shovels, pruners, yard brooms, and wheel barrows.
Thanks for volunteering to help make our grounds better. Questions? Contact Daniela Grogro at daniela.grogro@nike.com or 503-412-9474.
---
Basketball Registration Now Open
CYO Basketball (3rd-8th grades/Boys & Girls)
Registration closes Friday, November 4
Season starts November 28
Click here to read the flyer with complete details.
CYO Hot Shots Basketball (1st & 2nd grade coed)
Registration closes Friday ~ Season starts January 7
Coaches needed! If interested, email cyo@themadeleine.edu
Click here to read the flyer with complete details.
Help Wanted: Gym Site Monitors
The Madeleine CYO Club is in need of paid Site Monitors to work at the upcoming Basketball games. Games are on Saturdays in Madeleine Gym and start at 8:30am, last game starts at 2:45pm. Site Monitors will be responsible for opening up gym at 8am and closing the gym after final game. $100 stipend per Saturday. If interested, please contact Aimée Holzschuh, Madeleine Athletic Director, at cyo@themadeleine.edu.
Click here to read the flyer with complete details.
Aimée Holzschuh
Madeleine Athletic Director
cyo@themadeleine.edu
---
Sign up for Hot Lunch in November
Registration opens Monday, October 10
Sign ups open on Monday for hot lunches served during November.
Click here to review the montly menu, place your order and make your payment.
---
Madeleine Safety Committee Seeks Members
Do you enjoy disaster planning? Then the Madeleine Safety Committee is for you! Contact Committee Chair Marc Gonzales at gonzalesmarc5@gmail.com for details.
---
Attention Nike Employees
Did you know that you can convert your Madeleine volunteer hours into cash for The Madeleine School? Your fellow Nike colleague and Madeleine parent, Daniela Grogro, is happy to show you how to do this. Feel free to contact her at daniela.grogro@nike.com or 503-412-9474.
---
Parents Club Meeting
Tuesday, October 11 @ 8:30am
Please join us on Tuesday at 8:30am in Parish Hall for this month's Parents Club meeting. We purposely changed the time from a night meeting to a morning meeting with the hope that you will be able to join us for a few minutes after drop off to contribute your ideas. Hope to see you there!
---
Halloween $2 Free Dress
Halloween is right around the corner, so you know what that means… $2 free dress! This year it takes place on Halloween Day, which is on a Monday. All you have to do is bring $2 and wear black and orange. The money that we collect goes to CRS (Catholic Relief Services) for the people affected by Hurricane Matthew.
Thank you,
Student Government
---
Counselor Corner
by Carolyn Ullman
October is Dyslexia Awareness Month
As long as the dyslexic learner is receiving the proper tutoring and interventions now that school has started, it is too easy to focus solely on academic struggles. If you are the parent of a dyslexic learner, find as much time as possible to develop their gifted areas.


---
Youth Ministry
Madeleine's Youth Ministry has merged with St. Charles. The new Youth Ministry leader is Gabe Triplett, and he is on staff at St. Charles.
Lock-In
Our year has officially begun! Our lock-in last Saturday was a huge success. In attendance were youth from St. Charles, The Madeleine, and youth that don't go to either parish. Core Team member, John DeBellis, rocked it in the Music room he set up. Special thanks Core Team member DeVante for leading the lip sync contest. I [Gabe] spent most of the time with youth painting the new youth room…it's a work in progress. Big thanks to, Mele, Rosa, and Fernando for facilitating the set-up of the Dia De Los Muertos Altar, all of the Core Team members who sacrificed a night of sleep and time with families, and to all the parents who brought their children.

Gabe's Weekly Reflection
Each week, Gabe posts weekly reflections based on current youth-related issues. This week the opening sentence reads "How do we respond to our children when they look at the world we are handing them and ask 'If there is a God, why does he allow all this bad to happen?'" Click here to read the rest of this week's post: http://www.stcharlespdx.org/for-parents.
Corn Maze!
Coming up on October 14 from 7 - 10pm is the ever-popular outing to the Corn Maze. For those missing Mrs. Weis, you'll be happy to know that she will be chaperoning this event, so you will have the chance to see her. Click here to see the flyer with complete details.
God Squad
Julianna Weis will be driving the Madeleine van this weekend from The Madeleine to St. Charles and back after 10am Mass to help out with the God Squad (for grades 5 – 7). Parents can plan to pick up their kids from The Madeleine Parish at the turnaround about 12:45pm.
Important Mandatory Meeting Notice for all Youth
Planning on Attending the 2017 Mission Trip to Tucson, Arizona
When: Sunday October 9 @ 4:30-5:30, in the St. Charles Parish Center.
Who: Anyone 8th grade and up planning on going on the mission trip in the summer of 2017 to Tucson, Arizona and their parents.
We will cover the details of the trip, the expectations of anyone attending, and fundraising plans.

Questions? Contact Gabe Triplett at gabet@stcharlespdx.org.
---
The Madeleine Sings Christmas
It is with great enthusiasm that we would like announce that your Madeleine child will be able to add "Recording Artist" to their already impressive school resumes.

The Madeleine School and Parish will be creating a first-ever Christmas album this fall, just in time for this Christmas. Under the direction of Madeleine Musical Director, Maria Manzo, each class will perform a Christmas song on the album as well as a group finale, which will include everyone … parents, faculty, staff as well as any and all from the Parish community.

It is a once in a lifetime opportunity and just another way we can all come to together to celebrate the Christmas season and raise money for our Parish and school.

The live recording of students will take place at the Church, on Wednesday November 9. The finale group recording date is to be announced. Get this on your calendar and stay tuned for more information about volunteer opportunities.

You can contact either Kris Thompson at kristine.thompson@gmail.com or Jen Johnson at jenjohnson2215@gmail.com with any questions.

---

Parent-Teacher Online Conference Sign-ups
If you haven't done so already, take two minutes right now to sign-up for Parent-Teacher conferences, which will be held October 26 - 28.
Click here to read the Parents' Guide to Booking Fall Conferences.
Please contact Alison Anderson at aanderson@themadeleine.edu if you have any questions.
---
Principal For The Day
Last week fifth grader, Karson W., got to be principal for the day in honor of the fact that she was the top overall fundraiser in the whole school for the Jogathon. Longer recesses and the elimination of homework assignments were just a few of her decisions as principal. Thanks, Karson, for your dedication to our school!
---
Sign up Now for YDP During In-Service and Parent/Teacher Conferences
Where will your children be when school is closed for In-Service and Parent-Teacher conferences in October? They could be enjoying a PJ Day and Halloween-related fun right here at Madeleine. Sign up now for a spot in Madeleine's YDP program.
Click here for rates and the registration form.
---
The Madeleine Day
of Service
Our Second Annual Day of Service is October 15. Plan now to be a part of it. Below is a list of service projects we are planning to undertake. Take a look, then go to www.themadeleine.edu/service to sign up
---
---
Visit themadeleine.edu/amazon to Benefit The Madeleine School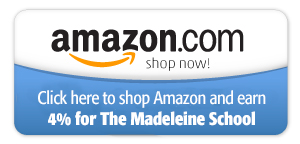 When shopping on Amazon, remember to use the Madeleine Parents Club Amazon link. This program donates a portion of everything you spend on Amazon to The Madeleine – and it won't cost you a single cent more! You can click this link to get shopping immediately, or you can read more about this "free fundraiser" here.
The more you shop on Amazon using www.themadeleine.edu/amazon, the more money the school makes. The prices and shopping experience are exactly the same as the "normal" Amazon, but using that link earns the school a minimum of 4% commission. It's one of the easiest fundraisers you'll ever find!
---

Free Talk on Disaster Preparation
Sunday, October 16 after 10am Mass
Please reserve time right after 10 o'clock mass on Sunday, October 16, to attend a free presentation in the Parish Hall by the Red Cross on disaster preparation – especially what you can do in case of a major earthquake.
Sponsored by the Madeleine Safety & Security Committee, this free 45-minute presentation is part of Father Mike's commitment to making our church, school and parish facilities safer for children, adults and visitors.
With Father Mike's support, the Safety & Security Committee spent the last year developing an Emergency Disaster Plan for the school and parish. This year the committee is focused on educating parishioners on how to be safer in their homes and how to prepare for a major earthquake or other natural disasters.
The Red Cross will also provide free educational material at their talk in the Parish Hall. So, please plan to attend after 10 am mass on October 16. It's suitable for children, too. There'll be coffee, donuts and lemonade, of course.
If you have an interest in joining the Safety & Security Committee, please contact Marc Gonzales (Committee Chair) at gonzalesmarc5@gmail.com.
---
La Salle Future Falcon Nights
Future Falcon Nights are for grade school and middle school students who may be interested in participating in athletics in high school. These events are free and with your registration includes pizza, a visit with the coaches and players, admission to the game and La Salle swag. Register online at www.lsprep.org.
Click here to see the flyer with dates and complete details.
---
Central Catholic CYO Nights
Central Catholic will be hosting a CYO Night several times throughout the school year to encourage middle school students to attend volleyball, football, and basketball games and check out their athletic program. To receive free admission, students can wear their CYO sports jersey.
Click here to see the flyer with dates and complete details.
​​
---
This Week's Checklist
---
Download your copy of the bulletin at www.themadeleine.edu/bulletin
World Food Day is a day of action against hunger
Bring non-perishable food items to Masses the next two weekends
On October 16, people around the world come together to declare their commitment to eradicate hunger in our lifetime. Because when it comes to hunger, the only acceptable number in the world is zero.
At The Madeleine, we are asking every parishioner to bring canned or non-perishable foods to Masses the weekend of October 15-16. You can drop your donation in the St. Vincent de Paul barrels in the church entry.
A special note from St. Vincent de Paul

Recently the Madeleine School students have answered the call to service. Under the guidance of Mr. Rob Parker, the seventh grade teacher, the students conducted a food drive netting 516 lbs. of canned goods and food staples for our pantry. Thursday, September 29th, at the 2:00 pm school Mass, the students honored St. Vincent de Paul whose feast day is the 27th of September by delivering their donations at our pantry. During the celebration of Mass there was an instructional video showing how Vincentians reach out to not only feed the poor, but how the Society helps with payments for people with help for rent and utilities. At the closing of the Mass Fr. Mike bestowed a special blessing to our Madeleine Conference members who were in attendance at the Mass. Our thanks to all who were there to support our ministry, and special thanks to Mr. Rob Parker, Principal Susan Steele and those students participating in this drive.
— Marge Westrup, 503-281-7075; Mary Clare O'Brien, 503-309-7639
Sacred Jazz Mass at The Madeleine—Saturday, Oct. 15, 5:00 pm
Please join us at the 5 pm Mass on Saturday, October 15 for our Sacred Jazz Liturgy. Guest artists will include some of the finest jazz musicians in the area – singer Marilyn Keller, guitarist Erick Hailstone, drummer Dave Muldoon, and bassist Christopher Higgins, as well as our own Madeleine musicians—clarinetist/cantor Michael Kissinger, and pianists Maria Manzo and Terry McGraw.
Jazz preludes begin at 4:30 pm. Then, join the Knights of Columbus afterward for their annual Oktoberfest in the Parish Hall.
Horse & Rider logo, "Pendleton Round-Up" and "Let 'er Buck" are trademarks of the Pendleton Round-Up Association and used with permission.
Congratulations for making it all the way to the end of Friday Footnotes!
---
Contributing to Friday Footnotes
If you have information to contribute to Friday Footnotes, please e-mail the copy exactly as you would like it to appear in a Word document to: fridayfootnotes@themadeleine.edu. Deadline is Wednesday at 5pm, or Tuesday at 5pm if there is no school on Friday.