December 9, 2016
A Note from Susan
Dear Parents and Guardians,
What an unexpected surprise! An extra day to finish up shopping via the Internet, bake some Christmas cookies, get the Christmas cards written, and put the last ornaments on the tree.
Next week will be quite busy as we approach the Christmas vacation. The Marketplace and Tree Lighting has been moved to Wednesday, though Christmas trees are for sale right now. Our Christmas program and CD release party will be Thursday at 7:00. All students will participate, including the middle school. Attire is "Sunday Best." Students should begin arriving at 6:30 and report to their classroom. Don't forget the Advent service project which is a sock and toiletry drive to help Ecumenical Ministries.....And finally the second Annual Scarf Drive is underway. See details for all of these events in today's footnotes.
See you Monday......I hope.

Sincerely,

Susan

---
Five for Friday
The news you need really, really fast!
---
Advent Toiletry & Sock Drive
Now through December 14
This Advent Student Government is sponsoring an Advent Toiletry and Sock Drive. It will run through December 14th. We are collecting socks, toothbrushes, toothpaste, travel soap/shampoo, razors, and deodorant for the Ecumenical Ministries of Oregon. Travel sizes for soap and shampoo are preferred. There are boxes by the office at the front of the school where you can put your donations.
---
The Present Pass
December 12
Coming this December is the annual Friendship Family Present Pass, organized by Student Government, which everyone of all ages enjoys. Each student will need to bring a small, wrapped Christmas gift to be passed to someone else. It doesn't need to be expensive - $1 to $5 is enough! Just make sure it is appropriate for all ages and genders.
When each Friendship Family meets on December 12, they will gather in a circle, and the eighth grade leader will read a Christmas themed picture book. There will be a chosen "Christmas word." Whenever the "Christmas word" is said, the presents will be passed around the circle. Each student gets to open whatever present they end up with at the end of the book!
Merry Christmas and have fun!
---
Be An Angel Among Us
Christmas Teacher Wish List
You can become a Christmas Angel by giving a gift from the "Teacher Wish List." These items are not in the budget, but would enhance the classroom. Thanks to the many angels last year, donations to the teacher wish list provided hundreds of dollars in classroom extras!
Click here to see the teacher wish list. Earn your wings this year and join the many angels in our midst!
Questions? Contact Caryn Fiedler at cfiedler@themadeleine.edu
More Angels needed:
Hokki Stools aid learning, improve student focus.
Earlier this fall, The Madeleine School bought two "Hokki" stools. Immediately, these stools became the favorite seating choice for students because they are helpful for learning, comfortable, and fun! These stools provide students with the ability to move (and improve their focus) without distracting other students around them.
If your child or one of your child's friends might benefit from a Hokki stool, please consider the gift of an Amazon Gift Card for the Madeleine Learning Support Team. The team is working toward buying at least seven more stools for use in the Learning Loft.
Questions? Email Caryn Fiedler at cfiedler@themadeleine.edu.
---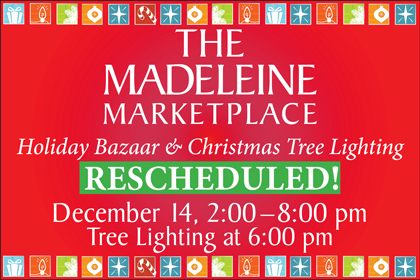 ---
Book Fair extended through Sunday!
After Sunday Masses, December 10-11
Due to the weather, Book Fair is extended! Stop in after Masses on Sunday, December 11 and get those books you meant to get on Thursday and Friday! There will also be teacher wish lists if you would like to purchase a new book for a classroom library. All purchases benefit our school with a minimum of 50% coming back to the Madeleine to purchase new books for our library and classrooms. In the past two years we have purchased over 700 new books for the library with book fair proceeds!
---
All School Christmas Program
December 15 @ 7pm
The entire school -- that's right, grades Kindergarten through 8th -- will bring you the songs of Christmas and celebrate the release of The Madeleine's first-ever Christmas album. Be sure to put it on your calendar!
---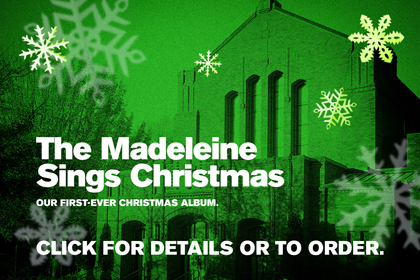 It's time to order your CDs! Order one (or 10) at www.themadeleine.edu/cd. You will also find an order form in your child's Friday Folder. You may also order after Mass at the table in the back of the Church. The CD makes a great gift and will be treasured by family and friends for Christmases to come.
CDs can be picked up at the Christmas Program/CD Release Party on December 15 as well as after Mass on December 17 and 18. CDs will also be distributed in Friday Folders on December 16.
---
Easel Items: Spaces Still Available
Christmas Co-ed Basketball Camp (3rd-5th grade & 6th-8th grade)
December 21 in the Madeleine Gym ~ $25 per child
Grab Your Chance to Get Original Artwork
The sixth grade class is making a print version of its "Made in Oregon" auction project available to everyone. Yes, their class project really did sell for $4200 at the auction! And now you can have a print of this beautiful artwork for $100. All proceeds go toward the auction. Here are the details:
Price: $100
Deadline to order: Friday, December 16
Make checks out to Sally Damewood
Print will be 16x20 and unframed
Delivery will take place in January
Do You Have Post Auction Questions?
Send an email to auction@themadeleine.edu.
---
Sign up to get Hot Lunch in January
Registration deadline = December 24
Sign-ups open on Saturday to order hot lunches served during January. Do it now before you forget!
Click here to review the monthly menu, place your order and make your payment.
---
2nd Annual New Years' Day Scarf Drive
Begins December 5
No one should suffer from the cold. And while the homeless problem may be much bigger and much more complicated than a couple of cold winter months, perhaps a simple work of mercy can help to warm a heart. So we are once again collecting scarves. Here's the plan:
Take a moment to

write a short personal message

, perhaps a poem, maybe a story that gives someone hope, a song lyric -- whatever feels inspirational and sign your first name.
Then go to your closet and

pull out a scarf you are willing to part with

or pick one up at Freddie's on your next visit.
Using a safety pin,

pin the note to the scarf and bring it to school

. There will be a coat rack set up by the front office to hang your scarf.
Once collected, we will watch the forecast and when dry and appropriate,

volunteers will take these special scarves and tie them to the Pioneer Square gate for the homeless to take

, as they need. In addition to helping to keep someone warm, these scarves will serve as a visual statement to the homeless community that people care about them. Whether they take a scarf or not, we are showing our support for their struggles.
---
Amazon + Holiday Shopping = Madeleine Money!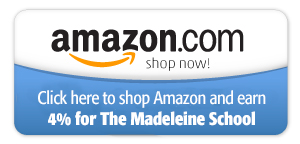 Shopping on Amazon for Christmas? If so, please remember to use Madeleine's Amazon link.
It doesn't cost you a single cent more, and the School earns "free money" each time you buy something using the link at http://www.themadeleine.edu/amazon.
You can even double-dip by buying your Amazon scrip cards at the School and then using that credit to make purchases!
---
St. Stephen's Lunch Program
Making a difference, one lunch at a time!
Well the 6th grade accepted St. Stephen's challenge, and came through with 248 lunches! Thank you so much 6th grade. St. Stephen's was so thankful, they have seen a surge of folks, all ages, in need of a sack lunch, and our dedication in preparing and sending them each week is very valuable work.  Great Job! We will be closing out the year with the 5th grade, and then will start up in the new year.
What do you say 5th grade can you out do 248?
---
The Joy of Coffee—free samples December 11

Enjoy free Madeleine School Organic Holy Roasted coffee at the Pancake Breakfast on Dec. 11th. Buy or order bags of ground or whole bean for just $12. Orders delivered by Dec. 18th. Great gift idea for family, friends, and co-workers. Your purchase gives 50% of proceeds back to the school!
---
Love and Logic:  The 3 Styles of Parenting
The Helicopter Parent – This kind of parent hovers, rescues, and protects their child. They send messages like:
"You're fragile and can't make it without me."
"You need me to run interference."
"You need me to protect you."
"You can't make it in life without me."
The Drill Sergeant Parent – This kind of parent demands that their children do it now, their way, OR ELSE!! They send messages like:
"You can't think."
"I have to do your thinking for you, boss you around, and tell you what to do."
"You aren't capable of making it in life."
 The Consultant Parent – This kind of parent is always around to give advice and let the child make the decision, with the idea that they will let the child make as many mistakes as possible when the price tag is affordable. They send messages like:
"You'd better do your own thinking because the quality of your life has a lot to do with your decisions".
Most of us are a combination of all three.  The theory of Love and Logic requires us to examine our parenting styles and help our children to grow in their mistakes and learn from the consequences of them.
---
Youth Ministry Notes from Gabe

I want to let everyone know about some exciting things going on with the Youth Group.
In order to push past parish and school boundaries we have named our youth Group #YouthGroupPDX.
Volunteers have been holding pizza parties, raffles, and information tables at local high schools to get the word out about YouthGroupPDX.

Our hope is to grow in numbers and spirit while we become a safe place for any and all youth; taking our faith to the ends of the Earth!
Last Sunday we began planning a youth led Martin Luther King Rally and March! This March will be entirely youth driven and designed. The Rally will begin at 11am in Glenhaven park on 82nd Ave. The March will begin at 12 noon. Our theme will be WE HAVE A DREAM. Currently we have begun reaching out to groups that represent people on the margins and oppressed people to invite them to this event. More to come but you can expect an inclusive, family friendly event!

We have begun fundraising for our Mission trip to AZ. Please see information about the Amanda Vernon concert at the top of this page.
Youth Group/God Squad Christmas Party
December 11 from 6:00-8:00 pm @ St. Charles
We will have food, drinks, games, Christmas Spirit and more!
I want to introduce everyone to our youth leadership team. Emily, Shante, Mylie, and Greysen are all high school youth who have shown themselves to be outstanding natural leaders. Two of them go to Madison and two go to St. Mary's. As the leadership team they will be responsible for giving guidance to the Core Team on "what's working, what's not working." Also, they will help run some of the youth nights and take a large role in our outreach to other youth.
Questions? Contact Gabe Triplett at gabet@stcharlespdx.org.
---
This Week's Checklist
---
Download your copy of the bulletin at www.themadeleine.edu/bulletin

First concert is Handel's Messiah, December 11 • Please join us!

Discount Series Tickets for our Music at The Madeleine Series are ON SALE NOW. Order before December 7 to make sure you don't miss out!

Save 33% when you purchase a 3-concert Series Ticket for $60. Students age 18 and younger are FREE with paid parents. Get tickets at www.themadeleine.edu or complete the order form in the series brochure and drop it off at the Church office.

Our 2016-17 series includes 3 concerts beginning with Handel's MESSIAH on Sunday, December 11th @ 3 PM. The MESSIAH concert is a great way to begin the celebration of Advent and Christmas seasons at The Madeleine. Concerts are performed by the Bravo! Northwest Chorale, Northwest Chamber Orchestra and nationally acclaimed jazz and classical soloists and conductors.

Please join us for Music at The Madeleine —here in the beautiful Madeleine Church— where ALL are welcome!
Ministries, teachers, service groups! Send us your photos!
We will be publishing our annual The Madeleine in Service edition of the Bulletin on Christmas Day. Please send photos of your ministry, classroom or service grop by December 20 ! Click www.themadeleine.edu/photos for instructions.

Horse & Rider logo, "Pendleton Round-Up" and "Let 'er Buck" are trademarks of the Pendleton Round-Up Association and used with permission.
Congratulations for making it all the way to the end of Friday Footnotes!
---
Contributing to Friday Footnotes
If you have information to contribute to Friday Footnotes, please e-mail the copy exactly as you would like it to appear in a Word document to: fridayfootnotes@themadeleine.edu. Deadline is Wednesday at 5pm, or Tuesday at 5pm if there is no school on Friday.