October 13, 2016
A Note from Susan
Dear Parents and Guardians,
This year we are writing our self-study document in anticipation of the accreditation visit by the Western Catholic Education Association (WCEA) in the fall of 2017. Ongoing school improvement is the goal of the accreditation process by examining all aspects of the school program and operations.
All school stakeholders are encouraged to participate in the study, and we are initiating the gathering of data by asking all parents to complete an online survey. This survey focuses on how well we are doing in a variety of areas such as Catholic identity, faith formation, curriculum, communications, and facilities. WCEA designed the survey so that in addition to ranking the school on these topics, parents can also add their own thoughts and ideas in an open-ended manner. The survey can be found by clicking here, and will be active until October 28, 2016. Please take a few minutes to share your perceptions and thoughts as we continue to strive for excellence.
Music Program Announcement
I am very happy to announce that we have found a substitute teacher for our music program. His name is Cary Pederson, and he is an accomplished musician who is looking forward to sharing his love of music with our students. He has worn many hats in his career…..band leader, studio recording musician, teacher, and orchestra director….so he brings a wealth of experiences to our Madeleine community. Welcome, Cary. Also, please remember to keep Ms. Bjore in your prayers as she continues her recuperation.
Safety Reminder
Finally, I have been negligent in reminding parents that the faculty parking lot is supposed to be for drop-off and pick-up of students. Parents who are parking and coming into the school with their children are to use the north parking lot. It is getting dangerous with so many cars backing up to leave as other cars are coming through for drop-off and pick-up. Thanks for your attention to this traffic reminder, which I should have mentioned at Back-To-School Night!

Sincerely,
Susan

---
Five for Friday
The news you need really, really fast!
---
Free Babysitting for Auction Night
Do you need a babysitter for the night of the auction? Free babysitting is being offered by some dependable 7th and 8th graders who will get community service hours in exchange for their support of the Madeleine Round-up. Families are responsible for making their own arrangements with the student and for their safe passage home at the end of the night. Auction babysitters get community service hours!

Please contact Caryn Fiedler at cfiedler@themadeleine.edu for babysitter contact information.

Yee Haw! Auction tickets are on sale!!!

Go to www.themadeleine.edu/tickets to secure your tickets to the only round-up in the Rose City for a knee-slappin' good time!

Courtesy of Grand Cru Hospitality, bring your appetite and enjoy a hearty and delicious family-style meal. Click here for the mouth-watering menu details.
A Week in Mexico? Sign Me Up!
If free babysitting and a night out with your Madeleine buddies isn't enough to get you to the auction, consider this live auction item that you could possibly win.
One Week Stay at the Torres Mazatlan Resort
Mazatlán has miles of pristine beaches, rich history, and bountiful outdoor activities. Visit the historic sights of ancient areas in Mexico, and relax in the surf and sun of the Zona Dorada (Golden Zone). Sip mango margaritas at La Palapa, the on-site restaurant and bar, while planning your next day's activities.
Two bedroom condo ~ Beautiful beaches ~ Swimming pool ~ Spa and massage ~ Putting green, running track, tennis, and a full activities program ~ Deep sea fishing ~ Exceptional dining and bar hopping

Raffle Talk
The kids are raking it in this year!! We are so proud them raising close to $25,000 so far.  ALSO, we are so close to 100% participation.  We just need about 50 more kids to sell just one ticket each.  Please support your child in supporting the school.
Congrats to Amelia M., 1st grade, for winning 2 passes to the Wildlife Safari Park. Next week's Flash Sale Alert: Sell 5 tickets by Friday for chance to win a $50 Gift card to: Collage Art Supply & Craft Store located on NE Alberta Street.
Many, many thanks to school parents Karoline and Wick Ashley from Ashley Realty Works for being our All-Around Cowboy sponsor. Their support of our raffle has been invaluable!
Contact amandapower1@hotmail.com with raffle questions.
Easel Items Now on Sale
Get 'em while you can. Here's just a sampling:

CHRISTMAS CO-ED BASKETBALL CAMP: If you are already thinking about the holidays, consider Madeleine's first Christmas Basketball Camp. Madeleine's very own basketball stars Laurie Merlino and Ann Reno will provide your kids with expert instruction while you finalize your Christmas shopping and preparations. This is a win-win event!!

PING PONG NIGHT: Looking for a fun night of ping pong and partying with your Madeleine friends? Well here it is! We will have 6 ping pong tables in play with beer and food to keep you going. There will be some instruction, and beginning and advanced singles play along with doubles teams. Who knows? There may even be some prizes at the end of the night. So grab your paddle and sign up. You won't want to miss this one!!!

Still Looking for an Auction Job?
If you are still searching for an auction job, look no further! The following volunteer opportunities will more than fill your 10 hour auction requirement.
Cashiers: Help auction guests check in, process their orders and check out. A brief training will be offered the week before the auction, so no previous experience necessary.
Dishwashers: Join the party in the kitchen! Wear comfy clothes! Best of all, this volunteer opportunity offers double hours - work 5 hours and get credit for 10 hours!
Contact Anne Gaber, Auction Volunteer Coordinator, at gaber20@msn.com to sign up.
Last Call for Your Photos
You know you want to see your kiddo up on the big screen during the auction! The only way to make that happen is to submit some photos. Send them to www.themadeleine.edu/photos and follow the simple directions. Please include only photos from on-campus or school-related events.
Auction Questions
If you have any auction-related questions - donation questions, volunteer jobs questions or whatever - send an email to auction@themadeleine.edu. 
Be sure to use #madeleineauction2016 for Instagram and Twitter!
---
How You Can Help Mason
This is Mason. He is a kindergartener. He's also a Leukemia fighter.

Mason was diagnosed with ALL (Acute Lymphoblastic Leukemia) at age 3. For nearly 3 years he has been fighting bad blood cells with chemo, steroids, and an amazing amount of strength. Every step of the path, he has pushed through to keep up with the desire to grow up just like all kids. Reaching Kindergarten was a big milestone on his path. All along the oncologists have encouraged him to participate in life fully, while minding any risk factors.

One of the effects of chemo has been the elimination of the immunizations that he had from birth to diagnosis. He has not had any vaccinations since diagnosis either. That makes him vulnerable to more than the usual cold.
It is important that we ask for your help. If anyone in your immediate family has, or has been exposed to, anything beyond the expected cold please let Angela Rosebrook know so we can alert his medical team. That means things such as chicken pox, measles, and bacterial rashes. Even though it is not mandatory, we definitely encourage parents and children to get this year's flu shot. Mason is able to get this vaccination, which covers him 80% but he relies on others to make up the other 20%. A virus in his system can easily turn into bacterial pneumonia.

Thank you for welcoming Mason into The Madeleine community. His prognosis is good, and we have faith that he is destined to thrive. Thank you for your continuous support and for believing in Mason's super powers.

Tim, Diane, Owen (4th gr) and Mason (K) Slaughter
---
Heroes of the Day
On Wednesday, Nora Balsz, Madeleine's beloved hot lunch chef, suddenly became too ill to come to school and cook for the kids. But, who would cook the most popular hot lunch of the month a.k.a. Brunch for Lunch? Hot Lunch Heroes to the rescue!
Many thanks to Lance Mayhew for stepping up as chef, Chamber Dorheim and the Madeleine faculty for stepping forward to serve, and Terry Silva for washing dishes. We truly could not have done it without you! Please give these folks a hearty "thank you" you the next time you see them.
---
Day off for Students =
In-Service Day for Faculty
Friday, October 14
While your kiddos are enjoying the day off from school tomorrow, their teachers will be hard at work learning best practices in key areas such as integrating technology into the curriculum, math curriculum, using neuroscience to better serve diverse learners, implementing STEM in the classroom and learning support.
---
Tee It Up for Technology
Saturday, October 22 @ 12:30pm
It is not too late to sign up for our 3rd Annual "Tee It Up for Technology" golf outing to benefit our school's technology needs. Be part of this fun day on the links at Heron Lakes on the Great Blue Course by registering at www.themadeleine.edu/golf. The action starts at 12:30pm. The event will go rain or shine!
Questions? Contact Brian Grant at bgrant@themadeleine.edu.
---
School Advisory Council (SAC) Meeting
October 20 @ 7:30 pm in the Library
The School Advisory Council (SAC) will hold its October meeting on Thursday, October 20 at 7:30pm in the Library. 

All meetings are open to visitors unless specifically designated as being closed. If you would like to attend the meeting and add something to the agenda, please contact the Chair prior to the meeting (Lucas Newman: lnewmand@firstrepublic.com).
SAC Purpose and Members
The purpose of the Madeleine School Advisory Council (SAC) is to provide advice to Father Mike and Susan Steele regarding policy direction for program needs of the school, especially in Planning, Finances, Technology and Development.
If you can't attend a SAC meeting, but have a topic you would like to bring to the group's attention, please contact one of the members: Fr. Mike Biewend, Susan Steele, Lucas Newman (Chair), Heather Matteri (Vice-Chair), Eric Anctil, Catherine Glaven, Diana Nunez, Tim Resch, Margaret Scharle, Anne Steiner, Erskine Williams, Jonas Allen (Parents Club Representative), Caryn Fiedler (Development Representative).
---
Counselor Corner
by Carolyn Ullman
High School Information Night for Families of Students with Learning Differences
Please join the learning support teams from the Portland-area Catholic high schools on Tuesday, November 8 at 7pm right here at Madeleine for an information session. Get answers to the following questions and more!
What kinds of learning profiles are represented at your high school?
What accommodations does your high school offer?
Is my student with a learning difference a good fit for a Catholic high school?
Click here to see the flyer with complete details.
---
Sign up for Hot Lunch in November
Registration deadline = October 24
Sign ups are now open to order hot lunches served during November.
Click here to review the montly menu, place your order and make your payment.
---
Madeleine Safety Committee Seeks Members
Do you enjoy disaster planning? Then the Madeleine Safety Committee is for you! Contact Committee Chair Marc Gonzales at gonzalesmarc5@gmail.com for details.
---
Attention Nike Employees
Did you know that you can convert your Madeleine volunteer hours into cash for The Madeleine School? Your fellow Nike colleague and Madeleine parent, Daniela Grogro, is happy to show you how to do this. Feel free to contact her at daniela.grogro@nike.com or 503-412-9474.
---
St. Stephen's Lunch Program
Making a difference, one lunch at a time!
Mrs. Langus' 4th grade class brought in 195 lunches this week. Thank you! As the weather becomes colder and wetter, our shelters become much busier and everything helps. Thank you again for your dedication to our outreach program.
---
News from the Garden
Keep an eye on the parking strip along 24th Avenue between Klickitat and Fremont. During the garden clean up last Saturday, a new Native Wildflower Test Site was added.
Three native species were selected for their attractiveness to pollinators, drought tolerance, low maintenance, compact growth habit, and beauty. They will be grown from seed but our patience will be rewarded. Look for Deerhorn Clarkia (named after William Clark of Lewis and Clark, and also known as Pink Fairies), Sulphur Buckwheat, which butterflies will love, and Fuzzytongue Penstemon, which will be a favorite with native bumblebees.
The Native Wildflower Test Site is next to the Organic Weed Control Test Site, which was established in May and is doing a superb job of keeping weeds down. Stop by and check out these two exciting projects and maybe even get some ideas for your own garden.
---
Basketball Registration Now Open
CYO Basketball (3rd-8th grades/Boys & Girls)
Registration closes Friday, November 4
Season starts November 28
Click here to read the flyer with complete details.
CYO Hot Shots Basketball (1st & 2nd grade coed)
Registration closes Friday ~ Season starts January 7
Coaches needed! If interested, email cyo@themadeleine.edu
Click here to read the flyer with complete details.
Help Wanted: Gym Site Monitors
The Madeleine CYO Club is in need of paid Site Monitors to work at the upcoming Basketball games. Games are on Saturdays in Madeleine Gym and start at 8:30am, last game starts at 2:45pm. Site Monitors will be responsible for opening up gym at 8am and closing the gym after final game. $100 stipend per Saturday. If interested, please contact Aimée Holzschuh, Madeleine Athletic Director, at cyo@themadeleine.edu.
Click here to read the flyer with complete details.
Aimée Holzschuh
Madeleine Athletic Director
cyo@themadeleine.edu
---
Halloween $2 Free Dress
Halloween is right around the corner, so you know what that means… $2 free dress! This year it takes place on Halloween Day, which is on a Monday. All you have to do is bring $2 and wear black and orange. The money that we collect goes to CRS (Catholic Relief Services) for the people affected by Hurricane Matthew.
Thank you,
Student Government
---
Youth Ministry
Madeleine's Youth Ministry has merged with St. Charles. The new Youth Ministry leader is Gabe Triplett, and he is on staff at St. Charles.
Corn Maze!
Friday, October 14 @ 7pm
Coming up tomorrow from 7 - 10pm is the ever-popular outing to the Corn Maze. For those missing Mrs. Weis, you'll be happy to know that she will be chaperoning this event, so you will have the chance to see her. We will be leaving at 7pm, so be at St. Charles at 6:45pm. The cost is $7, and every youth must have a signed permission slip!
Click here to see the flyer with complete details.
God Squad/Youth Group Happenings
We had a great time in both God Squad and Youth Group last week! In both groups we looked at the Spiritual Work of Mercy "Pray for the Living and the Dead" and the Corporal Work of Mercy "Bury the Dead." In our society death is fetishized and supernatural (think any of the thousand zombie shows out right now!)  The Core Team had hopes that after our session death would be a little be more comfortable and a little be more "normal" to our youth. We really feel like this is essential if our youth are going to be able to process the loss they experience in their own lives and also for them to be able to see the glory of the resurrection. I think we were successful, and I encourage parents to continue the work by having regular conversations with their children about praying for and with those who have died. 
There will not be a God Squad or Youth group on the 16th due to our outing to the Haunted Corn Maze on Friday the 14th. 
Questions? Contact Gabe Triplett at gabet@stcharlespdx.org.
---

Parent-Teacher Online Conference Sign-ups
If you haven't done so already, take two minutes right now to sign-up for Parent-Teacher conferences, which will be held October 26 - 28.
Click here to read the Parents' Guide to Booking Fall Conferences.
Please contact Alison Anderson at aanderson@themadeleine.edu if you have any questions.
---
Sign up Now for YDP During In-Service and Parent/Teacher Conferences
Where will your children be when school is closed for In-Service and Parent-Teacher conferences in October? They could be enjoying a PJ Day and Halloween-related fun right here at Madeleine. Sign up now for a spot in Madeleine's YDP program.
Click here for rates and the registration form.
---
---
Visit themadeleine.edu/amazon to Benefit The Madeleine School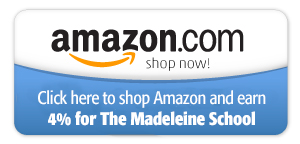 When shopping on Amazon, remember to use the Madeleine Parents Club Amazon link. This program donates a portion of everything you spend on Amazon to The Madeleine – and it won't cost you a single cent more! You can click this link to get shopping immediately, or you can read more about this "free fundraiser" here.
The more you shop on Amazon using www.themadeleine.edu/amazon, the more money the school makes. The prices and shopping experience are exactly the same as the "normal" Amazon, but using that link earns the school a minimum of 4% commission. It's one of the easiest fundraisers you'll ever find!
---

Free Talk on Disaster Preparation
Sunday, October 16 after 10am Mass
Please reserve time right after 10 o'clock mass on Sunday, October 16, to attend a free presentation in the Parish Hall by the Red Cross on disaster preparation – especially what you can do in case of a major earthquake.
Sponsored by the Madeleine Safety & Security Committee, this free 45-minute presentation is part of Father Mike's commitment to making our church, school and parish facilities safer for children, adults and visitors.
With Father Mike's support, the Safety & Security Committee spent the last year developing an Emergency Disaster Plan for the school and parish. This year the committee is focused on educating parishioners on how to be safer in their homes and how to prepare for a major earthquake or other natural disasters.
The Red Cross will also provide free educational material at their talk in the Parish Hall. So, please plan to attend after 10 am mass on October 16. It's suitable for children, too. There'll be coffee, donuts and lemonade, of course.
If you have an interest in joining the Safety & Security Committee, please contact Marc Gonzales (Committee Chair) at gonzalesmarc5@gmail.com.
---
La Salle Future Falcon Nights
Future Falcon Nights are for grade school and middle school students who may be interested in participating in athletics in high school. These events are free and with your registration includes pizza, a visit with the coaches and players, admission to the game and La Salle swag. Register online at www.lsprep.org.
Click here to see the flyer with dates and complete details.
---
Central Catholic CYO Nights
Central Catholic will be hosting a CYO Night several times throughout the school year to encourage middle school students to attend volleyball, football, and basketball games and check out their athletic program. To receive free admission, students can wear their CYO sports jersey.
Click here to see the flyer with dates and complete details.
​​
---
This Week's Checklist
---
Download your copy of the bulletin at www.themadeleine.edu/bulletin
World Food Day is a day of action against hunger
Bring non-perishable food items to Masses the next two weekends
On October 16, people around the world come together to declare their commitment to eradicate hunger in our lifetime. Because when it comes to hunger, the only acceptable number in the world is zero.
At The Madeleine, we are asking every parishioner to bring canned or non-perishable foods to Masses the weekend of October 15-16. You can drop your donation in the St. Vincent de Paul barrels in the church entry.
Sacred Jazz Mass at The Madeleine—Saturday, Oct. 15, 5:00 pm
Please join us at the 5 pm Mass on Saturday, October 15 for our Sacred Jazz Liturgy. Guest artists will include some of the finest jazz musicians in the area – singer Marilyn Keller, guitarist Erick Hailstone, drummer Dave Muldoon, and bassist Christopher Higgins, as well as our own Madeleine musicians—clarinetist/cantor Michael Kissinger, and pianists Maria Manzo and Terry McGraw.
Jazz preludes begin at 4:30 pm. Then, join the Knights of Columbus afterward for their annual Oktoberfest in the Parish Hall.
Horse & Rider logo, "Pendleton Round-Up" and "Let 'er Buck" are trademarks of the Pendleton Round-Up Association and used with permission.
Congratulations for making it all the way to the end of Friday Footnotes!
---
Contributing to Friday Footnotes
If you have information to contribute to Friday Footnotes, please e-mail the copy exactly as you would like it to appear in a Word document to: fridayfootnotes@themadeleine.edu. Deadline is Wednesday at 5pm, or Tuesday at 5pm if there is no school on Friday.