September 23, 2016
A Note from Susan
Dear Parents and Guardians,
Another busy week at school. I am glad it is Friday so we can take a breath before we begin again with a jam-packed week of activities.
Thank you for coming to the Called to Protect training last Wednesday. The next scheduled training will be October 25th and the time will be 8:30am, right after morning drop-off. Remember you can check the Archdiocesan website to find another training that fits into your schedule. Please remember to get a certificate of attendance and drop it off at the school office.
A few reminders for next week…..
Tuesday night is our

New Parents Potluck

at 6:00pm in the Atrium. Details are in the Footnotes below. It is always a fun night of meeting new people and comparing notes on how The Madeleine is the best school in the world (!!!!).
Thursday we will be celebrating the feast day of

St. Vincent de Paul

at Mass. There will be a short food drive beginning on Monday. Students are asked to bring non-perishable food items to school and they will be donated to our parish SVDP society.
Thursday we will also have a new "

Principal for a Day

." Karson Walker won the venerable title through last Spring's Jogathon. She chose to wait until this fall to exercise her principal powers, so who knows what she has been dreaming up over the past few months.
AND

school pictures

are this coming Thursday. Students may wear free dress or their uniform. Usually on Thursday Mass days, students must be in uniform, but because of picture day, they may wear free dress.
Staff Changes
Finally, I am so sad to announce that Lynn Robinson, our Development Director, will be leaving us. She has accepted a full-time position with Portland Community College as their Orientation and Advising Specialist. Lynn has been with us for over nine years and has overseen our development and auction activities. One reason for our strong financial standing is her leadership and hard work in the Development Office. Lynn has graciously agreed to continue to work with the Auction chairs so that they will have the support they need to carry off a successful event. Thank you, Lynn, for your many years of service to The Madeleine.
Fortunately for us, Caryn Fiedler, our Development Assistant, has agreed to take over Lynn's position. Caryn has been in the Development Office for over three years and has been working closely with Lynn on most projects. She is also our Footnotes editor, so she knows firsthand what is going on at The Madeleine campus. I can't think of a better person to provide a seamless transition during this time. Thank you, Caryn, for accepting this new role and new set of responsibilities.

Have a great weekend.            
Sincerely,
Susan
---
Five for Friday
The news you need really, really fast!
---

Auction Raffle Is In Full Swing!
Raffle Talk
We had a great first week of raffle sales with 49 out of our 258 students participating with sales totaling $3380! Second grade is leading the school in sales this week. Yay 2nd grade!
The goal this year is to reach 100% student participation where all 258 of our students are able to sell at least one ticket. Call your friends and relatives and check with neighbors...we have some great cash prizes this year that will appeal to everyone.
A $10 ticket for a chance to win a $4000 tuition/travel voucher, $800 cash or $400 Amazon gift card is not a bad deal.
FLASH PRIZE ALERT!!! Sell 5 tickets this week by Friday for a chance to win: a free jump hour for 5 people at G6 Trampoline/AirPark. The winner of the Fujifilm Mini 8 instant camera will be announced at Monday assembly.

Contact amandapower1@hotmail.com with raffle questions.
Send Us Your Photos for the Auction Slide Show
You know you want to see your kiddo up on the big screen during the auction! The only way to make that happen is to submit some photos. All you have to do is go to www.themadeleine.edu/photos and follow the simple directions. 
You may have photos of the following. Please send them in!
Back to School BBQ ~ Classroom parties ~ Recess ~ Lunch ~ Student plays ~ Sports ~ Field trips ~ Christmas Program ~ Art Show ~ Youth Group ~ Blessing of the Animals ~ Bike to School Day ~ YDP ~ Student Fundraisers ~ Science Night ~ Spirit Week ~ Jog-a-thon ~ Spring Musical ~Talent Show
Auction Questions
If you have any auction-related questions - donation questions, volunteer jobs questions or whatever - send an email to auction@themadeleine.edu. 
Family Donations for the 2016 Auction
Due October 7
This year we are targeting items and services that have historically generated the most interest from bidders. To make this process work, we are requesting that you donate an item or service from the list of items below OR prayerfully consider a cash donation and write your best check ($200 minimum).
Trips
Vacation homes and accommodations
Hosted or Themed Dinners (Choose your favorite cuisine, party theme, or location)
Hosted Experiences (Group games, pool parties, scavenger hunts, races, wine tours)
Restaurant Gift Cards
Sporting Events, Tickets (Blazers, Ducks, Thorns, Timbers, Golf)
Cultural Events, Tickets (Plays, Musicals, Concerts, Theater, Symphony)
We understand that you may have a fun idea that aligns with our target list, so you can contact Andrew Steiner at auction@themadeleine.edu to share your thoughts.
Be sure to use #madeleineauction2016 for Instagram and Twitter!
---
New Parent Potluck
Tuesday, September 27 @ 6pm in Parish Hall
Welcome all new families!  Please join us for the New Parent Potluck on Tuesday, September 27 at 6:00pm in the Parish Hall. Enjoy dinner and drinks while meeting other new parents. There will be a short program where our fabulous principal, Mrs. Steele, and representatives from auction, scrip, and volunteering will be available to address any of your questions.
The main course and beverages will be provided, but please bring a side dish or dessert to share.
---
Picture Day
Thursday, September 29
Get those haircuts scheduled! You have less than one week until picture day. Don't forget that students have a choice to come to school in either free dress or their school uniform.
Click here for online ordering instructions.
---
St. Vincent DePaul Food Drive
Thursday, September 29
This Thursday 7th grade is leading our school Mass, which will celebrate Saint Vincent De Paul. St. Vincent DePaul was committed to serving the marginalized. Our parish St. Vincent DePaul Society follows his model of serving the poor. We invite students to bring in non-perishable food to their classrooms by Thursday to help refill our parish's St. Vincent DePaul food pantry.
Thank you!
7th Grade
---
Last Chance to Support the 2016 Annual Fund Campaign
Donation Deadline = September 30th
If received by September 30th, your tax-deductible donation will help us raise $27,500, which will then be matched with another $27,500 by the OCF Joseph E. Weston Public Foundation. 
Our Annual Fund Campaign supports our tuition assistance program and helps close the over $400,00 gap between what everyone pays in tuition and the actual cost of educating our students. 
Click here to make a donation to the 2016 Annual Fund Campaign.
Questions? Contact Lynn Robinson, Development Director, at 503-288-9197 or lrobinson@themadeleine.edu.
---
Friendship Family Fall Picnic
Monday, October 3
On Monday, October 3, the school will be celebrating its annual Friendship Family Fall Picnic. A friendship family is a group of about 14 students with one or two students from each grade. These families stay intact through a student's years at the Madeleine. Friendship Families gather about once a month for some sort of activity with the purpose of building community across grade levels.
For the fall picnic, each student is to bring in their own sandwich to eat, and his/her grade level item, which you can see on the list below. Students will meet their Friendship Family and share lunch and play "get to know you" games during an all-school lunch period.
What to bring?
**All students bring their own individual sandwich of choice **
7th and 8th grades: 6 juice boxes each
5th and 6th grades: 6 servings of fresh fruit/veggies each
3rd and 4th grades: 6 servings of cookies/chips each
1st, and 2nd grade: 6 servings of snack items each (granola bars, handi-snax, cheese sticks, etc.)
K: just bring your own sandwich
Thank You,
The Friendship Family Committee
---

Parent-Teacher Online Conference Sign-ups
If you haven't done so already, take two minutes right now to sign-up for Parent-Teacher conferences, which will be held October 26 - 28.
Click here to read the Parents' Guide to Booking Fall Conferences.
Please contact Alison Anderson at aanderson@themadeleine.edu if you have any questions.
---
Sign up for Hot Lunch in October
Deadline = September 24th
Sign ups are open for hot lunches served during October, but only until tomorrow. The deadline to sign up is September 24th.
Click here to review the monthly menu, place your order and make your payment.
---
St. Stephen's Lunch Program
Making a difference, one lunch at a time!
Mr. Parker's Seventh Grade students made 132 lunches this week. St. Stephen's was very thankful for such amazing work. Also, when I saw the 7th graders lunches, it reminded me to mention how meaningful and appreciated kind words and art work are. It only takes a few extra minutes, but a few kind words can really turn someone's a day around.
~ Tiffany Cooper, Madeleine School Coordinator for St. Stephen's Lunches
---
Counselor Corner
by Carolyn Ullman
For years Love and Logic has guided parents by showing how to discipline kids without losing their love and respect. Over the next few weeks I will be posting some articles from Dr. Charles Fay to introduce you to the concepts or remind you of their beautiful simplicity. It works!
Helping Children Learn to Self-Evaluate and Make Responsible Choices
All people are born with the same emotional and physical needs i.e., survival (physical), fun, worth, love and belonging and freedom.
All behavior is purposeful. Any behavior is an individual's best effort at that time and in that place to meet one or more of their basic human needs.
All behaviors are learned. Therefore, behavior can be taught.
We are constantly evaluating and comparing our picture of what we want with our perception of what we have.
When there is an imbalance (when our needs are not being met) we feel that as a frustration signal which is interpreted as an urge to misbehave.
Behavior is total and consists of thinking, doing, feeling, and physiology.
Thinking and doing behaviors are directly controllable.
Feeling and physiology are controlled indirectly by controlling thinking and doing behaviors.
The analogy of a Behavior Car is often helpful in teaching kids about total behavior and their ability to control their behavior. We are the only one that can drive our personal "behavior car." The engine is our desire to meet our needs and powers our car. When we receive that frustration signal the engine speeds up – runs faster. We gotta go somewhere – do something! The front two wheels are thinking and doing behaviors. We steer our car with the front wheels. That in turn affects the rear wheels which are feeling (emotions) and physiology. If we "pop the clutch" our front wheels loose contact with the ground and we allow emotion and physiology to control our behavior.
When that happens we most often "crash and burn" or behave in a way that is not responsible. Our job is to teach children to keep their front wheels in contact with the ground and allow thinking and doing to control feeling and physiology. Or in other words, use the thinking portion of their brain to drive their car rather than the feeling portion.

Helpful questions:
"What are you doing?" Allow the child to describe their behavior.
"What do you want?"
"If you continue to do what you are doing do you think you will get what you want?"
"If you continue to do what you are doing might you get something you don't want i.e., hurt yourself, hurt someone else, have to leave the room, miss recess etc."
If the answers to the previous two questions are No and yes respectively we have the opportunity to help the child identify a different behavior that is more responsible.
It isn't enough to tell a child to stop doing something. We should help them identify, and have the opportunity to choose, a different behavior. Stopping the behavior doesn't meet the need that the original behavior was intended to meet. This is our opportunity to teach.
~adapted from Dr. Charles Fay
---
Enthusiastic and Energetic Teacher Needed for Madeleine's After-School Program
Qualifications: Previous experience working with school-age students in educational or child care setting preferred OR coursework in child development, elementary education, special education, recreation, or early childhood education.
Candidates must pass criminal background check and be willing to enroll in the Oregon Child Care Division Online Central Background Registry. Candidates must obtain an Oregon Food Handlers card and become CPR/First Aid certified.
Approximate hours: Monday, Tuesday, Thursday, Friday 3 pm-6 pm; Wednesday 2:15-6 pm. Hourly wage based upon experience and qualifications. Hours are approximate, but would be within the times listed.
Position is available immediately. Contact The Madeleine School Principal Susan Steele, ssteele@themadeleine.edu.
---
Check Out Madeleine's Facebook Page
Please join The Madeleine School on Facebook! We'll be sharing event info and reminders, school announcements, fun photos, and more!
When you actively support the school on social media with a 'Like' and by sharing our posts you help spread the word about our incredible education program, our fundraisers, and our community involvement. Add The Madeleine School to your Facebook feed and stay tuned!
Like and follow The Madeleine School by clicking here.
---
Sign up Now for YDP During In-Service and Parent/Teacher Conferences
Where will your children be when school is closed for In-Service and Parent-Teacher conferences in October? They could be enjoying a PJ Day and Halloween-related fun right here at Madeleine. Sign up now for a spot in Madeleine's YDP program.
Click here for rates and the registration form.
---
Visit themadeleine.edu/amazon to Benefit The Madeleine School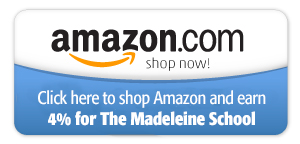 When shopping on Amazon, remember to use the Madeleine Parents Club Amazon link. This program donates a portion of everything you spend on Amazon to The Madeleine – and it won't cost you a single cent more! You can click this link to get shopping immediately, or you can read more about this "free fundraiser" here.
The more you shop on Amazon using www.themadeleine.edu/amazon, the more money the school makes. The prices and shopping experience are exactly the same as the "normal" Amazon, but using that link earns the school a minimum of 4% commission. It's one of the easiest fundraisers you'll ever find!
---
Central Catholic CYO Nights
Central Catholic will be hosting a CYO Night several times throughout the school year to encourage middle school students to attend volleyball, football, and basketball games and check out their athletic program. To receive free admission, students can wear their CYO sports jersey.
Click here to see the flyer with dates and complete details.
---
Madeleine Parish Blood Drive
October 5 from 2pm - 7pm
Madeleine Parish will again be hosting an Ecumenical blood drive on October 5, 2016, in the Parish Hall. We hope you will consider making a potentially lifesaving donation. One donation can save up to three lives.
A convenient time to donate can be arranged by calling Neil Davidson, the drive facilitator, at (503) 288-3627. Hours of the drive are 2:00 P.M. to 7:00 P.M. If you cannot donate yourself, please consider recruiting someone else to give. Just pass along to them the contact information listed above.

Every two seconds someone in the U.S. needs blood. Let's help out by helping our community and our nation!
---
Tips to Help Your Student Succeed: Introduction to Executive Function
September 27 @ 7pm at West Hills Christian School
Join Marydee Sklar in a practical and easy to understand exploration of the brain's executive function skills. Get a picture of how your child's brain connects to his or her behavior. Use Marydee's simple tips and strategies to set up success for your student and your whole family.
Click here to read the flyer with complete details
---
Portland Area Catholic High Schools Work Together to Raise Money for Children's Cancer Association
Sunday, October 2 @ 8am
On Sunday, October 2, Jesuit, Central Catholic, St. Mary's Academy and Valley Catholic students are coming together to raise money for the Children's Cancer Association. In fact, Hunter Baldridge, who is an alum of Madeleine and a current Central Catholic student, is helping to organize the event!
If you would like to sign up for the walk or support a student you know, please visit JoyRX.kintera.org/walkforjoy16.
Click here to read the flyer with complete details.
---
Invitation to Parents of K-5 Students
Dessert Meetup hosted by moms in the Portland Eco-School Network
The Eco-School Network parents help "green" the experience of their children at school. At the meetup, learn how you can get involved for the 2016-17 school year.
Four Dessert Meetups will be held in homes of Portland Network members. If you cannot attend one in your area, you may attend another. Feel free to bring other interested parents. 
Please RSVP to Jeanne Roy, 503-244-0026 or Jeanne@earthleaders.org, and she will send you the name of your host and directions for the home meetup in your area.
North – September 26, 7:00 p.m.
Northeast – September 27, 7:00 p.m.
Southeast – September 28, 7:00 p.m.
West – September 29, 7:00 p.m.
The Eco-School Network, www.ecoschoolnetwork.org, aims to introduce or upgrade sustainable practices and to increase eco-awareness as a means to enrich the daily experience of K-5 children at school. Network parents from about 30 schools share ideas, experiences, and projects, in person and online, and provide mutual support and inspiration. The sponsor of the Eco-School Network is the Center for Earth Leadership, www.earthleaders.org, a local nonprofit founded by life-long Portlanders, Jeanne and Dick Roy.
​​
---
This Week's Checklist
---
Download your copy of the bulletin at www.themadeleine.edu/bulletin
The Madeleine Ministry Fair
This Weekend, following 10:00 am Sunday Mass
Live your faith! Join a Madeleine Ministry.
Come meet our ministry leaders.
Learn about our ministries and the many opportunities you have to serve our faith community.
(Yes, there will be coffee and cinnamon buns)
Madeleine Ministry pamphlets will also be available at
Saturday, 5 pm Mass and Sunday, 8 am Mass.
If we're really going to be the Church that Christ calls us to be, we ALL need to care and serve one another.

The Madeleine Day
of Service
Our Second Annual Day of Service is October 15. Plan now to be a part of it. Below is a list of service projects we are planning to undertake. Take a look, then go to www.themadeleine.edu/service to sign up.
The Madeleine Music Ministry
Join us at www.themadeleine.edu/choir
Do you or your child love to sing or play an instrument? Our Madeleine Music Ministry is looking for YOU to join one of our wonderful music ministry teams! ALL are welcome!! Click to read more....
Confirmation program reaches out to high school youth
Programs at The Madeleine or at Central Catholic High School
It's time to begin thinking about confirmation for high school youth, and this year, we have some exciting news. Not only will we hold a confirmation program here at The Madeleine, but in an exciting pilot program, we will also be managing a confirmation program taught at Central Catholic High School! Click to read more
Horse & Rider logo, "Pendleton Round-Up" and "Let 'er Buck" are trademarks of the Pendleton Round-Up Association and used with permission.
Congratulations for making it all the way to the end of Friday Footnotes!
---
Contributing to Friday Footnotes
If you have information to contribute to Friday Footnotes, please e-mail the copy exactly as you would like it to appear in a Word document to: fridayfootnotes@themadeleine.edu. Deadline is Wednesday at 5pm, or Tuesday at 5pm if there is no school on Friday.