December 2, 2016
A Note from Susan
Dear Parents and Guardians,
I trust you all had a wonderful Thanksgiving break, especially with the extra days off. We teachers had quite a productive three days writing our Self Study draft document for the visiting accreditation team. We are by no means finished, but I feel very good about where we are in the process. My Thanksgiving break was especially "productive" because the Steele family welcomed another grandchild on Sunday night. Eileen Elizabeth arrived a week early and mom, dad, and baby are doing well. Now on to Christmas!
Speaking of Christmas….Our annual Christmas program is scheduled for Thursday, December 15. This year's program will be a live performance of The Madeleine Sings Christmas and a CD release party. Usually the Christmas program features the K-5th grade students, but this year our middle school students will also be participating because they were part of the CD recording. So mark your calendars for this special choral event. More details will be coming out as the date approaches.
According to the weatherman, we could possibly see some snow next week. I want to remind you of what our protocol is when the snow starts falling. We follow Portland Public Schools decision regarding weather related closures. If PPS is closed, we are closed. If they have a late start, we have a late start. (10:15 for school and YDP would open at 9:30) If snow starts falling after students arrive and PPS closes school mid-day, we would also close mid-day. But don't worry, we won't send kids out into a blizzard!  We will be here until everyone is picked up and safely home.
Sincerely,

Susan

---
Five for Friday
The news you need really, really fast!
---
Advent Toiletry & Sock Drive
Now through December 14
This Advent Student Government is sponsoring an Advent Toiletry and Sock Drive. It will run through December 14th. We are collecting socks, toothbrushes, toothpaste, travel soap/shampoo, razors, and deodorant for the Ecumenical Ministries of Oregon. Travel sizes for soap and shampoo are preferred. There are boxes by the office at the front of the school where you can put your donations.
---
Book Fair Is Here!
December 4 - 9
Book Fair will be in the library December 4th - 9th. Stop in and have fun searching for new books with your kids. There will also be teacher wish lists if you would like to purchase a new book for a classroom library. All purchases benefit our school with a minimum of 50% coming back to the Madeleine to purchase new books for our library and classrooms. In the past two years we have purchased over 700 new books for the library with book fair proceeds!
Hours:
Sunday - after the 10 am Mass
Monday - Thursday after school
Thursday Evening - during Madeleine Marketplace
Friday morning during coffee and donuts
---
Free Dress Tuesday
December 6
On Tuesday December 6th there will be free dress for $2 to support the Children's Book Bank. The Children's Book Bank is a local non-profit organization that provides bags of books to low income children in our area that may not otherwise have books in the home.
During the 2015-2016 school year, The Children's Book Bank gave 82,756 books (including 7,943 multicultural books) to 8,617 local children! We will use the free dress money to purchase books from our book fair to donate to this fantastic organization.
---
All School Christmas Program
December 15 @ 7pm
The entire school -- that's right, grades Kindergarten through 8th -- will bring you the songs of Christmas and celebrate the release of The Madeleine's first-ever Christmas album. Be sure to put it on your calendar!
---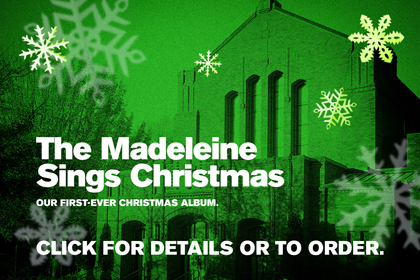 It's time to order your CDs! Order one (or 10) at www.themadeleine.edu/cd. You will also find an order form in your child's Friday Folder. You may also order after Mass at the table in the back of the Church. The CD makes a great gift and will be treasured by family and friends for Christmases to come.
CDs can be picked up at the Christmas Program/CD Release Party on December 15 as well as after Mass on December 17 and 18. CDs will also be distributed in Friday Folders on December 16.
---
Auction Nets $205,998!
Thanks to everyone's hard work, the 2016 Madeleine School Auction grossed $247,461 and had a net of $205,998. This will be allocated with a record-breaking $153,548 toward the school's operating budget and $52,450 toward the Cleaner, Greener Bathroom Project.
The record-breaking allocation of $153,548 to the school's operating budget was made possible by your generous participation in the auction, excellent leadership from the auction chairs, subchairs who held their expenses down, and a record setting year in raffle ticket sales and sponsorships.
Congratulations to everyone who worked so hard on the auction, especially Auction Chairs Lisa Colling, Matt Kohlbecker, Alisa Pyszka and Andy Steiner. A special thank you to our former Development Director, Lynn Robinson, for her years of auction leadership and for staying on as a consultant for the 2016 auction -- even after starting her new full-time position -- to help guarantee its success.
Paddle Raise Funds Our Cleaner, Greener Bathroom Project
The Cleaner, Greener Bathroom Project is now a reality thanks to the generosity of everyone who supported this year's Paddle Raise, which raised $52,450 in restricted funds to remodel the downstairs bathrooms. Thank you to everyone who contributed to this much-needed project!
In order to reduce the impact of the remodel on our students, construction is scheduled to begin this summer, however, planning is already well underway. The Buildings and Grounds Committee is reviewing the project and preparing a scope of work as a first step toward securing projects bids. Stay tuned for more details as they unfold!
Click here to read the complete description of the Cleaner, Greener Bathroom Project.
Easel Items: Spaces Still Available
Christmas Co-ed Basketball Camp (3rd-5th grade & 6th-8th grade)
December 21 in the Madeleine Gym ~ $25 per child
Do You Have Post Auction Questions?
Send an email to auction@themadeleine.edu.
---
2nd Annual New Years' Day Scarf Drive
Begins December 5
No one should suffer from the cold. And while the homeless problem may be much bigger and much more complicated than a couple of cold winter months, perhaps a simple work of mercy can help to warm a heart. So we are once again collecting scarves. Here's the plan:
Take a moment to

write a short personal message

, perhaps a poem, maybe a story that gives someone hope, a song lyric -- whatever feels inspirational and sign your first name.
Then go to your closet and

pull out a scarf you are willing to part with

or pick one up at Freddie's on your next visit.
Using a safety pin,

pin the note to the scarf and bring it to school

. There will be a coat rack set up by the front office to hang your scarf.
Once collected, we will watch the forecast and when dry and appropriate,

volunteers will take these special scarves and tie them to the Pioneer Square gate for the homeless to take

, as they need. In addition to helping to keep someone warm, these scarves will serve as a visual statement to the homeless community that people care about them. Whether they take a scarf or not, we are showing our support for their struggles.
---
The Present Pass
December 12
Coming this December is the annual Friendship Family Present Pass, organized by Student Government, which everyone of all ages enjoys. Each student will need to bring a small, wrapped Christmas gift to be passed to someone else. It doesn't need to be expensive - $1 to $5 is enough! Just make sure it is appropriate for all ages and genders.
When each Friendship Family meets on December 12, they will gather in a circle, and the eighth grade leader will read a Christmas themed picture book. There will be a chosen "Christmas word." Whenever the "Christmas word" is said, the presents will be passed around the circle. Each student gets to open whatever present they end up with at the end of the book!
Merry Christmas and have fun!
---
Amazon + Holiday Shopping = Madeleine Money!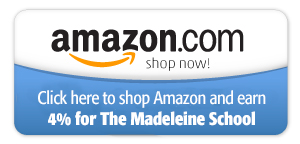 Shopping on Amazon for Christmas? If so, please remember to use Madeleine's Amazon link.
It doesn't cost you a single cent more, and the School earns "free money" each time you buy something using the link at http://www.themadeleine.edu/amazon.
You can even double-dip by buying your Amazon scrip cards at the School and then using that credit to make purchases!
---
St. Stephen's Lunch Program
Making a difference, one lunch at a time!
While the economy has improved for some people, we still have 1 in 5 Oregonians facing food insecurity. This week Mr. Parker's 7th grade class brought in 157 lunches. Way to go, 7th Grade!
When we delivered the lunches on Tuesday, we were asked to bring in at least 200 lunches next week. St. Stephen's is receiving many more people in need this month and would like our help.
So what do you say 6th Grade . . . are you up for the challenge?
---
---
The Joy of Coffee—free samples December 11

Enjoy free Madeleine School Organic Holy Roasted coffee at the Pancake Breakfast on Dec. 11th. Buy or order bags of ground or whole bean for just $12. Orders delivered by Dec. 18th. Great gift idea for family, friends, and co-workers. Your purchase gives 50% of proceeds back to the school!
---
Youth Group/God Squad Christmas Party & More
Youth Group has a lot going on. I really want to encourage parents to get your children involved. Youth Group aims to equip each of these youth with the tools to be a great disciple, and we have a ton of fun while doing it!
Informational Meeting for Mission Trip to Arizona
December 4 from Noon-1:00 pm in the Fire Side room
If you think you might want to go on the trip, you are required to come to this meeting.
Planning Meeting for Youth March/Rally
December 4 from 6:00-8:00 pm @ St. Charles
Join with youth from De La Salle North, St. Andrews, St. Mary's School, St. Charles, Madison High, and Jefferson High, as we begin planning the first ever youth led Rally and March through NE Portland for Martin Luther King Day! Feel free to bring friends! God Squad will also be meeting from 6:00-8:00, but will be having a movie night. Click here for the flyer.
Youth Group/God Squad Christmas Party
December 11 from 6:00-8:00 pm @ St. Charles
We will have food, drinks, games, Christmas Spirit and more!
I want to introduce everyone to our youth leadership team. Emily, Shante, Mylie, and Greysen are all high school youth who have shown themselves to be outstanding natural leaders. Two of them go to Madison and two go to St. Mary's. As the leadership team they will be responsible for giving guidance to the Core Team on "what's working, what's not working." Also, they will help run some of the youth nights and take a large role in our outreach to other youth.
Questions? Contact Gabe Triplett at gabet@stcharlespdx.org.
---
2016 Yuletide Chess Tournament
December 10 @ La Salle Catholic College Prep
The tournament is open to any Kindergarten through 12th grader who plays chess. Register by December 7.
Click here for complete details.
---
This Week's Checklist
---
Download your copy of the bulletin at www.themadeleine.edu/bulletin

First concert is Handel's Messiah, December 11 • Please join us!

Discount Series Tickets for our Music at The Madeleine Series are ON SALE NOW. Order before December 7 to make sure you don't miss out!

Save 33% when you purchase a 3-concert Series Ticket for $60. Students age 18 and younger are FREE with paid parents. Get tickets at www.themadeleine.edu or complete the order form in the series brochure and drop it off at the Church office.

Our 2016-17 series includes 3 concerts beginning with Handel's MESSIAH on Sunday, December 11th @ 3 PM. The MESSIAH concert is a great way to begin the celebration of Advent and Christmas seasons at The Madeleine. Concerts are performed by the Bravo! Northwest Chorale, Northwest Chamber Orchestra and nationally acclaimed jazz and classical soloists and conductors.

Please join us for Music at The Madeleine —here in the beautiful Madeleine Church— where ALL are welcome!
Ministries, teachers, service groups! Send us your photos!
We will be publishing our annual The Madeleine in Service edition of the Bulletin on Christmas Day. Please send photos of your ministry, classroom or service grop by December 20 ! Click www.themadeleine.edu/photos for instructions.

Horse & Rider logo, "Pendleton Round-Up" and "Let 'er Buck" are trademarks of the Pendleton Round-Up Association and used with permission.
Congratulations for making it all the way to the end of Friday Footnotes!
---
Contributing to Friday Footnotes
If you have information to contribute to Friday Footnotes, please e-mail the copy exactly as you would like it to appear in a Word document to: fridayfootnotes@themadeleine.edu. Deadline is Wednesday at 5pm, or Tuesday at 5pm if there is no school on Friday.