January 12, 2018
A Special Message from Father Mike
January 7-14, 2018, is National Migration Week
As a parish community, we prayerfully remember all people who are migrating, particularly those who are forced from their homes or separated from their families because of threats of violence and persecution. We pray for their protection and safety. Although we come from different countries, and have our origins in different cultures, we were all created by God, and are made in God's image, and therefore we all share an inalienable dignity that is deserving of respect.

Lord, we ask that you give us the strength to defend those who are marginalized, to give aid to those in need, to come to the defense of those who are poor or vulnerable, and to welcome those who are on the move into our homes and into our hearts.
Amen.
---
A Note from Susan              
Dear Parents and Guardians,
I am happy to share with you that our Hot Lunch Program will resume on February 5th. We have hired Trio Hospitality to prepare and serve the lunch meal four days a week. Our Parents Club Thursday lunch will continue until the end of the school year.

Trio currently serves a number of Catholic schools, including Holy Family in southeast Portland, Our Lady of the Lake in Lake Oswego, and St. Pius X, my home parish, in Beaverton. I have spoken to a few of the principals and they spoke very highly of the food and service that Trio provides. A few of the highlights that this company offers:
Meals can be ordered at any time during the month, up until the night before. No more two-week ordering window!
In addition to a hot entrée, there will be a salad and a sandwich option.
All meals come with a fresh salad and fruit bar.
If your child misses a meal because of an absence, your account will be credited.
We can continue to use the same online ordering process.
The company will be on campus January 26th at 8:30am with a sampling of their food and to answer any questions you may have. Please stop by for a taste. We still have some paperwork to finish before the menu goes "live" and you can order February meals. I will keep you posted!

Enjoy your three day weekend.

Sincerely,

Susan
PS - Don't forget to buy your tickets for the Crab Feed, which is on January 20. They even have FREE childcare for kids 5 and up! Just visit themadeleine.edu/crabfeed.
---
Five for Friday
The news you need really, really fast!
---
Volunteers Needed for 2018 Open House
It's time to welcome all the families who look forward to sending their kids to Madeleine next year. We need volunteers in the classrooms to talk to prospective families and tour guides to provide school tours. Here are the details:
Information Night – Monday, February 5th
7:00pm – 9:00pm
Needed: Classroom reps to greet prospective parents and answer questions about the school
School Tours – Tuesday, February 6th
9:45am – 11:30am, shift 1
11:30am - 1:00 pm, shift 2
Needed: Tour guides to tour prospective parents and children around the school
Please contact Julie Baldwin at julie.juliebaldwin@gmail.com or 503-490-7731 to sign up!

---
Open House: Spread the Word!
It's time to reach out to all the families who look forward to sending their kids to Madeleine next year. Word of mouth is our best marketing tool, so be sure to tell everyone you know about our Open House Events.
Parent Information Night – Monday, February 5th @ 7pm
Come hear all about the school from Principal Susan Steele, Father Mike Biewend and current parents. Visit the classrooms and enjoy conversations with current parents.
School Tours – Tuesday, February 6th from 10am - 1pm
Bring your child for a tour of the school and see the teachers and current students in action.
---
YDP Schedule Reminders
Here's a reminder of YDP's schedule for the remainder of the academic year. Be sure to mark your calendars!
January
January 15: MLK Day YDP closed
February
February 2: In-service - YDP open 8:00 am to 6:00 pm
February 19: Presidents Day - YDP Closed
February 20: In-service - YDP open 8:00 am to 6:00 pm
March
March 16: 11:30am dismissal - YDP open
March 26 – 30: Spring Break - YDP closed
May
May 4: Conference day - YDP open 8:00 am - 6:00 pm
May 25: 11:30am dismissal - YDP closed
May 28: Memorial day - YDP closed
June
June 15: Last day of school 11:30 dismissal - YDP closed

Due to renovations throughout the building, there will be no summer YDP camps.
---
School Advisory Council (SAC) Meeting
January 18 @ 7pm in the Library
The School Advisory Council (SAC) will hold its January meeting on Thursday, January 18 at 7:00pm in the Library. 

All meetings are open to visitors unless specifically designated as being closed. If you would like to attend the meeting and add something to the agenda, please contact the Chair prior to the meeting (Tim Resch: tresch@samuelslaw.com).
SAC Purpose and Members
The purpose of the Madeleine School Advisory Council (SAC) is to provide advice to Father Mike and Susan Steele regarding policy direction for program needs of the school, especially in Planning, Finances, Technology and Development.
If you can't attend a SAC meeting, but have a topic you would like to bring to the group's attention, please contact one of the members: Fr. Mike Biewend, Susan Steele, Tim Resch (Chair), Catherine Glavan (Vice-Chair), Diana Nunez (Secretary), Eric Anctil, Lucas Newman, Erskine Williams, John LaBarca, Lance Mayhew, Karis Stoudamire, Deb Naugler (Parents Club Representative), Caryn Fiedler (Development Representative).
---

Jogathon Leaders
Picture a sunny day on the Field of Dreams . . . picture Madeleine students getting great exercise as they raise money for their school . . . picture yourself and a friend making it all possible! This could be you if you step forward to be a Jogathon Leader.

Our fearless leaders for the past several years, Kelsi Charlesworth and Shelby Walker, will be graduating from the Jogathon as their daughters graduate from The Madeleine.

So, the 2018 Jogathon will be their last. This means that you have the opportunity to learn from the best this year before you step up as a Jogathon Leader in 2019.

Sound interesting? How about a little bit of sugar to sweeten the deal? Our new Jogathon Leaders will be exempt from having to work a volunteer job at the 2018 Auction!

Contact Caryn Fiedler at cfiedler@themadeleine.edu with questions and expressions of interest.
---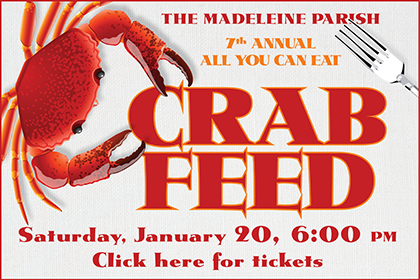 Hard to believe last year at this time we were buried under a foot of snow! Celebrate that we're not snowbound this year by coming to our annual Crab Feed!
It's always one of our favorite events, bringing folks from the parish together with parents from the school...and people from the greater Irvington community as well...together for a night of  the most delicious delicacy the sea has to offer. Enjoy all-you-can-eat dinner, great conversation, and a genial community atmosphere.

Doors open at 6:00 pm; dinner served at 6:30 pm with Dungeness crab, roasted chicken and all the fixin's.
Beer, wine and soft drinks are available
Childcare available
Children aged 5-11 enjoy pizza and childcare. Registration is required at time of ticket order; donations accepted at the door to cover costs.
Order your tickets today at www.themadeleine.edu/crabfeed
Tickets are selling fast, so order today! $40 per adult, $20 for youth 12-18 (Should price be an issue, please see Fr. Mike. We have funds to help!) If you prefer, tickets are available at the parish office with check, cash or credit card.
---
Favorite Things Party
Saturday, January 27 @ 6pm
"Brown paper packages tied up with string....these are a few of my favorite things." Come hungry because there will be plenty of food, wine (everyone's favorite), fun and mingling with other Madeleine moms on a cold winter's night. Bring a "favorite" thing you wouldn't want to live without ($25 limit) in a brown paper package to exchange. There will be no dog bites, no bee stings, no feeling sad because we all will walk away with new favorite things. Come on, we all know there are better things than raindrops on roses and whiskers on kittens!

Hosted by Lindsie Campbell, Noel Larson & Susan O'Leary
January 27 @ 6pm - 9pm
The Riverside Country Club (Fireside Room)
25 moms
$40/mom
Click here to sign up for the Favorite Things Party!
---
8th Grade Fundraiser @ Fire + Stone
Thursday, February 1 @ 5pm - 9pm
Fire + Stone Pizzeria and Restaurant is donating 15% of its proceeds to the Madeleine 8th Grade Ashland Class Trip! Take a night off from cooking and help support Madeleine's 8th graders. Plus, there's no school on Friday, so no need to worry about homework!

WHERE: Fire + Stone, 3707 NE Freemont
WHEN: February 1 @ 5pm - 9pm
OPTIONS: Dine in or Take out
http://fireandstonepdx.com/
---
M.U.S.E. Band 31st Annual Winter Concerts
The 31st Annual M.U.S.E. Band Winter Concerts provide a great opportunity to support your child's classmates who will be performing in a large ensemble with students from neighboring schools while also sneaking in a little culture. Also, the concerts provide a great chance to see if your child might want to join M.U.S.E. next year.
Eastside schools and all westside Catholic schools
@Central Catholic High School
Sunday, February 11
Beginning Band Concert 1:00pm
Intermediate/Advanced 2:30pm  
Bryant Allard
M.U.S.E. Instrumental Programs
---
Old Church Project—Some Changes in Response to Your Input
Thank you to everyone who participated in our Old Church Project Planning Study. We received many comments in support of the project, many questions about the project, and a few concerns.
Restrooms move out of Middle School
One of the questions that arose had to do with the placement of the restrooms, which in the original concept were positioned in what is now the Middle School hallway and part of the Seventh Grade classroom.
Responding to concerns—from parents, school faculty and students—about loss of space in Middle School, we went back to the architects to see what other options they could come up with. They came up with some great options.
Gym Restroom Expansion Added To Plan
In addition, Susan Steele requested that a remodel/reconfiguration of the restrooms near the gym be explored—currently they're too small when students are changing for PE class. See the before and after images below to see the proposed changes. Click to see the before and after plans.
Together, we will make the Old Church Project something we can all be proud of...something that will serve our school, our parish and our community for the next century of service at The Madeleine
---
Basketball Night at St. Mary's Academy
February 2 @ 6:30pm
We invite you to the St. Mary's Academy CYO Basketball Night on February 2. Festivities start at 6:30pm, and the varsity game begins at 7:00pm.

Come watch the St. Mary's Academy Blues take on the Tigard High School Tigers. Enjoy free concessions, face painting, raffle prizes, and more!

No need to RSVP for this event. Admission is free, and St. Mary's Academy is easily accessible by public transportation. If you have any questions, email Kelsey Hui at Kelsey.hui@smapdx.org or call 503-721-7728.

Go Blues!
---
Screening of Award-winning Screenagers Documentary
Tuesday, January 16 @ 6:30pm
RSVP Requested
Join Holy Cross Catholic School for a screening of the award-winning Screenagers documentary that looks into the vulnerable corners of family life and depicts messy struggles over social media, video games, academics and internet addiction. The Holy Cross tech teacher and called to protect trainer will also lead a discussion and provide tips for parents.
The documentary will be shown on Tuesday, January 16 at 6:30 p.m. in the Holy Cross School Hall.
Holy Cross Catholic School
5202 N. Bowdoin Street, Portland, OR 97203
RSVP at https://impactflow.com/event/presented-by-holy-cross-catholic-school-6600 or call the school office at 503-289-3010.

Click here to see the flyer with complete details.
---
YDP is Hiring
Our before and after school program, better known as YDP, is needing some additional help. In order to be in compliance with our licensing agency, we must have a certain number of adults on duty to meet the student/teacher ratios. This year we are serving many children, especially in the afternoon, and we need to hire some additional personnel. We have placed a few ads, but no luck in recruiting appropriate hires.
"Word of mouth" advertising is the best, so we need some help in getting the word out. The Madeleine kids are great to work with, the pay is competitive, and the schedule follows the school calendar. So this means there are long Christmas, Spring, and Summer breaks. So if you know of someone who would like to work a few hours a day, a few days a week, please, please, please ask him/her to give me a call. Think high-schoolers over 18, part-time college students, nannies, retirees who want to get out of the house for a few hours. Perhaps this job is of interest to you? No stress, just lots of fun.
---
This Week's Checklist
---
Download your copy of the bulletin at www.themadeleine.edu/bulletin
Audio/Video Ministry needs your help!
We are putting together a team of ministers to assist in running the video screens and sound system during our weekend liturgies. This is a very important ministry, as both sound and screens help to enhance our worship experience.
Both ministries make use of technology, so comfort with an iPad for the sound levels and presentation software on a laptop computer for the video screens are very helpful. (Similar to Powerpoint—you run the presentations that have been built for each Mass, and will not need to edit or create them.)
Interested? Please contact Rich Hammons, rhammons@themadeleine.edu.
Congratulations for making it all the way to the end of Friday Footnotes!
---
Contributing to Friday Footnotes
If you have information to contribute to Friday Footnotes, please e-mail the copy exactly as you would like it to appear in a Word document to: fridayfootnotes@themadeleine.edu. Deadline is Wednesday at 5pm, or Tuesday at 5pm if there is no school on Friday.