December 15, 2017
A Note from Susan              
Dear Parents and Guardians,
I want to take this opportunity to wish you and your family a blessed Christmas and a Happy New Year. I hope your days are filled with joy as you celebrate the birth of our Lord. The holiday season gives us many reminders to be thankful for all the gifts God has bestowed on us. Our Madeleine community is certainly one of the gifts in my life and I am so grateful.
Sincerely,

Susan
---
Five for Friday
The news you need really, really fast!
---
Christmas Program Kicks Off the Holiday Season
Thank you and hats off to Mr. Pederson and Dr. Manzo for this year's wonderful Christmas program, which featured the sweet voices of our students. We hope this musical extravaganza (and a special appearance by Father Mike as jolly, old St. Nicholas) put you in the holiday spirit!
Click here to view it on YouTube
---
Be An Angel Among Us
Christmas Teacher Wish List
Thank you to the many angels who have fulfilled so many of our teachers' wishes with everything from Hokki stools to electric pencil sharpeners and gift cards galore.
There's still time for you to become a Christmas Angel by giving a gift from the "Teacher Wish List."  These items are not in the budget, but would enhance the classroom. Thanks to the many angels last year, donations to the teacher wish list provided hundreds of dollars in classroom extras! 
Click here to see the 2017 teacher wish list.  Earn your wings this year and join the many angels in our midst! 
Questions? Contact Caryn Fiedler at cfiedler@themadeleine.edu.
---
Sign up for Hot Lunch
Ordering ends December 24
Sign ups will end for hot lunches served during January on December 24th.
Click here to sign up for hot lunch.
---
Dance Camp with the Grant High School Dance Team
Monday, December 18 from 1pm - 4pm
Bring a friend and the Award Winning Grant High School Dance Team will teach you the moves of some of today's most popular dances such as Whip/Nae/Nae, The Dab, Despacito, as well as some of their own personal favorites. Parents! You are welcome too! Or drop the kids off ... and finish up that last minute Christmas shopping. Once everyone has got it down, how about we shoot a little music video of everyone so you can share it with friends & family? Today Parish Hall, tomorrow the VMAs!
Hosted by the Thompson, Johnson and Beaulieu Families
Monday, December 18, 1 - 4 pm
Madeleine Parish Hall
40 dancers
$30/person
Click here to sign up for Dance Camp!
---
Tree Skirts for Sale Benefit The Madeleine School
Please consider purchasing a lovely burlap tree skirt for your holiday tree. With a tidy bound edge, these oversized circles can be folded in half and wrapped around your tree.
Cost = $20. All proceeds benefit The Madeleine School. Please contact Deborah Naugler at 503-713-3068 if you would like to purchase one.
Thank you!
Madeleine Parents Club
---
Making Giving Joyful
Between now and the end of the year, many of you may make end-of-year donations to your favorite charities.

We recognize that the many appeals during this time of year can be a challenge for each family trying its best to be as generous as possible during the holidays. Knowing that each family has its own giving preferences, we provide many opportunities for giving to The Madeleine School throughout the year. The Christmas season, however, proves to be a popular time for giving. We are grateful if you choose to support The Madeleine School during this holiday season!

Our goal is to make giving to The Madeleine School a joyful experience for your family that aligns with your family's wishes and timeline. For this reason, we're providing you with an overview of upcoming events, drives, and appeals that will take place at The Madeleine School to help your family achieve your personal giving objectives.

Our best to you for a very Merry Christmas and a Happy New Year!
Click here to see descriptions of upcoming events, drives and appeals taking place at The Madeleine School.
For those driven by the holiday spirit to give at the end of the year, please visit The Madeleine School Giving Page at www.themadeleine.edu/schoolgiving.
---
Old Church Project—Some Changes in Response to Your Input
Thank you to everyone who participated in our Old Church Project Planning Study. We received many comments in support of the project, many questions about the project, and a few concerns.
Restrooms move out of Middle School
One of the questions that arose had to do with the placement of the restrooms, which in the original concept were positioned in what is now the Middle School hallway and part of the Seventh Grade classroom.
Responding to concerns—from parents, school faculty and students—about loss of space in Middle School, we went back to the architects to see what other options they could come up with. They came up with some great options.
Gym Restroom Expansion Added To Plan
In addition, Susan Steele requested that a remodel/reconfiguration of the restrooms near the gym be explored—currently they're too small when students are changing for PE class. See the before and after images below to see the proposed changes. Click to see the before and after plans.
Together, we will make the Old Church Project something we can all be proud of...something that will serve our school, our parish and our community for the next century of service at The Madeleine
---
Book Fair Success
Winter Book Fair was a huge success thanks to all who came to support!
Throughout the week, we sold over $4,200 worth of books from Scholastic. The money we raised from sales is used to purchase new books for both the library and the kids' individual classrooms.

In addition, the $2 Free Dress Day brought in $426! This money was used to purchase books for The Children's Book Bank, a local charity that gives books to children who wouldn't otherwise have access to books at home.

Thanks again to the volunteers who helped make the Book Fair a great success.
---
Open House: Spread the Word!
It's time to reach out to all the families who look forward to sending their kids to Madeleine next year. Word of mouth is our best marketing tool, so be sure to tell everyone you know about our Open House Events.
Parent Information Night – Monday, February 5th @ 7pm
Come hear all about the school from Principal Susan Steele, Father Mike Biewend and current parents. Visit the classrooms and enjoy conversations with current parents.
School Tours – Tuesday, February 6th from 10am - 1pm
Bring your child for a tour of the school and see the teachers and current students in action.
---
Last Minute Shopping + Amazon = Madeleine Money!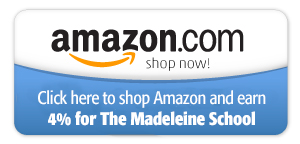 Doing some last minute shopping on Amazon for Christmas? If so, please remember to use Madeleine's Amazon link.
It doesn't cost you a single cent more, and the School earns "free money" each time you buy something using the link at http://www.themadeleine.edu/amazon.
---

Jogathon Leaders
Picture a sunny day on the Field of Dreams . . . picture Madeleine students getting great exercise as they raise money for their school . . . picture yourself and a friend making it all possible! This could be you if you step forward to be a Jogathon Leader.

Our fearless leaders for the past several years, Kelsi Charlesworth and Shelby Walker, will be graduating from the Jogathon as their daughters graduate from The Madeleine.

So, the 2018 Jogathon will be their last. This means that you have the opportunity to learn from the best this year before you step up as a Jogathon Leader in 2019.

Sound interesting? How about a little bit of sugar to sweeten the deal? Our new Jogathon Leaders will be exempt from having to work a volunteer job at the 2018 Auction!

Contact Caryn Fiedler at cfiedler@themadeleine.edu with questions and expressions of interest.
---
Geography Bee
Coming in January
Students, it's time to brush up on your map and geography skills! Grades 4-8 will be participating in the National Geographic Society's 2018 National Geographic Bee.
During the week of January 8-12, classroom Bees will take place. The top two students from each grade will participate in the school Geography Bee on January 29. The winner of the school Bee will be eligible to take an online test to qualify for the state Bee.
Click here to see the attached flyer for more information about the app, official study guide, and other preparation material for the Bee!
---
St. Stephen's Lunches
Making a difference, one lunch at a time!
This week the fourth grade brought in 145 lunches. Thank you to the families who were able to provide some nourishment for those who spend so much time outside trying to stay warm during these cold days.
---
Calling All Basketball Uniforms & Sweatshirts
Has your child outgrown (or is no longer needing) their basketball uniform or their basketball sweatshirt with their name on it? Please bring these items to the Madeleine Uniform Closet as soon as possible.
Sweatshirts with names on them will be repurposed with new names on them! That's right, a NEW name can be put on those outgrown sweatshirts so they can be passed on to a smaller child.
Let's be models of change and do our part for the planet by reusing and repurposing our old uniforms!
If you would like a repurposed sweatshirt, please contact Deborah Naugler.
deborahnaugler@hotmail.com or via telephone 503-713-3068.
Thank you for helping our planet and world.
---
The Annual 8th Grade Ballroom Dance Class Returns
January 2018
Hosted by 8th grade Madeleine Moms for more than a decade, this popular class brings together 8th graders from Catholic schools across Northeast Portland each year for seven classes of Cha Cha, Swing, Foxtrot and much more for only $42.50!
If you or someone you know has an 8th grader at The Madeleine, All Saints, St. Rose or Holy Redeemer, be sure to get them signed up! Classes begin Friday, January 5.
Click here to see the flyer with complete details.
Questions? Contact Julie Doherty, Aimée Holzschuh or Aimée Samuelson at MadBallroomDance@gmail.com.
---
The Scoop at St. Mary's Academy
January 5 @ 4:15pm
Calling all 8th grade girls! Our crew of St. Mary's Academy Ambassadors have planned a super fun event for you and your friends to get "The Scoop" on high school life at St. Mary's.
Join us on Friday, January 5 from 4:15-6:00pm for an afternoon filled with exciting activities and delicious ice cream! RSVP to Kelsey Hui via email at admissions@smapdx.org by Tuesday, January 2.
Click here to see the flyer with complete details.
---
YDP is Hiring
Our before and after school program, better known as YDP, is needing some additional help. In order to be in compliance with our licensing agency, we must have a certain number of adults on duty to meet the student/teacher ratios. This year we are serving many children, especially in the afternoon, and we need to hire some additional personnel. We have placed a few ads, but no luck in recruiting appropriate hires.
"Word of mouth" advertising is the best, so we need some help in getting the word out. The Madeleine kids are great to work with, the pay is competitive, and the schedule follows the school calendar. So this means there are long Christmas, Spring, and Summer breaks. So if you know of someone who would like to work a few hours a day, a few days a week, please, please, please ask him/her to give me a call. Think high-schoolers over 18, part-time college students, nannies, retirees who want to get out of the house for a few hours. Perhaps this job is of interest to you? No stress, just lots of fun.
---
CYO Wishes You a Merry Christmas
Click here to read a holiday newsletter from Sister Krista at CYO.
---
WomenStrength Self-Defense Classes
January 3, 10, 17 from 6pm - 9pm @ The Madeleine
Learn to identify prevention strategies if faced with a dangerous situation
Explore intuition as a safety tool
Fill your tool box with various escape options
Practice physical self-defense skills
Open to ages 13 and above, although those 13-16 need to be accompanied by a female adult.
Registration opens on Tuesday, December 5th at 9am.
Register at www.portlandoregon.gov/police/womenstrength or at 503-823-0260.
Click here to see the flyer with complete details.
It is important that registrants attend the entirety of all three training sessions because empowerment is taught based self-defense. This is a holistic approach that includes more than just physical fighting skills. Assertiveness, using your intuition, definitions of sexual assault and domestic violence -- just to name a few -- are all taught.
---
This Week's Checklist
---
Download your copy of the bulletin at www.themadeleine.edu/bulletin
Audio/Video Ministry needs your help!
We are putting together a team of ministers to assist in running the video screens and sound system during our weekend liturgies. This is a very important ministry, as both sound and screens help to enhance our worship experience.
Both ministries make use of technology, so comfort with an iPad for the sound levels and presentation software on a laptop computer for the video screens are very helpful. (Similar to Powerpoint—you run the presentations that have been built for each Mass, and will not need to edit or create them.)
Interested? Please contact Rich Hammons, rhammons@themadeleine.edu.
Congratulations for making it all the way to the end of Friday Footnotes!
---
Contributing to Friday Footnotes
If you have information to contribute to Friday Footnotes, please e-mail the copy exactly as you would like it to appear in a Word document to: fridayfootnotes@themadeleine.edu. Deadline is Wednesday at 5pm, or Tuesday at 5pm if there is no school on Friday.