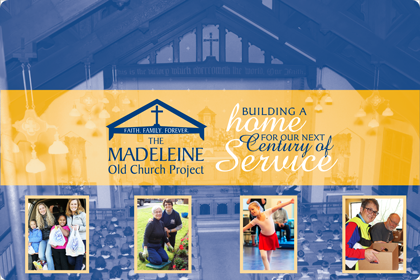 Welcome to our community
St. Mary Magdalene Church, affectionately known as "The Madeleine," is a Catholic community of faith belonging to the Archdiocese of Portland in Oregon. Located in a lovely neighborhood in historic northeast Portland, The Madeleine Church has served since 1912.
First and foremost, The Madeleine is a community committed to the worship of our gracious God. A variety of ministries flow out of our worship. Celebrations of the Sacraments, youth and adult intergenerational faith formation experiences, a parish elementary and middle school, social events, and outreach programs are all means by which The Madeleine community lives the faith.
Presently, approximately 850 families call The Madeleine their spiritual home. You are welcome to become an active parishioner within our vibrant and warm parish.
For more information, please call the Madeleine Rectory at 503-281-5777. Our office hours are Monday through Friday, 9:00 am to 5:00 pm.